A screenshot from today's New York Times: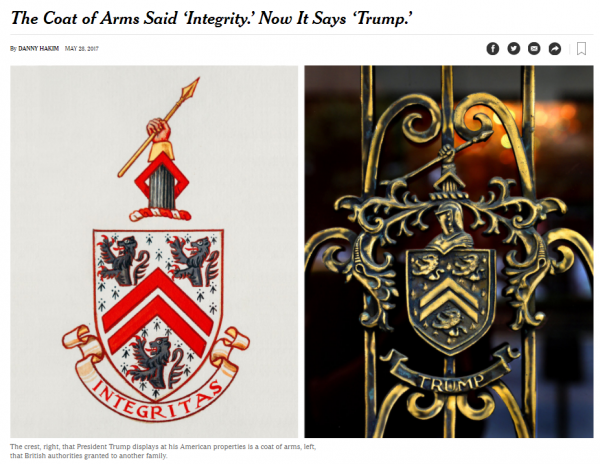 This story is minor, but it expresses the essential nature of Trump on literal and metaphorical levels: Trump stole another family's crest and replaced the "Integrity" motto with his own name. The rightful owners of the crest considered suing but decided not to when they were made aware of Trump's typical response to suits: exhausting plaintiffs in court until they drop the matter.
But there's another family property — a surname — that is far more fitting for Trump to usurp: Quisling. Most of us here have probably heard it, but I doubt one teenager in a thousand has.
It originated with Vidkun Quisling, who was installed as the leader of occupied Norway and who collaborated with the Nazis during WW2. Here he is seated with Heinrich Himmler: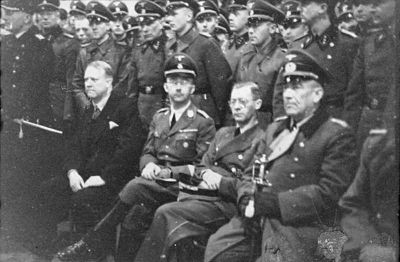 Here's how Churchill turned Quisling's name into a synonym for "traitor" and "collaborator" in 1941:
"A vile race of Quislings — to use a new word which will carry the scorn of mankind down the centuries — is hired to fawn upon the conqueror, to collaborate in his designs and to enforce his rule upon their fellow countrymen while grovelling low themselves."
Fellow citizens, we've got our own "vile race of Quislings" abroad in the land. They fanned out on the Sunday political gabfests this weekend to make the absurd claim that it was normal for Trump's son-in-law to seek the use of Russian technology to hide the incoming administration's communications with Moscow.
Some of our modern-day Quislings are sitting in Congress, like Representative Brian Mast (R-FL), whose campaign consultant used stolen data provided by a Russian hacker to guide ad buys and voter outreach, thus helping a hostile foreign power rig a U.S. election and lying about it after the fact.
The "vile race of Quislings" includes almost everyone at Fox News, including folksy fraud Mike Huckabee, Sean Hannity, etc., and most Republican politicians at virtually every level. They are collaborating to obscure the fact that a foreign authoritarian conspired to install an ignorant demagogue in the White House to further the interests of Russia.
In a way, our American quislings are even more contemptible than their historic counterparts, some of whom could at least lay claim to grave national peril in the face of an overwhelming military force as an excuse for their cowardice and disloyalty. Our gang is selling out their country to a relatively weak gangster for personal enrichment and political gain.
It's a cheap and tawdry sellout, which is why the name "Trump" is a fitting replacement for "Quisling." Assuming that we survive this assault on our democracy and eventually face the truth of what happened so that elections without outside interference can occur in the future.
It would be a fitting fate for the Trump brand as well. My most optimistic hope is that within a generation, there won't be a building, golf course, necktie, handbag, shoe or fancy private club that will countenance the shame of bearing the name "Trump."