Shortly after the President announced on Thursday that the US was pulling out of the Paris Agreement* a number of states, as well as cities, quickly announced they were going to actually work to meet the requirements of the Paris Agreement. These ranged from large states like California to small states like Connecticut. By doing so they've essentially created a shadow coalition within the US to abide by the agreement and meet its outcomes. While we've all seen Pittsburgh's Mayor Bill Peduto's tweets contradicting the President's remarks and defying him in regards to what Pittsburgh will actually do, Massachusetts Republican governor has now stated that Massachusetts will also follow California's lead and become part of the unofficial US state and municipal alliance adhering to the agreement.
There are two interesting dynamics going on here. One is recognizing what Los Angeles Mayor Garcetti stated that:
Cities and states are already where most of the action on climate is. Our message is clear to the world: Americans are with you, even if the White House isn't.… Trump's move is going to have unintended consequences of us all doing the opposite of what the president wants. It will in many ways greatly backfire.
Even more specifically 2o states have greenhouse gas reduction/emission reduction targets. As a matter of policy, law, or both. There are also regional and state carbon and renewable fuel initiatives. Additionally, 160 mayors across the US have agreed to join the California led effort as can be seen in this map from The LA Times (because the image is truncated you can't see Hawaii, which has reduction targets too).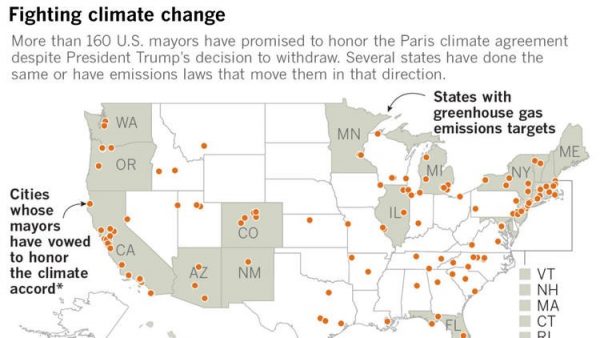 (Map 1: State's with emission targets and cities that will adhere to the Paris Agreement)
Or this better state by state image that includes the actual emission targets: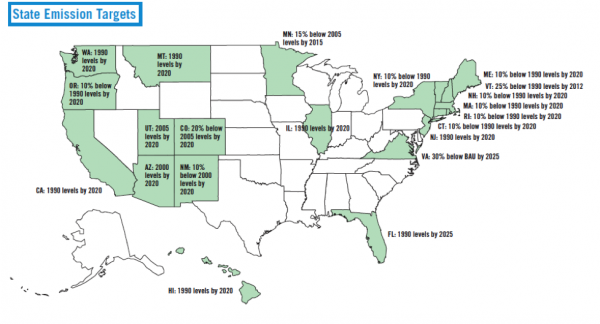 (Map 2: State Emission Targets)
The other dynamic is the relative economic power of the states and the cities that are going to be part of the unofficial coalition to adhere to the Paris Agreement. California, as is often remarked on, is currently the equivalent to the 8th largest economy in the world (if it were an independent country). New York would be tied for 14th. Massachusetts for 29th, Illinois 20th, etc. California and New York individually, let alone working together, have a tremendous amount of economic power. And a lot of that economic power is regulatory. When two of the four state economic powerhouses combine with a lot of other economically strong states and 120 municipalities ranging from mega city to regionally large metropolitan area, a lot of economic power is being wielded. Corporations, from auto makers to energy providers to appliance makers, that wish to do business in California, New York, and their allies are going to have to meet the standards that those states and municipalities set. Given the amount of money to be made from doing business in those places they will meet the standards that will be set. As a result, even if other economically powerful states like Texas and Florida choose to ignore the Paris Agreement it won't make much difference. They're going to get the same goods and services designed to pass muster in the California led coalition to adhere to the Paris Agreement whether they like it or not.
In many ways what we've seen emerge over the past several days is an example of federalism done right. This isn't an attempt to thumb a state's nose at a Federal law or regulation by making a legal case rooted in a bizarre reading of the 10th Amendment and the fringe theories of libertarian fundamentalist lawyers holding sinecures at think tanks to create a 21st Century form of nullification. Rather it is a coalition of states and municipalities stating that they will use the economic power that exists because of their size, pool it with those of like minded states and municipalities, and let the power of the market work its magic. This is not only how federalism was intended to work, it is also how properly designed and functioning governments and markets are supposed to work. Both function best, and are at their best, when they are transparent, have predictable, clear, and enforced rules and regulations. What California and its allies are doing is to create that dynamic in regard to environmental governance, rules, and regulations. As a result we get the United States that will adhere to the Paris Agreement as opposed to the The United States choosing not to.
* It is important to note that the process and procedure for pulling out of the Paris Agreement is not quick. Once formal notice is given it will take three years. So it won't actually happen until after the next Presidential election. As a result, and has been so often the case with his executive orders, the President's announcement on Thursday was almost completely symbolic messaging to his base with the added bonus of pissing off the Europeans.