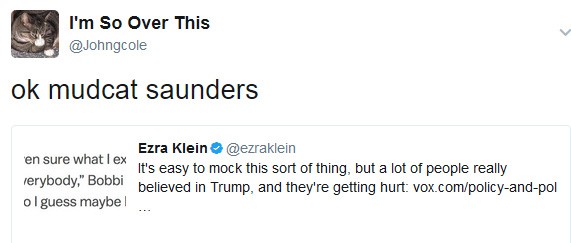 Yep, still not feeling sorry for these fucking assholes:
I went back this spring just after the House passed the AHCA, the bill to repeal and replace Obamacare that would cause 23 million fewer Americans to have health coverage, according to Congressional Budget Office estimates. The optimism was gone. Resignation had replaced it.

"You know, thinking about it, I'm not even sure what I expected. I just thought it would miraculously work out wonderful for everybody," Bobbi Smith, a 62-year-old Obamacare enrollee who voted for Trump, says. "So I guess maybe I didn't put enough thought into what I would expect from a health care act."

***

This includes Kathy Oller, an Obamacare enrollment worker who supported Trump in the 2016 election. She feels let down by the Republican health care plan — "If they take the expanded Medicaid away, it really, really is gonna kill Kentuckians because they won't have health insurance," she says — and she's already seeing other ways that Trump health policies are hurting Kentucky. Obamacare sign-ups, she said, were slower this year, as people in Kentucky were confused about whether the health care law still existed.

But Oller doesn't regret her vote for Trump — "I don't have regrets," she says plainly — and she trusts that Rogers, whom she has also voted for, knows what he's doing. She gets most her news from his weekly emails to constituents; she cites his arguments for why the law needs to be repealed.

Maybe what this world needs is fewer Kentucky voters, which the Trump bill will most certainly help accomplish. After all, you can lead a horse to water, but you can't stop it from yelling racial epithets and then drowning itself.
I don't feel bad for these mother fuckers in any way, shape, or form. They didn't think, and when they did, they came to the wrong conclusion or decided they didn't care the Democrats were worse. Which is fine. They are free to do that. But the problem here is they are fucking me and a lot of other people, because this week, while we're investigating Trump and Russia and Trump is agitating a war in Qatar and Iran, the Senate is working behind closed doors to screw every single American. So go fuck yourself Kathy Oller and Bobbi Smith.