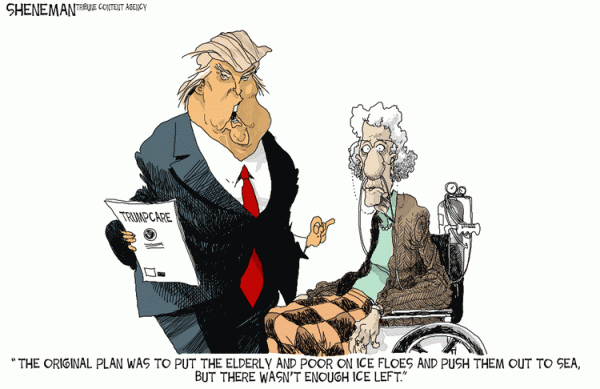 Or that their plan would make costs go up and leave millions without health care, 3/7

— Chuck Schumer (@SenSchumer) June 12, 2017
If they were proud of this plan, they wouldn't hide anything – they'd crow all about it! What exactly are they trying to cover up? 5/7

— Chuck Schumer (@SenSchumer) June 12, 2017
I was doing a little backstage clean-up, and just found this excerpt from before Paul Ryan managed to grin-and-BS his version of Trumpcare through the House. Still seems relevant: Adam Davidson, at the New Yorker, "What the GOP Doesn't Get About Who Pays for Health Care":
A few years ago, a relative of mine, an electrician who made a good living laying cable alongside highways, told me that his economic future depended on one thing: his back. He saw what happened to older guys—he meant men in their late thirties—when the pain became unbearable. They either became supervisors or they had to quit. At the time, my relative was about to turn thirty himself, and I remember him saying, "My back is killing me."

I've been thinking about that conversation this week, as President Trump has cajoled and muscled House Republicans in an attempt to get the votes to pass the American Health Care Act, the Paul Ryan-produced bill that was meant to fulfill Trump's campaign promise to repeal and replace Obama's Affordable Care Act. The vote on the bill was postponed on Thursday, in part because the most conservative members of the House, known as the Freedom Caucus, believe that the bill shouldn't mandate that insurance cover essential benefits, such as preventative and prenatal care, emergency-room visits, pharmaceuticals, and other elements that most Americans consider, well, essential. The idea, they argue, is that the government shouldn't force citizens to pay for the health care of other citizens through mandatory insurance or other penalties…

When gross domestic product was first defined, in the nineteen-forties, by the economist Simon Kuznets, the goal was to find one simple measure that could serve as a thermometer for the economy: when the number rose, things were probably going better than when the number fell. Kuznets, of course, knew that this was an oversimplification, but a helpful one. Of all the countless ways people make and spend money, Kuznets identified three categories that he believed could cover everything: consumption, investment, and government spending. When he devised the number, health-care expenditure was minuscule, making up about 0.4 per cent of the over-all G.D.P. There seemed no reason to carve it out as its own category. Today, health spending makes up more than seventeen per cent of G.D.P. That spending is divided into the major categories. You "consume" cancer treatments or a checkup or a week in the hospital. A hospital might invest in a new M.R.I. machine or a cardiac-treatment wing. And the government spends money through Medicare, Medicaid, and the Veterans Administration, among other ways. Health care is the single largest government expenditure by quite a lot, typically nearly double the defense budget. However, dividing health expenditures into these categories misses an important economic reality: health-care spending has a substantial impact on every other sort of economic activity.

As my relative's situation makes clear, much health-care consumption is perhaps better classified as an investment. As it happens, my relative didn't get his back properly treated. He took medicine, and then illegal drugs, to treat his pain. That led to an addiction, which led to crime; he is in prison now, and costing the government tens of thousands of dollars a year. When he gets out, it seems unlikely that he will ever earn as much as he would have had he received basic preventative care when his pain first began. It would be wrong to blame all his troubles on health care, but failing to invest in proper treatment when it was needed helped transform one citizen from a hard-working taxpayer into a possible lifelong recipient of government largesse…
Apart from the neverending #Resistance, what's on the agenda for the day?