Molina has filed their initial rate increase request for the Exchange in Michigan. I want to highlight a single table that shows a critical fact. Sticky members are sick members. The first people to leave an insurance product and the last people to sign up for it are people who don't use many medical services or file many claims.  I am only using Molina because they wrote a very clear and easy to use actuarial memo.  The logic applies anywhere and everywhere.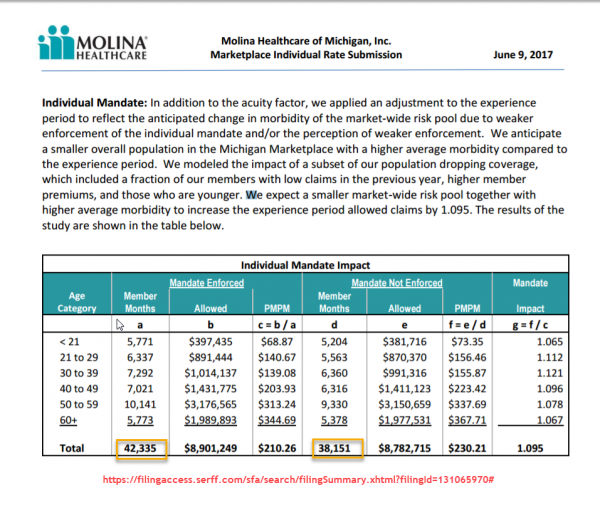 They are modeling two different scenarios.  The first is the baseline scenario where the individual mandate is either enforced or more importantly, believed to be enforced.  The second is a model where the individual mandate is believed to not be enforced.  The first scenario had higher enrollment and a lower per member per month (PMPM) in allowable claims .
Enrollment drops by almost 10%.  Claims drop by 1.5%.  Premiums for the remaining people in the pool increase by 9.5%.
Molina is projecting that the people that they are expecting to lose are the people who either don't file any claims during a year or file the very inexpensive primary care, preventative well visit and generic drug claims.  The people who leave have a PMPM of $28.33.  That is almost no healthcare utilization.
Insurance relies on people who make very few if any claims to pay into the pool to cover the costs of the few large incurred claims.  The pool is getting sicker and more expensive.  It can't death spiral due to the subsidy design but it can and will get ugly for the off-Exchange and non-subsidized markets.  The Federal government will pick up the incremental expense for people who receive subsidies on Exchange.  Non-subsidized buyers pay the full hike and the lowest probabilistic expensive people will leave.