On the Road is a weekday feature spotlighting reader photo submissions.
From the exotic to the familiar, whether you're traveling or in your own backyard, we would love to see the world through your eyes.
Good Morning All,
This weekday feature is for Balloon Juicers who are on the road, travelling, etc. and wish to share notes, links, pictures, stories, etc. from their escapades. As the US mainland begins the end of the Earth day as we measure it, many of us rise to read about our friends and their transient locales.
So, please, speak up and share some of your adventures, observations, and sights as you explore, no matter where you are. By concentrating travel updates here, it's easier for all to keep up-to-date on the adventures of our fellow Commentariat. And it makes finding some travel tips or ideas from 6 months ago so much easier to find…
Have at 'em, and have a safe day of travels!
Should you have any pictures (tasteful, relevant, etc….) you can email them to [email protected] or just use this nifty link to start an email: Start an Email to send a Picture to Post on Balloon Juice
Before the fold, this great shot from bystander:
Where it was taken:  84 and Amsterdam, Manhattan
When:  June 7
Other notes or info about the picture:  Upper West Side toy store tribute to this year's gay pride march.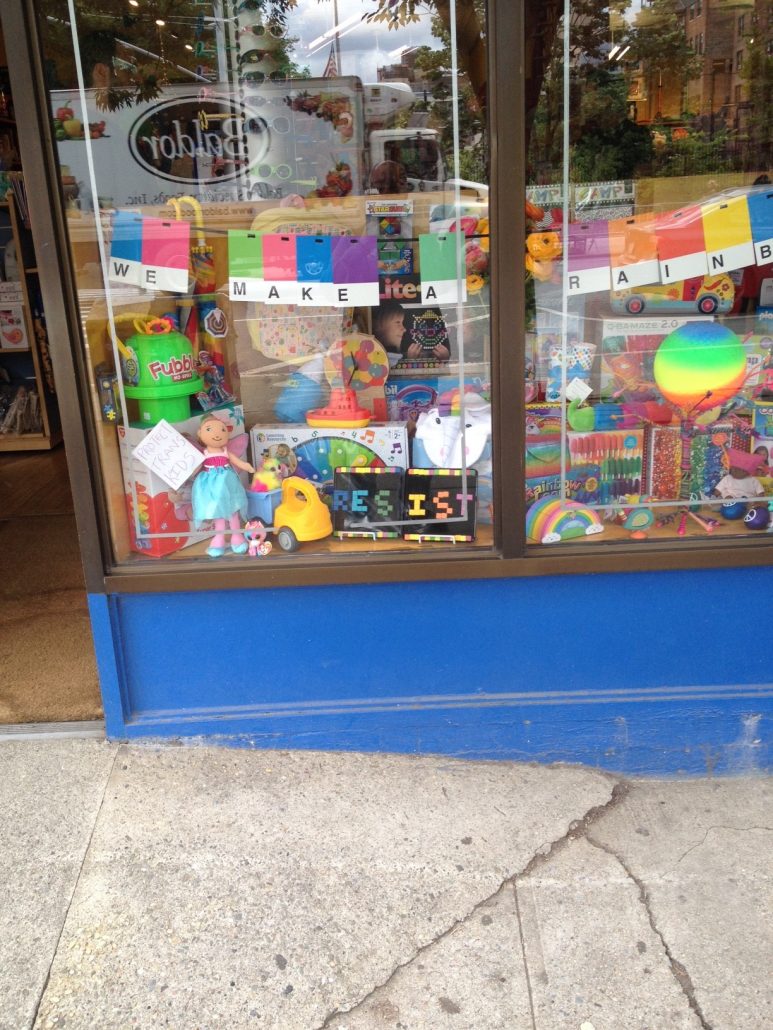 Now onto Italy. Ever been to Firenza or Tuscany? Prepare yourself – get a cup of coffee and a snack, you'll be here a while!
From JRinWV, who has been patient while awaiting the big reveal of this magnificent travel diary and set of pictures. Folks, there are TOO MANY pictures for one, two, even three days. Really, he's outdone himself as this is a excerpt of what he took that he curated especially for us.
Today we're doing part 1, Tuesday parts 2 & 3, and then Thursday, parts 4 & 5. Part 1 is Wine Making, appropriate for a Friday!
Trip log of our travel to Italy in May, 2017.

We departed Monday morning, May 8th,and met friends we were traveling with in Atlanta, where we boarded Air France flights to Paris connecting to Florence, Italy. I was interested to learn that in Italy, Florence is actually Firenze. All the signage refers to Firenze, they don't admit that Florence is a name of their city at all.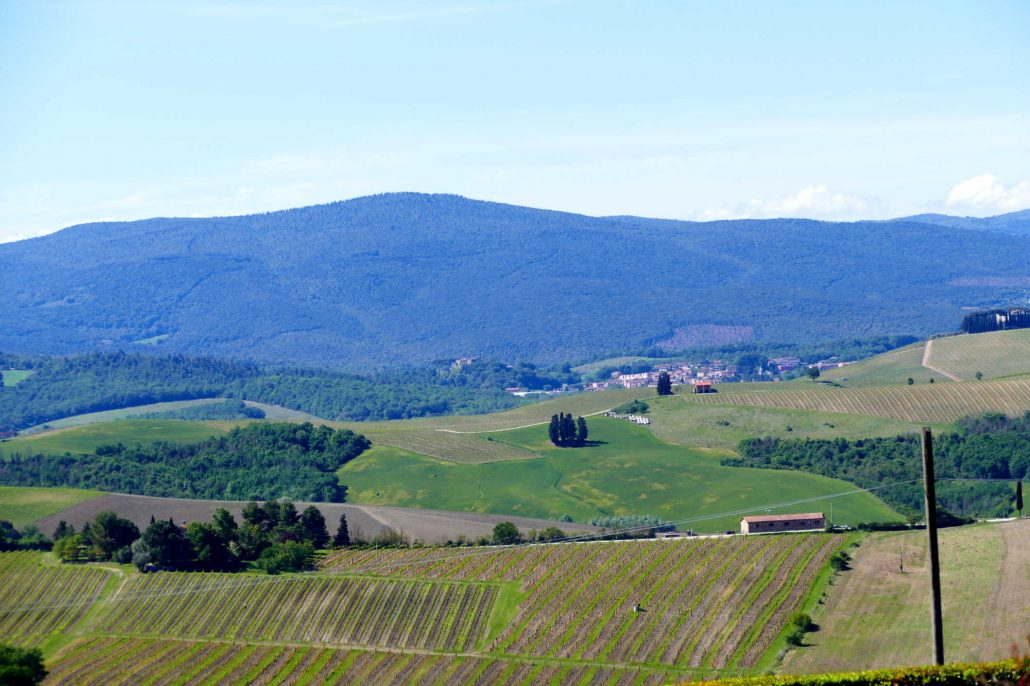 We flew overnight, after a good meal in Preferred Economy class. Air France does a good job with everyone who flies with them. We arrived in Firenze Tuesday morning, and took the shuttle to the rental car mall nearby, where a BMW station wagon was reserved for us. It was OK, had just enough room for 4 adults and the luggage.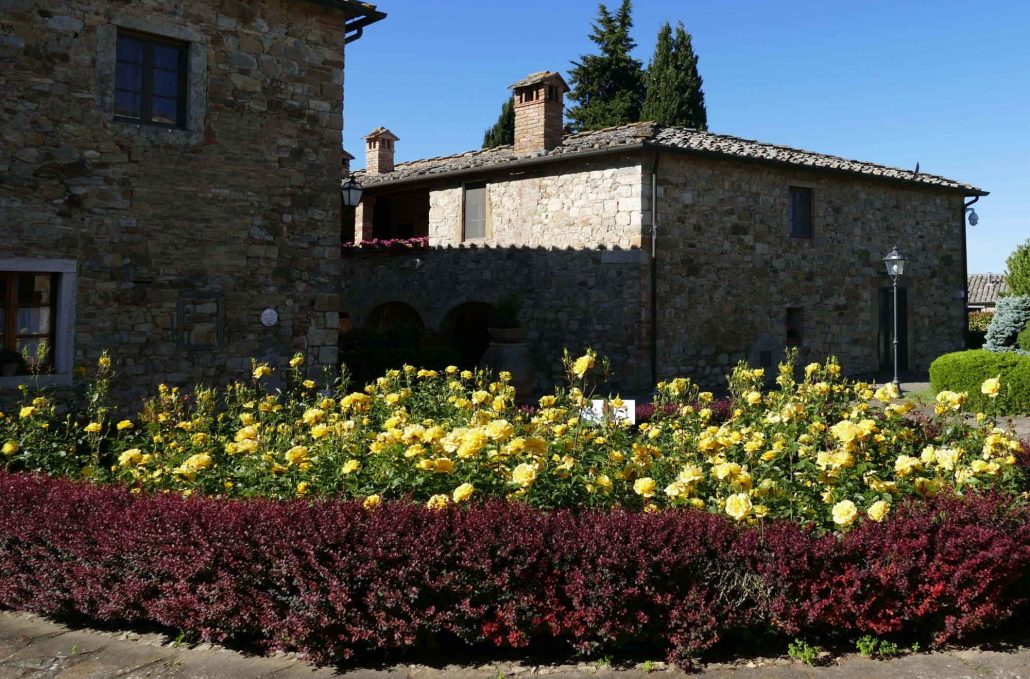 I had an International Drivers License, $23 from AAA. Mike had rented cars in England, where they allow one to use their national driver's license for up to 6 months, unlike the rest of the EU. So I was the designated driver, as the only person with the right papers. We had a hell of a hard time getting onto the southbound freeway, A1 Sud towards Sienna. We had a tablet with directions, and the car came with a GPS map too.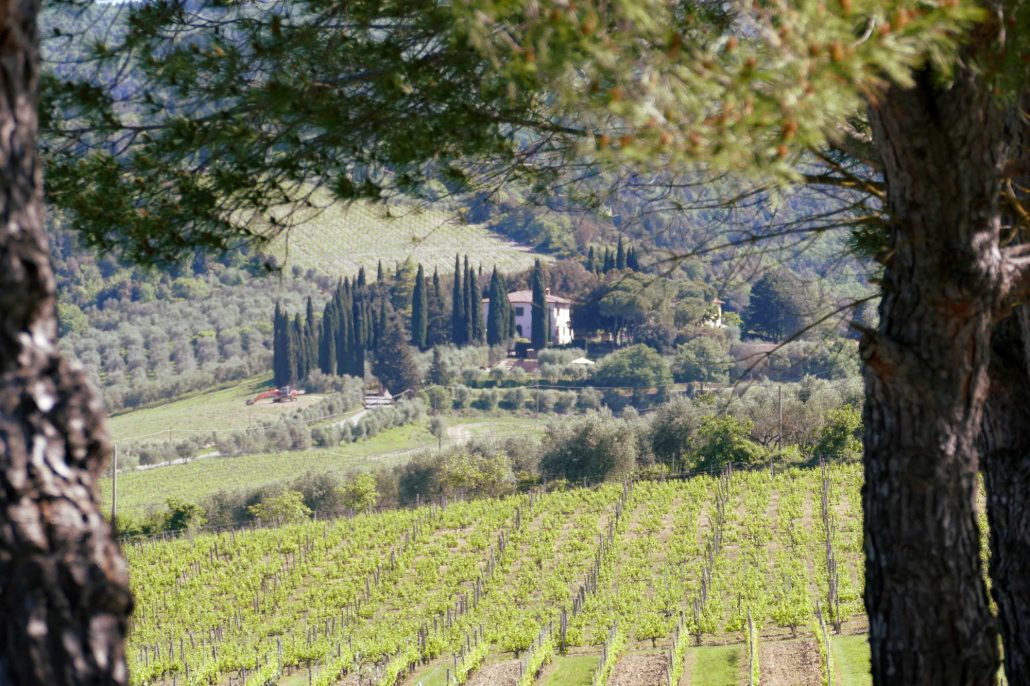 We found A1 repeatedly, but never at an interchange. We did get to see many out-of-the-way spots in Firenze, that most tourists never see. Finally, we were nearing what appeared to be an interchange, I looked over the maps while Mike went to talk to a service station guy. Success!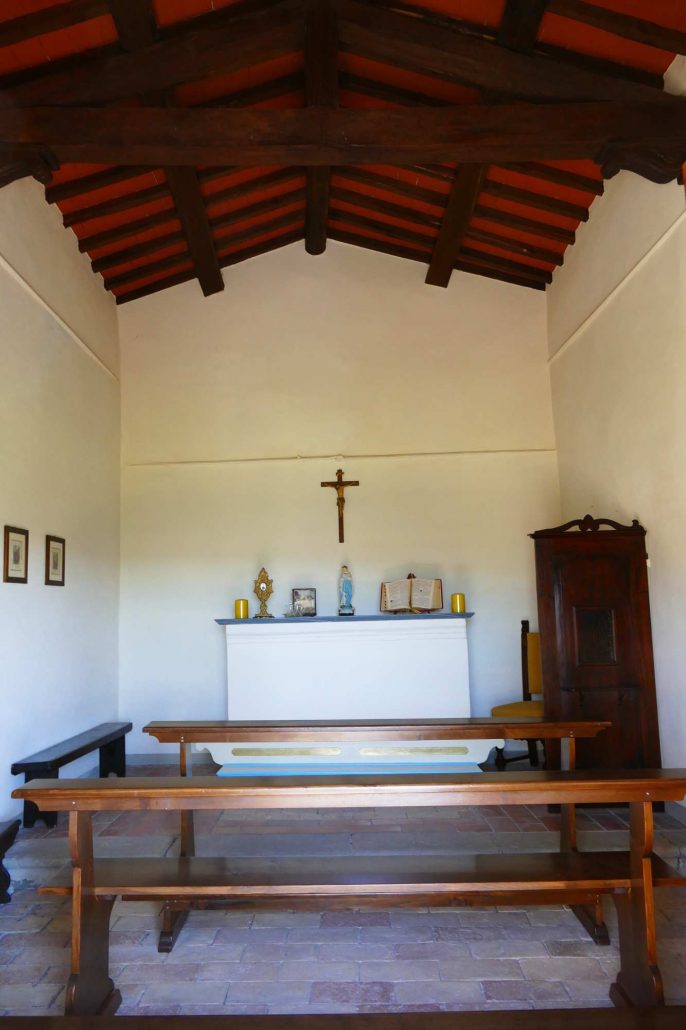 We drove south to the Poggibonsi Sud exit, and followed both the directions from Riserva di Fizzano as well as the map on the BMW's dashboard, with no further trouble. The resort was ancient looking, but modern under neath. A big rose garden of yellow roses, very efficient and pleasant staff at the registration desk, apartments rather than little rooms, and a wonderful view from a high ridge top location.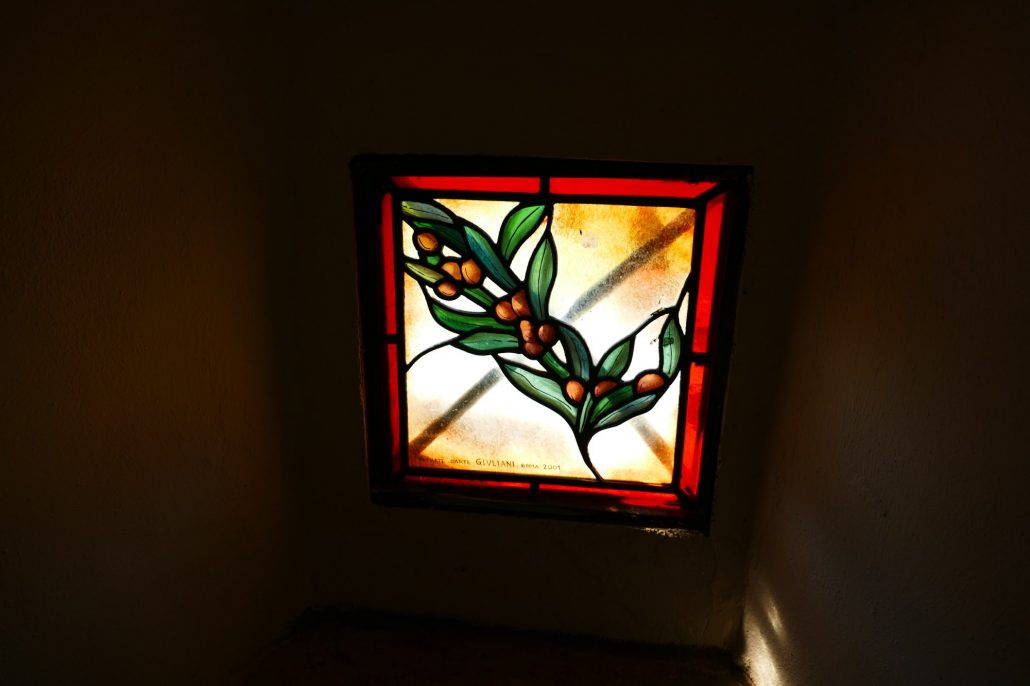 We ate at the Fizzano dining room that first night, and crashed early. The next day, Wednesday, we visited the winery Rocca della Macie of which Reserve di Fizzano is one of the vineyards. We went to Castellino in Chianti before the winery tour, had a good lunch, saw that it was an interesting medieval town with shops, banks, a hospital, a rebuilt ridgetop fortress with a museum in it, etc.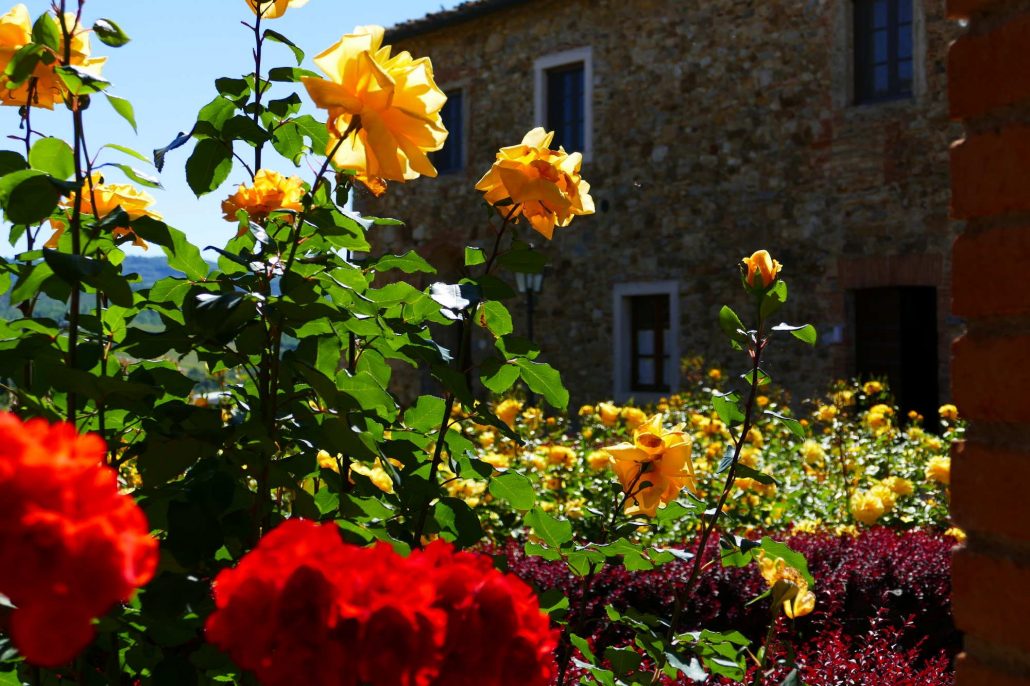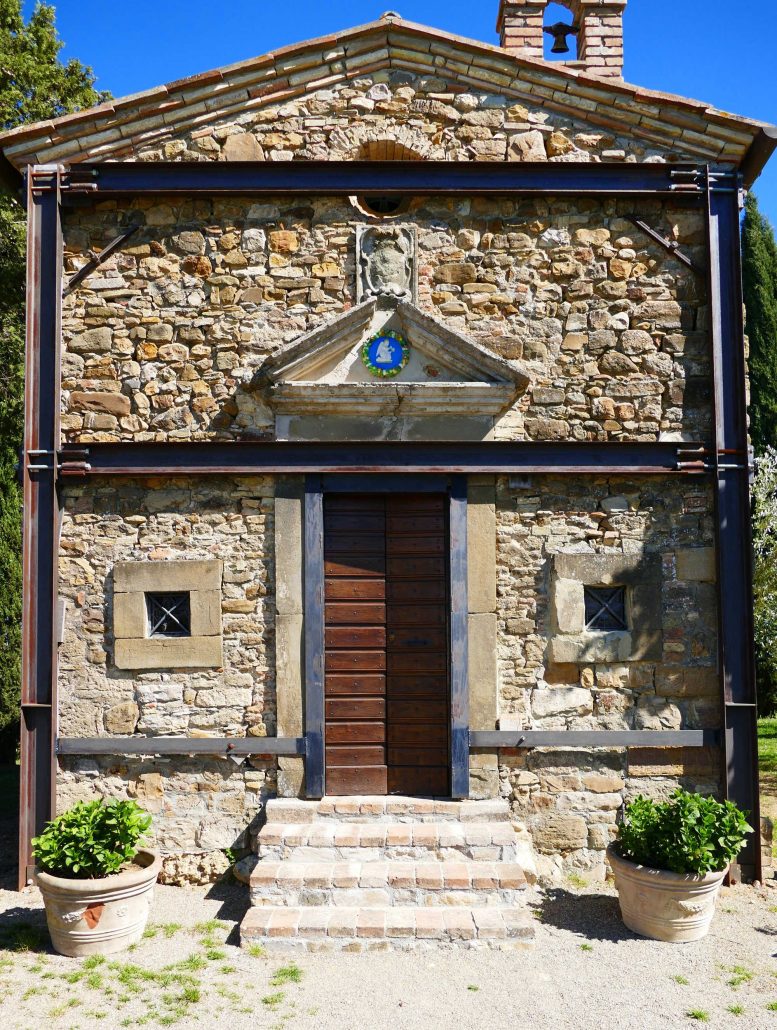 Castellino in Chianti was a walled city on a steep ridge top, and today there's a street that was beside the city wall that's now roofed over with dwellings and small commercial shops. It's dark, but lit with lamps in the floor and such. There are arrow slits, narrow vertical openings on the outside of the wall, but wide inside to allow archers and later marksmen to shoot at a wide field of fire, while making it difficult for attackers to hit someone inside the wall. This is common in European cities of this age.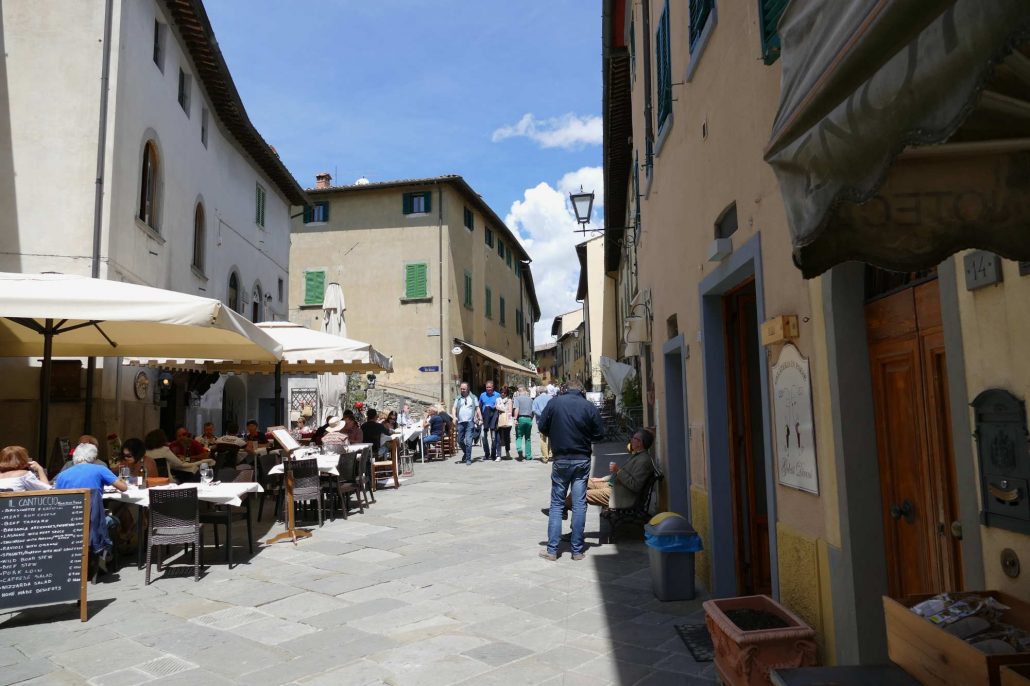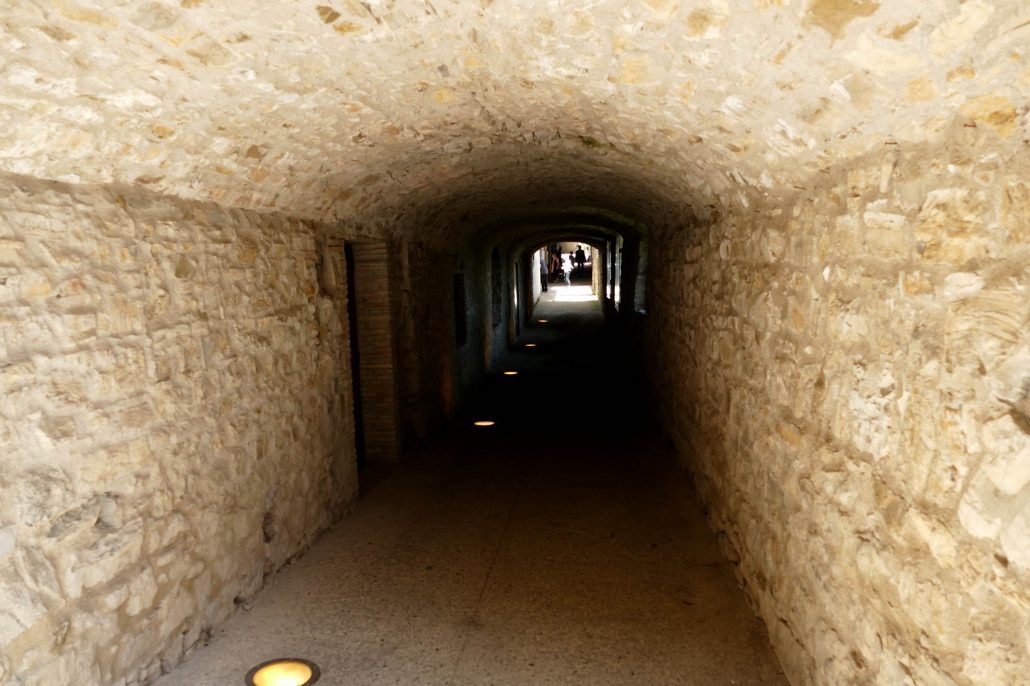 Many of the shops aim at the tourist trade, but at least as many are local shops with food and sundries for daily life.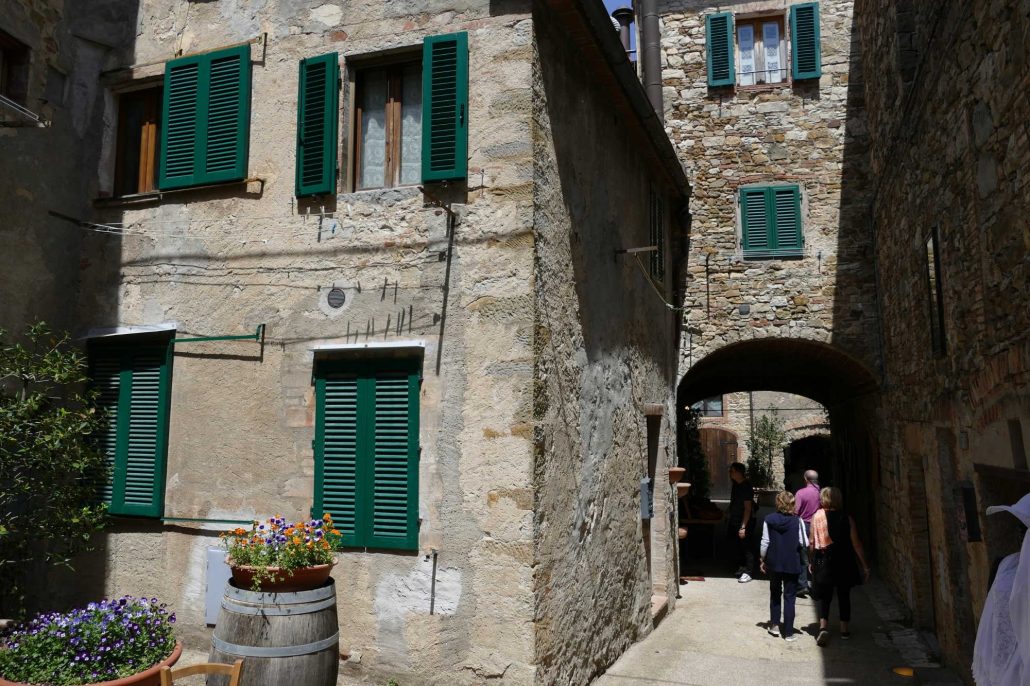 At the winery, which receives grapes from several local vineyards, the buildings are large stoneworks, with a giant steel statue of a rooster in the courtyard, roosters played a part in settling a dispute without outright warfare hundreds of years ago, so many genuine branded Chianti wines receive the right to use a rooster on their wine bottles.

A very pleasant woman took the four of us (Martha and I, Mike and Ruth) and a friendly Swiss couple around their 7 million bottles a year operation. Vats beside a drive-through that surrounds the main buildings receive grapes, and gently crush them as they move them into the machinery. The juice is pumped into large outdoor vertical steel tanks for the first fermentation, and then horizontal steel tanks in the cellars, then finally large oak barrels from Croatian oak for the aging of the majority of the wine.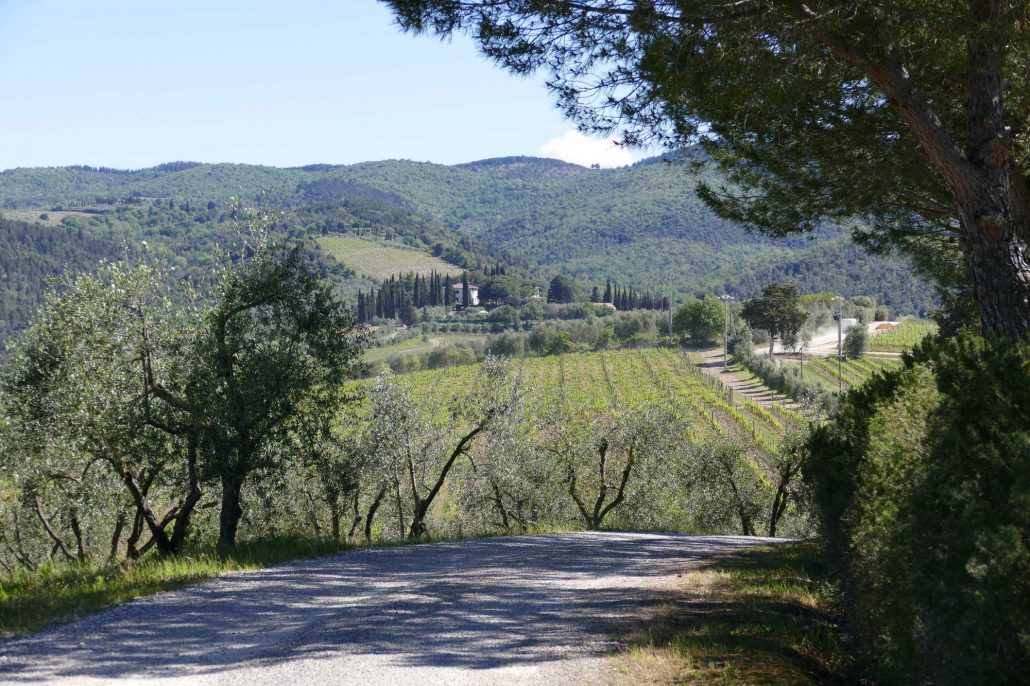 All these large vats and barrels can be entered by a slender agile person for scrubbing and washing. The oak barrels are also abraded between uses to allow the oak to be penetrated by the wine to flavor the wine more quickly.

The best wine, though, got a longer spell in smaller French oak barrels, smaller so there is a larger ratio of oak surface to a volume of wine. Lots of discussion of the flavors the different oak barrels pass to the wine as it ages. After the tour of the winery, we sat down to taste the wines produced, from least expensive to most. They were all good, and got better as we went along.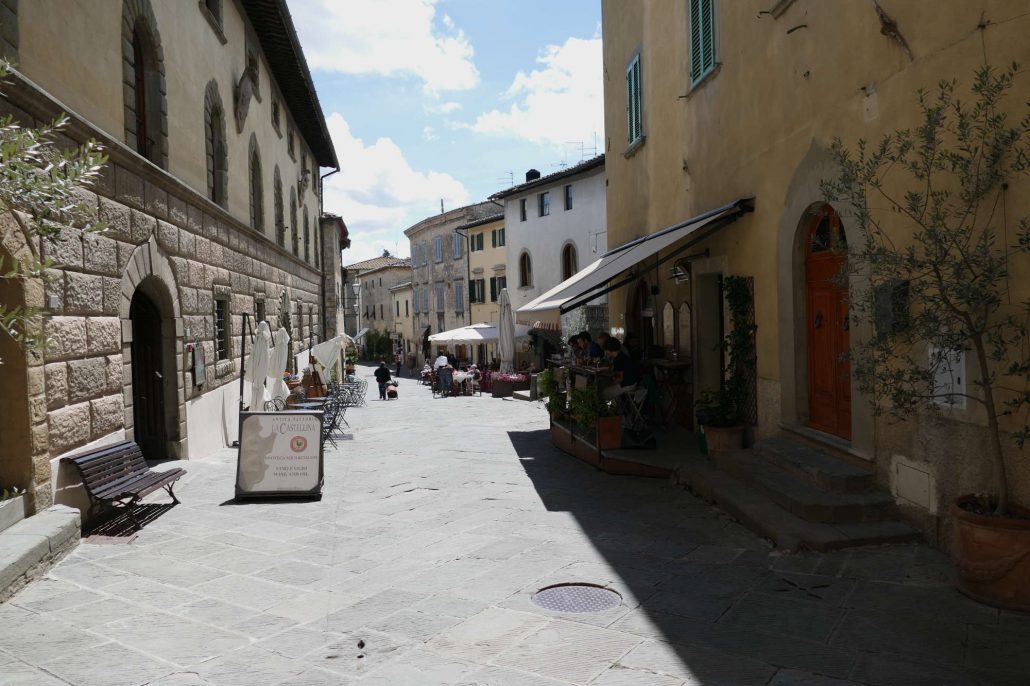 It's a well planned marketing effort, including the tours, discussion of the different wines and flavors, drinking lots of tiny glasses of different wines, then a sales pitch to have cases shipped home. Mike and Ruth took advantage of the sales offer at Rocca della Macie, Martha and I did not.

That night the Reserva di Fizzano restaurant, not having a reservation for us, wasn't able to serve us, so we drove back to Castellino di Chianti and ate in one of the small restaurants on the pedestrian street there.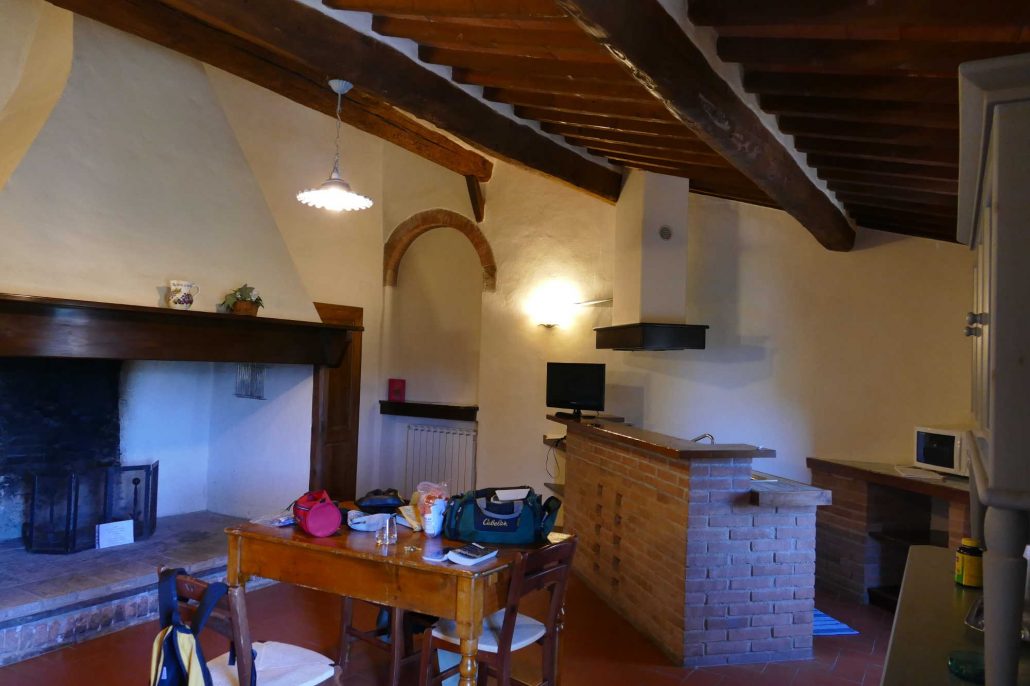 Have a great weekend folks, next week is going to so very exciting and filled with so many gorgeous pictures! Travel safely and look around – there's always something of beauty or wonder within view – you don't have to be in Italy (but it helps!)
Don't forget at noon today is the memorial for greennotGreen, and the continuation of this Italy series will be on Tuesday.