This is really a place holder until Cheryl and/or Adam show up, but if you don't count Qatar-follies, we've got a situation brewing in Syria that could truly end up being double-plus ungood:
Iran's Revolutionary Guard said Sunday it launched missiles into eastern Syria targeting Islamic State militants in response to an attack on Iran's parliament and a shrine in Tehran, warning that it would similarly retaliate on anyone else carrying out attacks in Iran.

The launch of surface-to-surface medium range missiles into Syria's Deir el-Zour province comes as Islamic State militants fleeing a U.S.-led coalition onslaught increasingly try to fortify their positions there.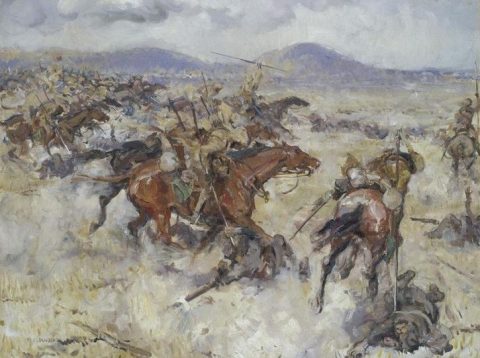 A U.S. F/A-18E Super Hornet fighter jet downed a Syrian SU-22 plane on Sunday in the southern Raqqa countryside, said the U.S. military, the first time since the civil war broke out.
read more: http://www.haaretz.com/middle-east-news/syria/1.796428
I'm not going to even to pretend to offer meaningful analysis, given the availability here of folks who actually know about such matters.  I'll just point out the scorecard as context for what I'm sure will be more sophisticated thinking to come.
First:  Iran strikes ISIS at bases in Syria.
Second:  the US knocks down a jet flown by the armed forces of Iran's ally/client, the Assad government of Syria.
Third: …that's what I'm afraid of.
Over to you folks.
Image:  Thomas Cantrell Dugdale, Charge of the 2nd Lancers at El Afuli – in the Valley of Armageddon, 5 am, Friday 20th September 1918, 1918.