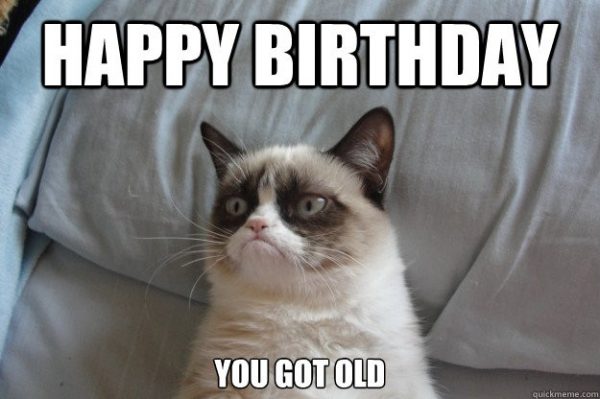 It's truly impressive that the Republicans managed to make the House health bill care worse. But they got rid of the individual mandate and rich and healthy people benefit and will get tax cuts, so WINNING! I have nothing going on the next few days so may actually try to find protests and go march in front of Capito's local offices. I am not a protest person, but this shit requires drastic measures. Of course, the bill is not evil enough for the Zodiac killer and his cadre.
Speaking of healthcare, I turned 47 today. I'm not a person prone to celebration- I think this irritates ABC a touch because I'm not one to get really excited about things. I'm really not a hot or cold person (despite my irate ramblings), I just cruise along comfortably at the speed of grumpy. I mean, I am not miserable. I'm generally a happy person (ask people who know me IRL). I feel like I am defending myself too vigorously.
At any rate, mom and dad wanted to go out to dinner tonight, and I was not feeling it. I initially agreed, but then thought about it and cancelled. I decided I would rather stay and home and putz around the house, cook a nice dinner with a ribeye, and so I pushed back the plans until tomorrow night. I bought a steak and planned a nice dinner, and then had leftover fajitas that Christion and I made yesterday. Because who says I am not spontaneous?
Back to health and healthcare. Every summer as I head toward a new birthday I schedule a lot of health related events. I've had sleep apnea since 2005 (if you snore, get yourself checked- it will change and maybe save your life), and have not had a test since, so I scheduled a new sleep study. I had a friend die of pancreatic and colon cancer this past year, so I scheduled my first colonoscopy. I had another friend die of a heart attack, so I am headed to get a stress chest and a cardiac check up just because I don't want to die before my parents so they don't accidentally see the contents of my hard drives. I had my b-annual physical and labs. I went for my six month checkup at the dentist, had a crown replaced, a cleaning, and bought a night guard because I grind my teeth. I had my eyes checked and got new glasses two months ago. All in all, it cost about $2500 out of pocket (eyes and dental were the worst), which is a lot, but I'll have it all paid off by the time I have to go in next year.
None of that would be possible without health insurance. None of it. And again, I am one of the upper tiers as far as lucky goes when it comes to health insurance. I'm having this shit done. A shit ton of Americans can't, and that's before the Republicans have their way and dismantle the ACA. What they want to do is cruel, inhuman, and flat out evil. The slashing of funds to deal with the opiod epidemic and things like that will stand out, but all of it is uniformly vile and awful. They are just horrible people beyond redemption. They sicken me emotionally, and they intend to sicken the nation physically, all just to throw a couple more bucks to the already rich. I don't know how these reptilian motherfuckers sleep at night.
In house related news, my water filter needed to be replaced on my fridge. So I went and bought a new one. I installed it. The warning light was still on. I read the manual from cover to cover. I googled. Couldn't find help anywhere. So I called GE and I spent an hour on the phone to have a person tell me to turn my unplug/plug my fridge back in to get rid of the warning light. He called it a "factory reset" to justify his existence and for me to not feel like a stupid asshole who is confused by household appliances.
I also found another board on the back deck (right next to the one I fell through) that needs to be replaced, so now I am wondering if I should have another expert come in and check the entire damned thing. I think it is too big to begin with, but I am not financially prepared to rip it out and replace it, so mending will have to be all I do.
The garden is weeded and up looking good. I did not put in raised beds yet because $$$, and I had a large portion of the yard where the ground was really uneven and nothing but shitty weeds were growing, a remnant of the yard being in disrepair so long. Remember, the weeds were chest high when I bought the place. So what I did this year was just plow up a big section of it and plant a garden right in the damned middle where I know I will have to level next year, and I am using that. It is unsightly, but it works. Next year I will get a dumptruck of topsoil and fill that in and seed it.
Also next summer I have decided I am going to ring the outside of the fence with native flowers and the like. The front yard has shrubbery and all that, and i will plant some bulbs and some other stuff there, but around the sides the length of the house I am going to plant day lilies, snap dragons, sage, milkweed, black eyed susan's, milkweed, and use that and have a more free look than the paean to Prussian order that is my front yard. I figure I will have those around the whole yard and then I can plant a solid butterfly/bee garden in the back yard with a little butterfly pond. Under the pines I am going to put in blueberry and blackberry bushes.
The front yard is looking ok, but I apparently have swarms of ground bees (they are yellowjackets), so I bought some thing I have to pour into the nests to kill them. I don't like pouring chemicals into the ground for obvious reasons, but I also don't want swarms of bees attacking ABC's kids when they come down.
Today while getting the water filter at Lowe's, I picked up a flag mount for the front porch and a nice nylon flag. Is there a specific etiquette to where you hang it- if you are facing the house, to the right or to the left? I know neither adheres to official flag regulations, but I was wondering if there was an informal rule.
Finally, I got a fern. For some reason, I love ferns, but everyone says "don't get a fern they are a pain in the ass." They are probably right, but I have Thurston, so my definition of pain in the ass might be a little bit different than other people. At any rate, I am hanging it from the ceiling on the landing of the stair case in between the first and second floor by the window. I just think it will look good there, especially with pictures lining the staircase walls. Now I am looking for a neat pot hanger to go with it. I like this, but it seems kind of expensive:
Any thoughts? I thought it would go well with the colors of the house.
That's about it for me. Guess I will sit down and start searching netflix and amazon prime for something to binge.