Andrew Sprung at Xpostfactoid notes one group of low income people who could be better off under the BCRA; poor people who would have been Medicaid expansion eligible if they lived in states that expanded Medicaid. The subsidy structure of the BCRA sells the baseline plan at 2% of income for people up to 100% of Federal Poverty Line. The Benchmark plan is 58% actuarial value.
The BCRA does toss a bone to the dis-insured poor by offering private-market subsidies to those who are shut out of Medicaid. Under the ACA, in the 31 states plus D.C. that accepted the law's Medicaid expansion (rendered optional to states by the Supreme Court), anyone whose household income is below 139% of the Federal Poverty Level (FPL) qualifies for Medicaid, and so not for subsidies in the private plan marketplace (with one class of exceptions*). In states that refused the expansion — a possibility not envisioned by the law's drafters — eligibility for Marketplace subsidies begins at 100% FPL, and those below that level are left out in the cold — because their state's governors and legislatures wanted it that way. The BCRA allows people with incomes in 0-100% FPL range to buy a "benchmark" plan for 2% of income, and those in 100-133% FPL range** to buy one for no more than 2.5% of income…

For low income enrollees [ACA] – the majority of marketplace enrollees — silver plans are enhanced by Cost Sharing Reduction (CSR) subsidies that raise AV to 94% ….That usually means deductibles in the $0-250 range for people with incomes up to 150% FPL…
The Senate bills drops the AV of a benchmark plan to 58% — below that of the ACA Marketplace's bottom-level bronze plans, which have an AV of 60%. Bronze plans generally have single-person deductibles over $6,000
Prof. John Graves from Vanderbilt has a great illustration of comparative actuarial value:
How generous are plans in the BCRA compared to other insurance types?

Here's an update to my graphic: pic.twitter.com/CHVgMnfyDO

— John Graves (@johngraves9) June 23, 2017
The value of these plans mainly accrue to providers and hospitals.
It is very hard to design a 58% AV plan given the lack of change in out of pocket maximum where there are any services excluded from cost sharing. Donut designs where a few PCP visits and low cost generic drugs are no cost sharing are plausible at 60% or 61% AV.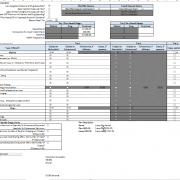 Using the 2018 AV calculator, I could only get a 59% AV Bronze plan with a $7,150 deductible that applied to everything.
There is some money allocated to bring down out of pocket expenses. If it is used as a state based CSR, it is grossly insufficient compared to current funding. There is less money and a larger gap. Someone who makes 100% FPL today receives a 24 AV point bump to get to a 94% plan with a $100 deductible and $1000 out of pocket maximum. That same 24 point bump produces an 82% AV plan with an $1825 deductible that applied to everything. That person is still massively underinsured as the out of pocket exposure of 10% of their income.
So when someone who earns 100% of FPL or less has a catastrophic event, the benefits will be in the form of unpayable debt and care for them. The doctors and hospitals will have a fixed limit of unpayable debt. If there is matched CSR, it might be $1,825. If there is no CSR, it could be $7,500. For diagnoses that routinely generate $100,000 claims over the course of treatment in a year, this is an acceptable discount. For PCPs and low level specialists, this will be 100% bad debt.
This has an interesting risk pool aspect. Third party payment of premiums will be quite common for patients who are guaranteed to run up $50,000 or more claims. Paying a few hundred dollars to minimize the amount of bad debt an oncology practice incurs is a smart business decision. It will make the risk pool even uglier.
So yes, there will be some poor people who are better off because their states have refused to accept significant federal funds to provide 98% actuarial value insurance. Now they will be getting 58% actuarial value insurance for 2% of their income. But they won't be able to use it for common care as they can't come up with out of pocket first dollar cost sharing.