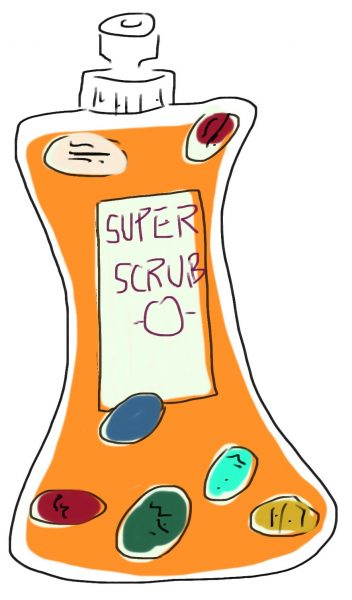 For many years, when I washed produce in the sink prior to consumption, I'd scrape the little stickers off and allow them to get washed down into the drain trap. This habit irritated the mister exceedingly, and one day he asked why I couldn't just throw the damn things away.
It was a reasonable complaint, but when engaged in the task of washing produce, I didn't want to stop that activity, open the door where the trash can is and dispose of the sticker. Nor did I think it likely I could retrain myself to scrape the stickers off prior to washing the produce. Who gives stickers advance thought?
However, in the interest of maintaining marital harmony, I hit upon another solution: I started scraping the stickers off and applying them to the bottle of dish soap that sits on the ledge of the sink. Those bottles get tossed in the recycling anyway; who cares if they're covered with produce stickers? Problem solved!
I realize this isn't rocket surgery, but little things that make life easier, well, make life easier. Do you have any to share?
If not, feel free to discuss other topics. Open thread!