The White House has just released the following statement: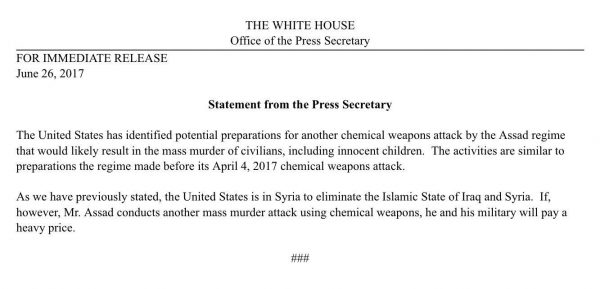 It went up at 10:04 PM EDT on Sean Spicer's official twitter feed, but is not yet up on the Office of the Press Secretary Statements and Releases page.
Unless someone's been reading the Mass Atrocity Prevention and Response Handbook*, which presents publicizing mass atrocities/potential mass atrocities as having a potential deterrent effect, I have no idea why this information would be released right now. It is possible that LTG McMaster thinks this may actually deter a forthcoming action. It may be something else entirely. But this is a type of public strategic communication I'm not used to seeing out of any administration – Democratic or Republican.
While we wait for more information: Open Thread!
Update at 10:45 PM EDT:
CENTCOM officials told @BuzzFeedNews they have "no idea" what prompted the White House's Syria statement tonight https://t.co/BQKoPVyqNZ

— Brandon Wall (@Walldo) June 27, 2017
* The author of the handbook is a friend and former colleague.