UPDATE: VICE has retracted the Hall of Preidents story. However, the real Trump is still an asshole, and his robot doppelgänger will probably cause mayhem when finally unleashed on an unsuspecting public. — 6/28/2017.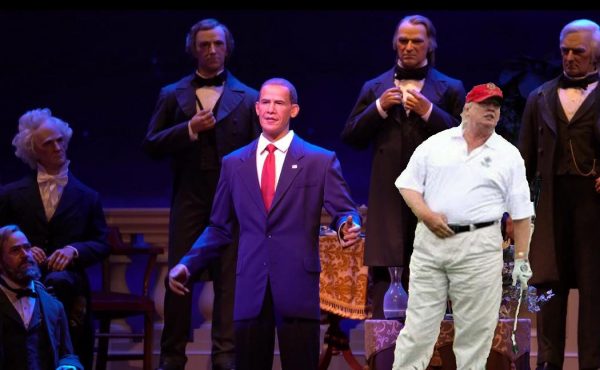 Since I grew up in the shadow of The Mouse, I'm familiar with Disney's hokey-ass Hall of Presidents exhibit. In case you aren't, I'll summarize: It's like a jingoistic "It's a Small World" ride, only with robots fashioned to look like U.S. presidents instead of multicultural animatronic dolls in traditional garb, and it features a mostly warts-free voice-over account of U.S. history in place of the painful ear-worm song. Lincoln and whoever is the current president have the only speaking roles.
Bush 2 was president last time I actually sat through it, but Obama's people worked out a short speech with the Disney folks, which President Obama himself recorded in time to ensure a transition between robot presidents as seamless as the real transfer of power. Just as Bush 2 had done when Robot Bush 2 took over for Robot Bill Clinton.
You'll be shocked to learn that Robot Donald Trump is just as big a pain in the ass as his bloated, orange, fleshy counterpart. Via VICE's Motherboard:
"When Disney tried to get this process started earlier this year," said the source in an email to Motherboard, "Trump's people said, 'We'll be writing the speech that the President's Audio-Animatronic figure will be saying.'"

"The Imagineers [the researchers and developers behind Disney's theme park attractions] tried to point out that they're typically involved with this process," continued the source. "That they directly collaborated with Clinton, Bush, and Obama's people when it came to figuring out what the President's Audio-Animatronic figure would say. Trump's people said, 'No. We're writing this speech. You guys have no input on this.'"

So that's been the holdup. Disney has always collaborated with the president on the final speech. Disney, apparently, has finally reached an agreement with the Trump team, though we still don't know yet how much involvement Disney will have in the crafting of the speech (if any).

"There are those at Imagineering who hope that if they hold off on doing anything with this attraction until the fall, Trump may have done something so egregious that the general public won't have an issue with putting a non-talking version of [Trump] in The Hall of Presidents," said the source.

And now, a simple speech recording—something that should have been small, perfunctory, and ceremonial—has snowballed into a political issue.
The Imagineers will be waiting a long time if they think Trump will ever do something egregious enough to put off his cult followers. Those morons will line up to kiss Trump's ass as he's disconnecting their disabled children's ventilators due to Medicaid cuts.
But yeah, a non-talking Trump would be the least embarrassing option. Or just scrap the whole goddamned thing — send animatronic presidents 1-44 to their respective libraries, demolish the Hall of Presidents building and erect a circus tent in its place to honor the current clown. The US presidency has jumped the fucking shark.