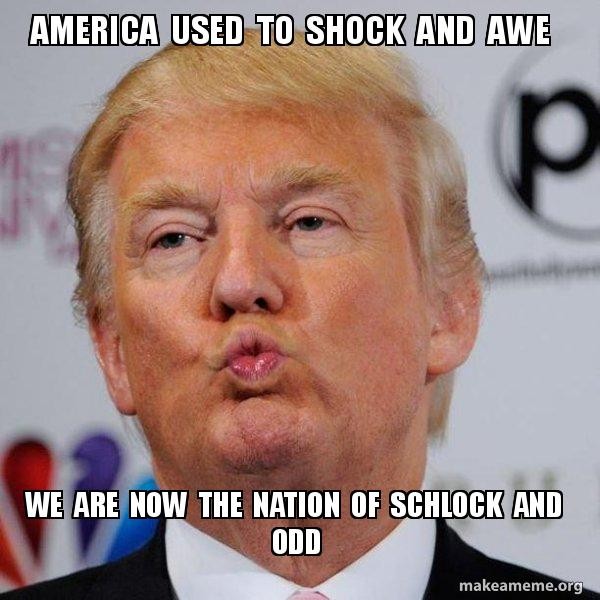 What is increasingly obvious to everyone, even the media, is that the Trump administration is just in complete chaos, no one is really in charge, most of the agencies and staff positions are missing personnel, let alone qualified personnel who know things, and it's sort of just a slow motion disaster. It's kind of like when a well run business gets sold out to a bunch of idiots who know nothing about business, and everyone keeps trying to get in touch with the people who used to run things, but they are long gone, no one has been hired to replace them, and the phones don't get answered or if they do they get answered by one of the new owner's kids who has no idea what the hell is going on.
It is also completely obvious that there is quite simply NO ONE in the administration who can tell Orange Julius Caesar no. He either won't listen to advice, can't listen to advice, can't understand the advice, or is too addled to remember what the advice is, and there is no one there in real time with the power to keep him on the straight and narrow. I'm personally of the opinion that he is mentally ill, but were he of sound mind, would still be fantastically under equipped mentally to handle the position the idiot GOP peter principled him into.
The Mika/Morning Joe shitshow from Il Douche is just additional evidence of this, something that can be added to the growing pile of fail that already includes the Comey firing, the "I has recordings oh wait no I don't" and on and on and on. But the important thing to remember in all of this is that while all this is going on, Republican operatives are using the chaos to fulfill life long goals.
The Kris Kobach/Hans von Sapovsky voter purge, the destruction of medicaid, destroying longstanding alliances and trade agreements, immigrations "reforms," stacking the courts, gutting the EPA and actively using the government to attack CLimate Science, etc. It's nearly impossible to keep track of all the evil shit that is going on, and it wouldn't surprise me if Trump doesn't know of 99% of the shit that is happening.
The last 24 hours. pic.twitter.com/InK2gqFFOU

— Mazel Tov Cocktail (@AdamSerwer) June 30, 2017
Trump really is, in every sense of the phrase, a useful idiot. Not just for Putin, but for the fuckers in the GOP, as well. It's going to take us decades to recover from this administration, if we can.