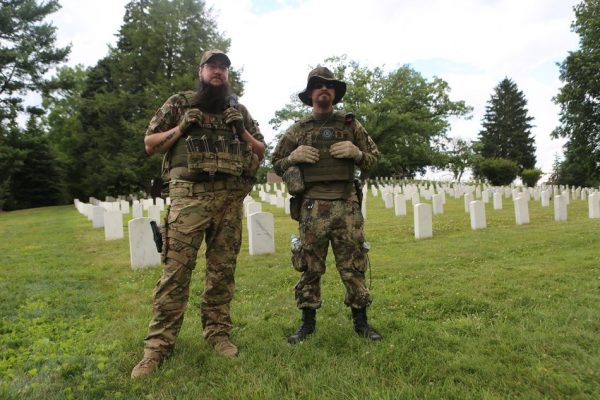 These fucking idiots:
A few hundred armed militia group members, Sons of Confederate Veterans, Ku Klux Klaners, supporters of President Donald Trump, and other self-described patriots descended upon the Gettysburg battlefield Saturday to defend the site's Confederate symbols from phantom activists with the violent far-left group Antifa.

Some carried semi-automatic rifles ― permitted in Pennsylvania ― as they peered out across the battlefield with binoculars, on the lookout for the black-clad, face-masked anti-fascists, anarchists and socialists they said they had heard were traveling to the national park to dishonor Confederate graves, monuments and flags.

Although many came expecting violence ― even after Antifa made it clear its adherents never planned to show up ― the only bloodshed came when a lone militia group member accidentally shot himself in the leg.
I suppose there are worse things than having a bunch of amped up fascist gun nuts self-quarantined in a battlefield where literally the only harm they can do is to themselves and the graves of confederate filth who have been dead for 200 years. I suppose it is worth noting that these lost cause losers were defending the graves from nonexistent threats incurred in a battle that was the beginning of the end of the Confederacy, so that makes this idiocy just a touch bit tastier for this Yankee scum.