While I cringe in horror every time I think about it, many of you fondly recall the Balloon Juice yuletide tale of the Legend of Shitmas 2016. Well, happy Juicers, it appears Shitmas came early in 2017.
Steve has spent the last couple of days pottying on carpets. Why? I don't know. But I suspect he may have a urinary tract infection, as he has had them before, so I called up the vet and scheduled an appointment. Rosie also needed her nails trimmed and it had been about six months since her last pain shot for her hips, so I made it a twofer. Plus, everyone knows it's not really a trip to the vet unless it costs close to the last damned dollar you have in your checking account.
After a little while, we managed to coax Steve out from wherever he was hiding in the back yard, and we three-manned him into his crate. To make matters more interesting, Rosie decided to fall/jump/jackrussellterrier into my father's Koi pond shortly before it was time to leave (I was not there, but tales of Andrew's heroism rescuing her should not go unmentioned). No, I don't know if they are actually Koi or some other kind of foreign overweight fucking goldfish, but that is not central to the story and I don't want to argue with you pedants about it. At any rate, she was fished out (you see what I did there?) and I loaded up the CRV with a recalcitrant and overtly suspicious Maine Coon and a recently moistened Jack Russell Terrier.
Fired up the trusty Honda, turned on the AC, got on the road, and eased into some Dire Straits for the short ride to the vet. With Allah as my witness, everything was going great for the first bit, but during the opening lines of Industrial Disease when the smell hit. It was so foul I had to open the window and stick my head out for the rest of the drive. I got to the vet and left Steve in a crate outside and took Rosie in, and I explained the situation and told them they needed to bring Steve into the back and deal with that because I didn't want to kill anyone in the waiting room with the smell.
Steve was cleaned up, all went well with the visit, and there were even some mild jokes about this being the easiest stool sample they have collected in a while. I paid up, left, got halfway home, and he shit the crate again and managed to smear it into every inch of his coat. It was then that I realized that I was going to have to bathe the cat.
This was a multi-part operation. William held the towels, Andrew provided moral support, ABC held the leash and served as photographer, and I got, well, the shit end of the stick. The following will serve as documentary for what went down on this otherwise uneventful day.. And yes, that is a dogleash serving as a lariat: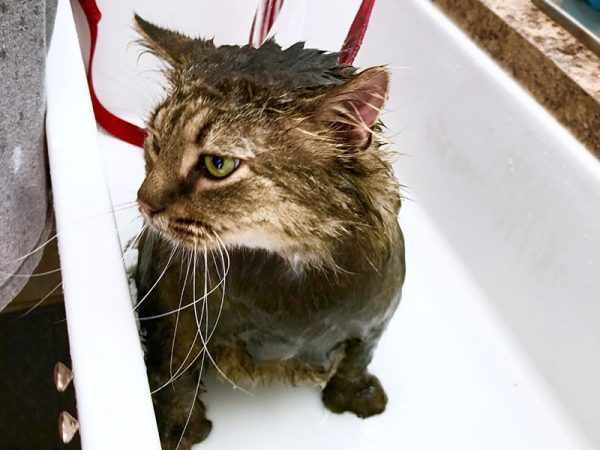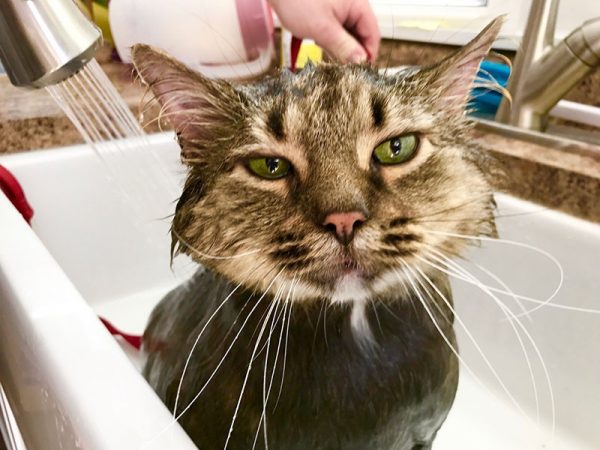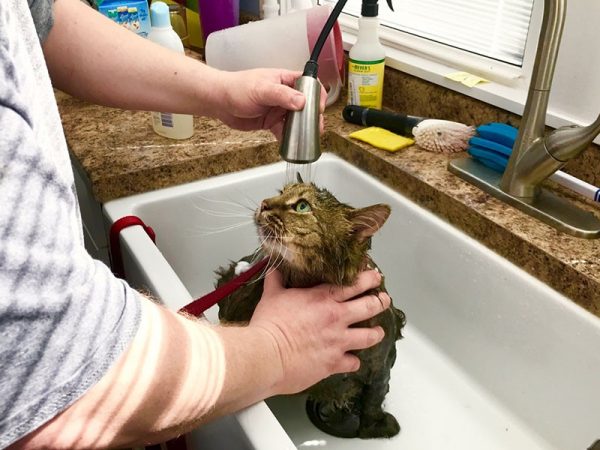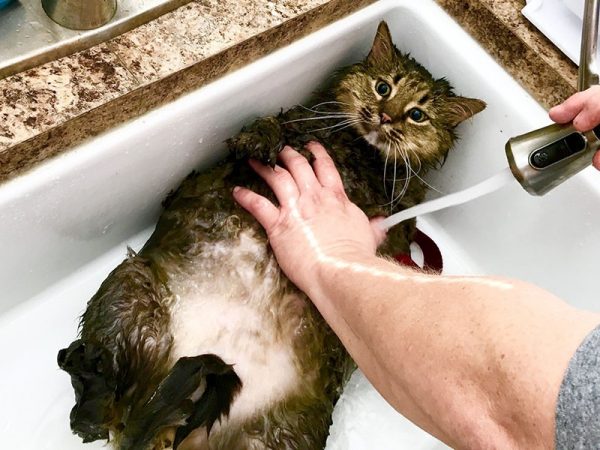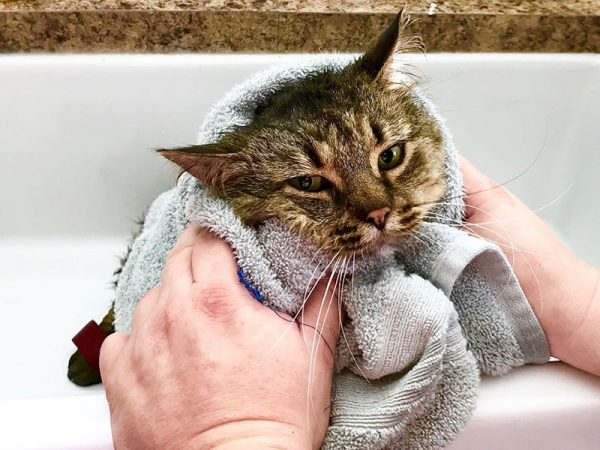 As always, no animals were hurt during this, only maybe a little damaged pride. I am pretty sure I will be bled in my sleep tonight.