Today was a good day, although it was a little hot and oppressively muggy. We took the boys to my parents for a picnic, and even manage to show up at 1:58 pm when we supposed to be there at two. Ann Burr was a little irritated with me because I was ready at a quarter til and couldn't get any movement, so I just went out and sat on the back porch and waited for them. At any rate, walked out the back gate of my house, crossed the alley, entered their backyard, and as we were walking through down his garden path I stated "Dad already has the grill going." She stopped, turned around (I like to walk behind to usher stragglers and pick up the wounded on these forced marches), looked at me, and asked "Is this the German?"
Another quirk of mine- when we say we are going somewhere, I am physically ready to go 15 minutes prior and thus mentally prepared to go 15 minutes prior. I know this about myself, and I know that if I sit around and watch people do things that are not essential to leaving or getting to where we are going, it will irritate me and I am prone to bellow, so I have been known to spend twenty or so minutes sitting in the car by myself either "warming it up" or "getting the ac running." I think this also bothers ABC, but I swear it is better than the alternative. For everyone.
We took a bunch of pictures of all four of us in my father's back yard but I decided I looked like Hodor guiding Bran Stark and his companions and ABC felt the picture was also not flattering for her (I disagreed, I thought she looked lovely), so you will get a picture of the kids on the porch. They have no say in the matter: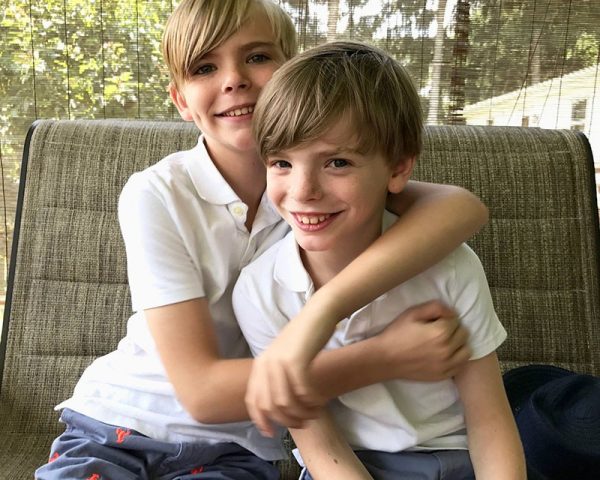 We had intended to go to the fireworks display but enthusiasm for that had waned for all of us, so we sat in the AC and I forced them to watch the Capitol Fourth, which I love even though it is so cheesy and jingoistic and the artists are all old has beens. But I love the "The President's Own" Marine Corps band, and even though they were all not fans, I made them watch it ala Alex in a Clockwork Orange.
I will never, ever, ever tire of this. It makes the hairs on my arms and legs stand up every time I listen to it:
In some sad news, my uncle Bill died at the age of 92 today. He was my father's sister's husband (Aunt Margaret, and she died several years ago). Apparently got up in the middle of the night and died while heading to the bathroom. He was a WWII combat veteran, and he loved his wife, loved his kids, and loved his country.