Sometimes you get the greatest insight into folks when they think the pressure is off.
What follows has exactly no political import, and, truly, says nothing about the writer in question's journalistic chops or beat-acumen…at least not directly.
But, perhaps unsurprisingly, given my Bayesian prior holding that anything that comes out of Chuck Todd's mouth or pen is surpassingly likely to be…well…crap, I find his gig over at Peter King's joint as a summer replacement for the Monday Morning Quarterback column to be a thing of perverse beauty.  More,  if you take Todd as the type specimen of a Village idiot, then you can read in his attempt to display both football cred. and knowledge a free-of-partisan-blinkers way to assess his actual skills, quality, and personality.
It ain't pretty.
I'm not going to bother with an extended fisking — after all, it's both Todd and a game — but a couple of things stand out.
First, it's always about Todd.  Taking Todd as an archetype of Village perspective, I'm suggesting this confirms the many hints that much of what drives elite DC media is how whatever is being covered fits in with and or confirms a collective world view and sense of status.
Which is what makes a simple word count so telling.  Todd' s column is just over 3,500 words long.  1,400 of those words — crucially the first words in the piece — dive deep into his claim to be a Green Bay Packers fan.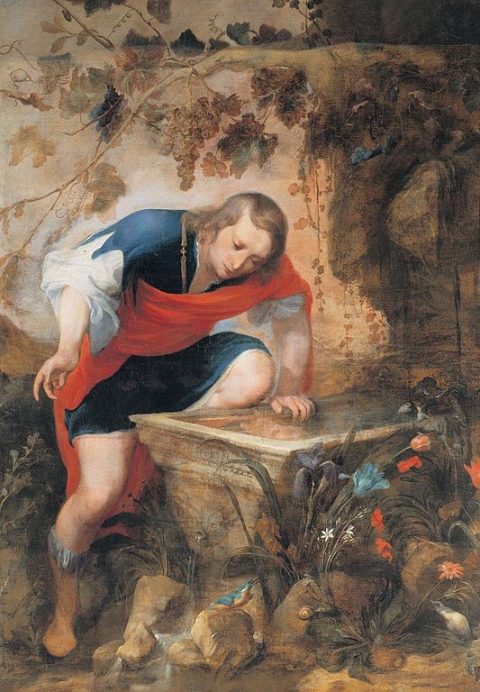 A couple of things on that. First, obviously, the man can root for whoever he wants. But that's kind of the problem: there's nothing inherently interesting about anyone's choice sports-laundry connection.  To go on for 1400 words — nearly twice as long as a conventional newspaper column, well into short feature length already — implies that the writer has something more to say than "I was born in the midwest and my dad liked the Packers." Not our Todd.
No, what was really going on here, was a defensive crouch:  Todd has never been to Lambeau, feels this is a s problem to be explained, and goes on at great length to tell his readers that he really is an authentic football fan and a man of the Green Bay people.  Alas, the man has a tin ear. Check this out:
The most die-hard Packers fans believe you can't claim fanatic status unless you've been to the holiest of football sights [sic–does SI no longer employ copy-editors?] (sorry, Canton). Honestly, I don't blame them. If I were in their shoes, I might use that piece of information to lodge my own skeptical inquiry. But I swear, my Packers allegiance is real.

Don't believe me? Just ask my good friend, Steve Hayes, the editor-in-chief of The Weekly Standard and a frequent FOX News analyst. Steve is also a part of the D.C. Packers mafia; of course, he came about his love for the Green and Gold the normal way—he was born and raised in the Land of Cheeseheads. I first met Steve, in 2000, when he was applying for a job at a publication I was running called, The Hotline. I noticed his Wisconsin roots on his résumé and, naturally, asked him if he was a Packers fan. He said he was, but I wanted to know if he was truly a diehard. I have a standard question for anyone around my age who claims to be a Packers fan: Who was Green Bay's starting quarterback before Lynn Dickey? Well, Steve not only answered correctly, he noted that David Whitehurst also punted for the team. Steve got the job offer and he accepted. So thank you, David Whitehurst, for being just obscure enough to help me prove true Packer fandom and, more importantly, thanks for being the link to one of my better friendships in D.C.
Arrrgh! Village idiocy in one verbose package.  I'll leave it to my fellow jackals to draw out every tin-eared wrong note there, and just point out that the whole thing is steeped in unctuous self-congratulation:  Todd's the boss; he's steeped in the kind of minutiae that helps folks pretend they actually know a subject such facts don't illuminate (sound familiar in the context of elite political "journalism"?); and hiring is a boys-club adventure.
Most of all though, as I read through this endless preamble, I kept asking myself why Todd thinks I care? Peter King rubs some football fans the wrong way, I know — he is clearly one of the NFL's inner circle reporters, and can be seen as an insufficiently critical booster of the Borg that is Roger Goodell's plantation, but there's no doubt he's done the work and made the calls and knows the game and its people very well.  You can read his weekly column and get a lot of content.
Here, by the time you get to spitting distance of the half way mark, you know only that Chuck Todd is aware that he doesn't have a lot of credibility to spare in this beat, and he protests — waaaaaay too much — that seeing him as a dilettante out of his depth is unfair.  "I do so love football! I know the names of some now obscure players!  I'm rich/influential enough to go to football games w. famous people in various cities! 'The journalist in me' [his words] is good enough to make me check a box score!"  It's a plea both pathetic and, to me, confirming of my prior beliefs about Chuck: he's a poseur and a light weight.
I'm just having some fun here over my second coffee of a weekend morning, so I won't go on much longer.  (You've heard that before.)  Just one more thought.  That embarrassingly long and weak lede is a tell to Todd's personality: he knows he's out of his depth as a football columnist, and tries to hard to persuade himself as much as his readers that this is not so; how that might dovetail with his political commentary is, again, an exercise for the reader.
What follows, though, is more directly damning to Todd's reputation as an analyst of just about anything.  He doesn't do the work. He goes as far as a first impression and stops.  From the very start of the "substantive" part of the piece:
1) I think the best teenage athletes seem to be gravitating to other sports, not football.

Admittedly, this is only an observational view. But my eyes tell me that both baseball and basketball are seeing a surge in big athletic kids—that is, a bunch of young men that traditionally look more like football players than baseball or basketball players. More and more, I find myself seeing someone such as Aaron Judge or Boogie Cousins and thinking, They would be a great defensive end, tight end, wide receiver or even quarterback. I'm convinced that even just 10 years ago they would have been putting on helmets.
Look:  I don't disagree with the point Todd goes on to make — that the NFL is likely underestimating the long term risk it faces as the cumulative risks of football become clearer and clearer.  But there is exactly nothing in what Todd says above that supports a conclusion that premier youth atheletes are choosing other sports over football.  Nada. Zip, zero, nuthin'.
If there's one thing we've learned over the last decade or so of politics, it is that the gut feelings, the "observational view," the assumptions-not-in-evidence held (often unconsiously) by the elite commentariat are really dreadful guides to both process and (especially) the substance of politics and policy.  Here Todd confirms that such half-assed, privileged, deeply lazy approaches to complicated subjects is the default.  It's what he does; it may be who he is.
Now one crappy column on a subject off his beat, likely written in the nooks and crannies of a busy (if not fruitful) working life is a thin reed on which to build an indictment of one person, much less his whole guild.  But hell. It's Saturday; I'm off to do my real work in a moment; and why should the Village have all the license and all the fun.  Chuck Todd's risible SI scribblings are at least a measure of the man, if not the full spec.  Todd himself is a member in very good standing of a guild of commentators who hold the most influential ground in American political media…
Would it be wrong to speculate that the flaws evident in this bit of off-topic fishwrap do in fact reveal the awful truth of the Village in all its infamy?
It would be wrong not to.
Annnnnnd….that was much ado about precious little. This thread:  it is open.
Image: Jan Roos, Narcissus at the Spring, 1638 or earlier.