Via my 17 y.o., who is my last link to what Da Utes T'ink, I present the winner of a Reddit photoshop competition: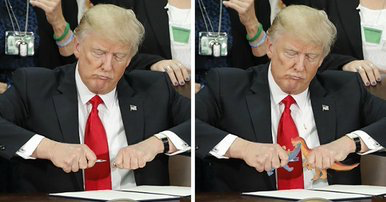 'Bout right, I'd say.
A little more goodness.  Here's a true, heartwarming story of a boy raised right in the Levenson household.  I'm walking one day in the neighborhood with my spouse, and as we get to the local library I see an abomination parked in the lot across the street.  My gob is so smacked I have to take a picture.
Flash forward a couple of hours.  My son has just come home from a ramble round the 'hood.  I asked him if he happened to see this amazingly awful automobile.
"The one parked by the library?" he asked.
"Yeah — I took a picture" say I.
"Me too!"
Good boy — I think.  De gustibus and all that…
…but no.  Some things are simply abominations.  Like this: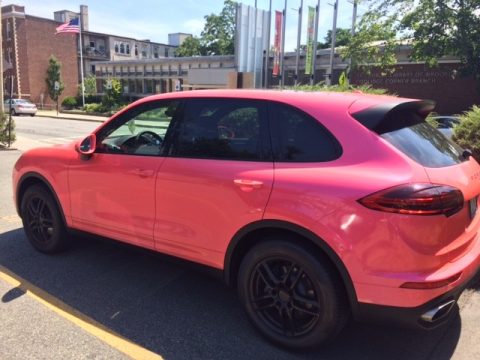 For those of us who aren't car buffs, that's a Porsche Cayenne.  It starts at around $60,000, and shoots up fast from there.  Which means someone out there woke up one day and thought that his or her life wouldn't be complete without a more-than-the-US-median-family-income's worth of pink Porsche truck.
There is a saying in the car business:  "There's an ass for every seat."  I rate that statement True.
(I'll admit that this isn't the most offensive car I've ever seen.  Hell, I rented a Pontiac Aztek once, and last year in LA I saw someone driving around in a fully chromed Mercedes E-class sedan, which went beyond ugly into a rolling public hazard.  But as the son of a mother who once drove twenty miles to the nearest Costco to return a case of dishwashing liquid bought in ignorance of its pink-titude, I reserve the right to loathe the above without any qualification.  I miss you, mom.)
Finally, by popular request (by at least one person here), and so as not to make this a whole post of horrors, here's Tikka in one of his most echt poses: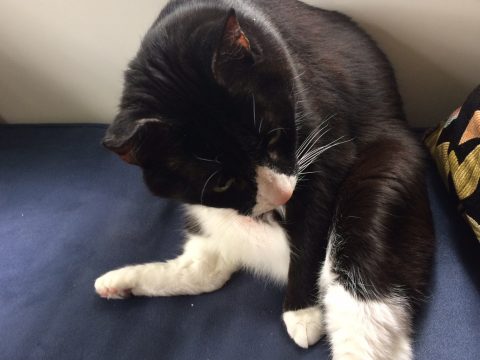 And what the heck, one more, just for catness.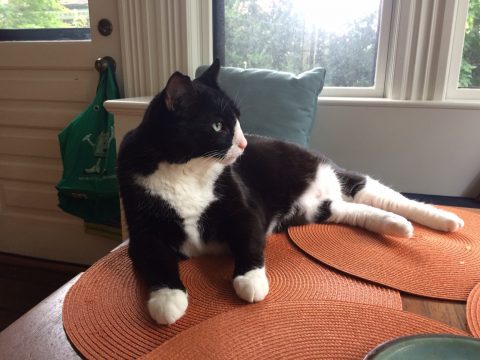 OK.
Y'all get the message. It's Sunday.  The weather's great here in the Athens of America, and low tide hits at around 6 — perfect for an evening at the beach.  For a few hours at least, the pleasures we each enjoy are ours.  The folly and worse will still be here tomorrow; sufficient unto the day and all that.
IOW:  Open thread.