Your daily dose of national embarrassment: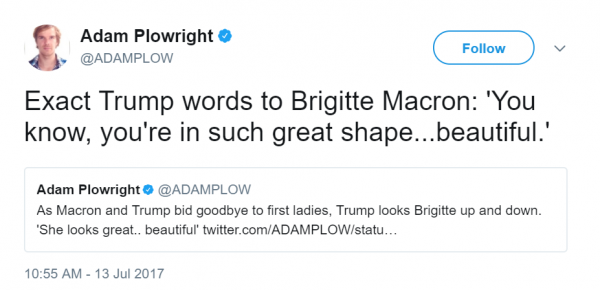 At 64, Brigitte Macron is seven years younger than Trump. He was likely moved to render his fuckability rating aloud by the shock of not finding a woman of such advanced age to be the wizened old crone he expected. Or perhaps it was a comradely desire to signal to the 39-year-old Emmanuel Macron that he, Trump, now understands why Macron isn't trolling high school cheerleader practices for the next Mrs. Macron. In any case, only one word will do: GROSS!
There are so many things I hate about Trump and his evil administration. I loathe the corruption, constant lies, ineptitude, greed, pettiness and rank stupidity. I'm disgusted daily by the racist, xenophobic, retrograde policies. I'm repelled by the advancement of the worst people and ideas in the country at the expense of the most vulnerable.
But on a personal level, the sexism is what rankles the most. In a recent column about Trump's misogyny, Michelle Goldberg at Slate captured my feelings about the Trump presidency more perfectly than anything I could write myself:
I'm not sure that even well-intentioned men understand how relentlessly degrading this presidency is for many women. Having a man who does not recognize the humanity of more than half the population in a position of such power is a daily insult; it never really goes away. Perhaps this is why many women found the TV version of The Handmaid's Tale so resonant, even though Trump, the former owner of a casino strip club, is the last person one can imagine instituting a Calvinist theocracy. Gilead's fictional dystopia captures our constant incredulous horror at finding ourselves ruled by thuggish, unaccountable woman-haters who appear to revel in their own impunity.
She's exactly right — it's a daily degradation, and I will never forgive the people who made it possible. That so many of them were fellow white women is disgusting and enraging on equal levels. Le sigh. And open thread…