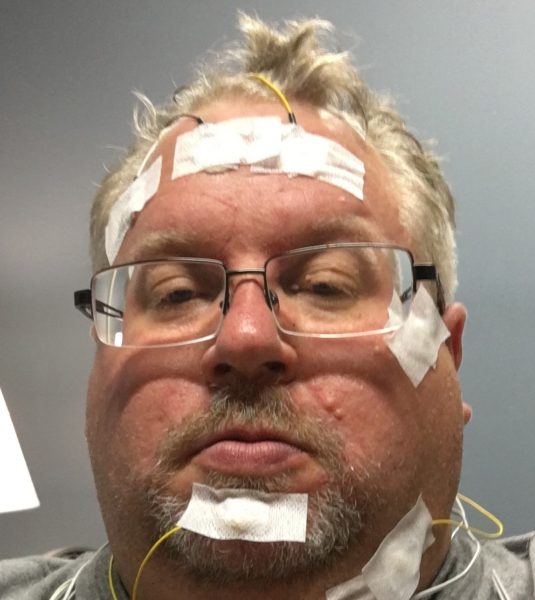 I know, ladies, calm yourselves. There's no way to make that attractive, so I didn't even bother with filters or color correction. And my glasses are not normally crooked like that, before you ask.
Since we have been talking about health care and health insurance, thought I would note that the sleep apnea I was diagnosed with in 2005 would be considered a pre-existing condition. Last night I went to have a sleep study done, and that is me with all the electrodes and what not sticking to me before I fell asleep. I hadn't had one done in a lab since 2005, and if I did not have insurance I shudder to think how many thousands of dollars that would cost. And without a sleep machine, I would be worthless as Jared Kushner's SF-86.
As it is, I had to fight to get the lab done. My machine was dying, my masks no longer fit me well, and we had done several "at home" studies which did nothing at all over the years because they can't diagnose the proper settings, whether you need C-Pap or Bi-Pap, etc.
For me, it is not only a quality of life thing- without the sleep mask, I feel like hammered shit, wake up continuously, never get REM sleep, have to take multiple naps during the day, fall asleep in meetings and whenevr I am just sitting, etc., but it is also a very serious health issue. Untreated sleep apnea can lead to "high blood pressure, heart disease, stroke, automobile accidents caused by falling asleep at the wheel, diabetes, depression, and other ailments."
And death.. Reggie White Watts, Jerry Garcia, Carrie Fisher, to name a few. Another side effect for me before being treated was constant heartburn, because I was having acid reflux while gasping for air in my sleep. Long term acid reflux can lead to a whole host of nasty things like Barrett's esophagus.
And it isn't just fatties like me! Lots of super skinny people have it, so if you are reading this and saying "I don't have a planetary sized melon and a neck that closely resembles a pork shoulder like John Cole so I have nothing to worry about," you are wrong! When I was diagnosed in 2005 I was told that I probably have had it my whole life because of my neck structure, and I remember sleeping in the freshman girls dorm and waking up to find my at the time gf sleeping in the hallway because I snored and gagged and gasped so much. VERY WRONG:
As it turns out, being overweight or obese is not as significant a predictor of who may develop sleep apnea as was previously believed. The National Institutes of Health (NIH) state that, of the millions of people who currently suffer from sleep apnea, as many as 90 percent of these may be unaware of their condition.

Part of this is because many people who are otherwise thin don't think they could possible develop sleep apnea. As well, since the disorder is more common in men, thin women are less likely to consider they may possibly have sleep apnea, even if symptoms are a match.

Children can also develop sleep apnea, regardless of their body weight. For this reason, the best approach is always to seek medical consultation with Dr. Jamali for a medical diagnosis rather than trying to self-diagnose based on common symptoms of sleep apnea alone.
This is especially important for women, who are at serious risk of being undiagnosed. So go get yourself checked if you are constantly tired or demonstrate the symptoms. Once treated, you will feel better, be healthier, and your partner won't give a shit about the appearances- they'll just be happy to get a good night's sleep instead of listening to you snore, choke, and gasp for air.
***
The study went off without a hitch. Went in at 9:45, was hooked up by 10:30, was asleep by 10:35. Sleeping at will is my superpower. I can sleep through an air raid siren. I remember being in the driver's seat of an M1A1 on the firing line with eight tanks in a row shooting, and falling asleep and having my CO have to whip me with an antenna from the turret to wake me up. This is an M1A1 firing line:
Woke up at 5, got unhooked, and started the 90 minute drive home. Halfway home, my dogsitter texted me: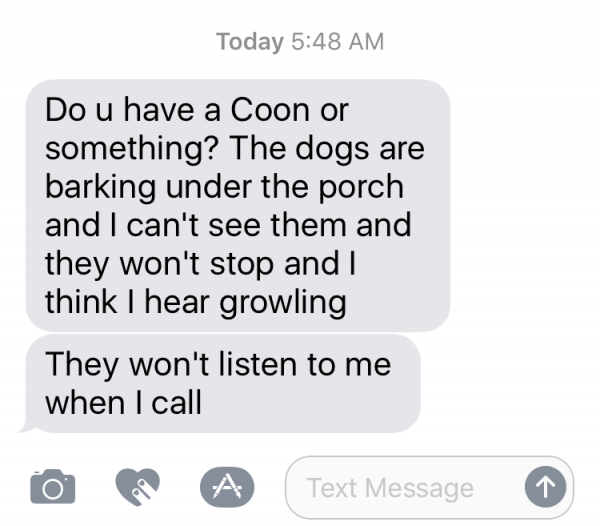 So I called her and tried to walk her through various solutions, including getting the hose and hosing the dogs off, but that did nothing but turn the area under the porch into a muddy mess, so I know how two dogs down in a hole, coated with mud, yapping their damned heads off. I called my parents and dad sent my brother over, and he yelled at them until they came out, and we locked them in the basement until I got home.
I just let them out again and whatever it was is now gone, but today we will be filling a hole under the deck and making sure that shit doesn't happen again. Another day in the life. I realized while writing this that I have lived out my life on this blog for fifteen years now, and y'all have been here for all of it- adopting my dogs and cats, the death of Tunch, my various injuries and naked mopping, switching to the Democratic party, the alcoholism, the breakdown from anxiety and depression, the mustard, meeting ABC, and on and on. Weird to think about that way, isn't it?
It's like the Prairie Home Companion but almost everyone is below average.