I'm unsure how to identify this visitor to my feeder: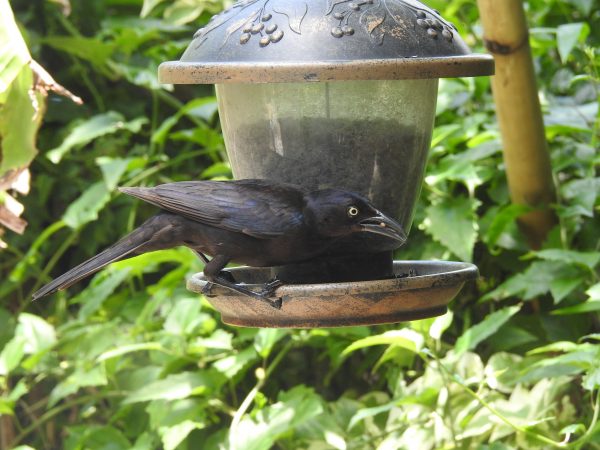 I took it for a female cowbird at first, but I think the beak is too long and curved for a cowbird. Maybe a female common grackle? If you know, please share.
Here are some Twitter funnies y'all might enjoy. The first one features my poor Daisy, who doesn't understand why she has to endure such an indignity for a lousy piece of cheese:
If it's time to clean the hairbrush, it's time to play Trump Mah Dawg! pic.twitter.com/x7JcWOUzSQ

— Betty Cracker (@bettycrackerfl) July 16, 2017
Next, some conspiratorial cats:
"Go back to bed. This doesn't concern you." pic.twitter.com/53L15p5iXU

— Richard Kadrey (@Richard_Kadrey) July 13, 2017
And finally, a dead-on description of pretty much any opening statement on Fox News' "Justice with Judge Jeanine" program:
If a drunk Trumpster cornered you in a bar (over-enunciating every word to sound "sober"), it would sound like this: pic.twitter.com/Nsn4QHDzEP

— Mrs. Betty Bowers (@BettyBowers) July 16, 2017
So true. There's a Judge Jeanine-type Trumpster lying in wait in virtually every bar in my ZIP code, eager to drunkenly slur Fox News talking points at the slightest provocation and bray endlessly about political correctness. The desire to avoid such assholes is one reason we built a tiki bar in our backyard.
Open thread!