Seven years ago today, legendary blogger, commenter and pie-filter baker Cleek came down from the mountaintop toting a stone tablet inscribed with one short sentence and gave Cleek's Law to the world: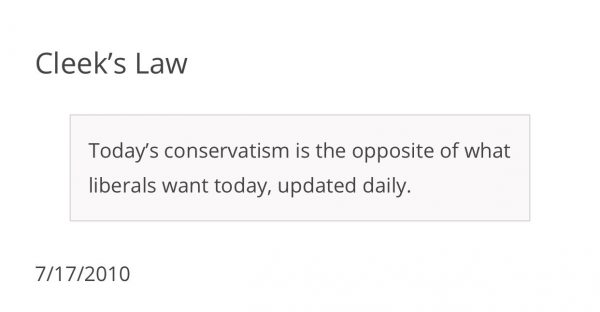 It has served as a handy Rosetta Stone for interpreting the motivations of so-called "conservatives" ever since. Others have expressed similar concepts with enviable eloquence. Valued commenter Davis X. Machina's "sparrows and old curtain rods" is a classic of the genre. But for my money, Cleek's simple, elegant formulation remains without peer as an all-purpose "conservatism" explainer.
The law's anniversary came to my attention a few days ago when I hunted the quote as a response to someone on Twitter who expressed astonishment at hawkish and jingoistic Republicans' embrace of Putin and Russian interference in the U.S. election. It all makes sense when seen through the lens of Cleek's Law — evangelicals' embrace of a degenerate, Republican women's support for a misogynist, fiscal hawks' enthusiasm for a corrupt tax cheat — all of it.
If only there were a way we liberals could convincingly pretend to be in favor of codifying Grover Norquist's tax policy, Ann Coulter's immigration views, Falwell Jr.'s interpretation of Christianity, Jefferson Beauregard Sessions' notions of white supremacy, Rick Perry's ignorance of science, Wayne LaPierre's reverence for firearms, etc. If we could pull that off, we might usher in an age of rationality and sound governance that would put the Enlightenment in the shade.
Oh well. Happy Cleek's Law Day, everyone, and open thread!