On the Road is a weekday feature spotlighting reader photo submissions.
From the exotic to the familiar, whether you're traveling or in your own backyard, we would love to see the world through your eyes.
Since Alain is having technical difficulties, I'll fill in with a travelogue. I drove to Yellowstone National Park last week and stayed four days. It's a two-day drive from Santa Fe.
If you are driving from the south, I-25 seems like a logical choice. But since the last time I drove to Denver, a lot more people have moved in. There is now a single city from Colorado Springs to Fort Collins, and the current state of I-25 is inadequate to it. Pueblo will join that city within the next couple of years.
I-80 across Wyoming is not so crowded, but there are many trucks. They drive more slowly than cars and can be easily passed. The route I recommend to Yellowstone or Grand Teton is US 287. It is a beautiful drive across the American steppe, but it is two-lane with a 70-mph speed limit. There wasn't much traffic, though, and many passing lanes and pull-outs. Why are so many people bicycling across Wyoming?
I stayed in an Old Faithful Lodge cabin. I was delighted with the choice, which was my second. It was quiet, and I could walk to the geyser basin. The cafeteria there is not bad, but not special either. The largest number of people cluster around Old Faithful, timed to its eruptions.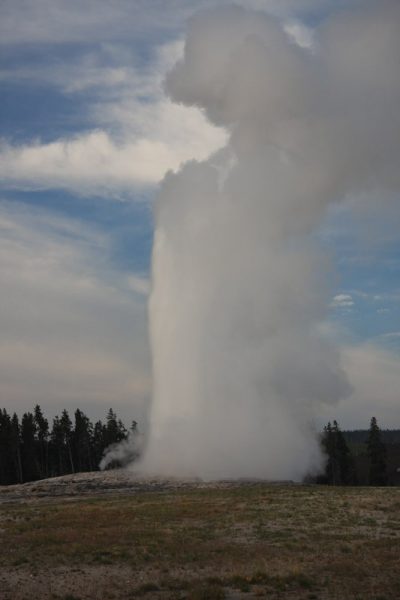 July is one of the heavy visitor months, but I wanted to see the wildflowers, and I was not disappointed. I was told that they are particularly wonderful this year because of lots of water through the winter and spring.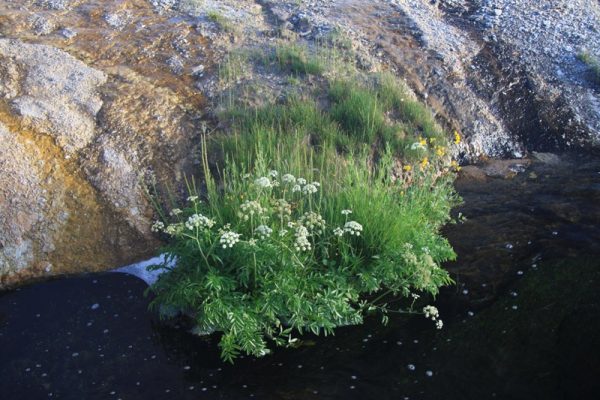 After about 10 in the morning, parking lots for the hydrothermal areas fill up. I wake up early, so I got to many of the areas by 7.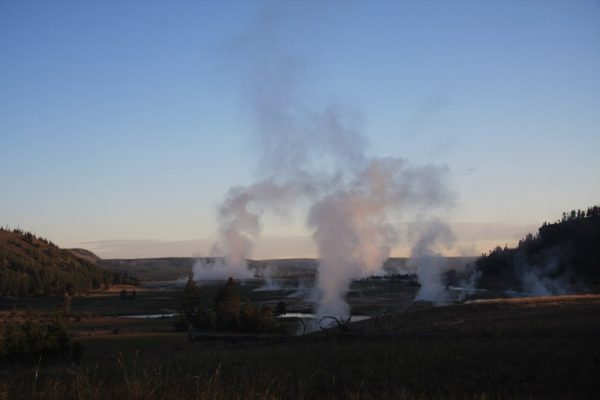 Photography is best with the sun low in the sky, anyway. I was lucky to see quite a few of the geysers in eruption. Here's the Vixen Geyserin the Norris Geyser Basin erupting.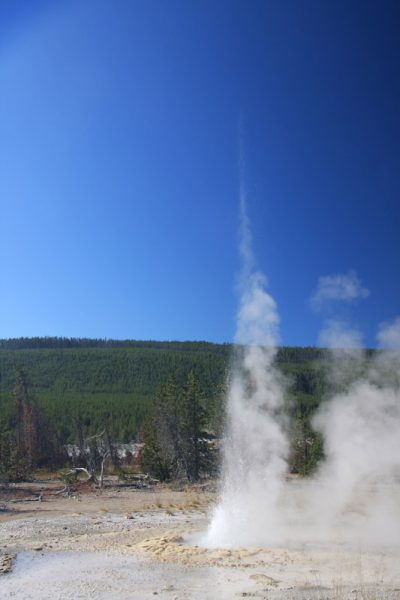 Animals are a big deal for many visitors, not so much for me. They are dangerous and scary, and I would just as soon stay away from them. But I did see bison (many), elk, one royal-looking antelope, one moose and (reportedly) a mama grizzly bear and her cubs. The bear was far enough away by the time I joined the human group that it was hard to tell whether she was a grizzly or not, and people tend to exaggerate. I also saw a bald eagle, another perk of getting up early.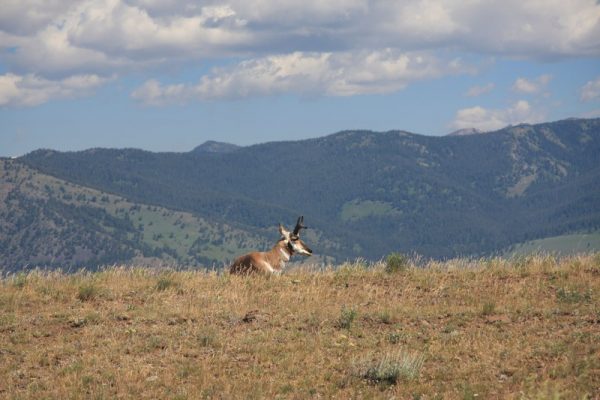 I drove back via North and Middle Parks in Colorado, heading off I-80 at WY 130 and hopscotching down a number of roads to eventually connect with US 285, which leads to Santa Fe. Driving was much like on US 287, except for around I-70, which OMG WAS A SUBURB OF DENVER. Also some Saturday recreational traffic from Colorado Springs at Poncha Springs, but not bad.
It was a wonderful trip. Phone signals except along the I-25 megacity were limited, and there's not much wifi in the park. But that was fine – it wasn't the reason I was there.
A few more photos:
Steamboat Geyser not erupting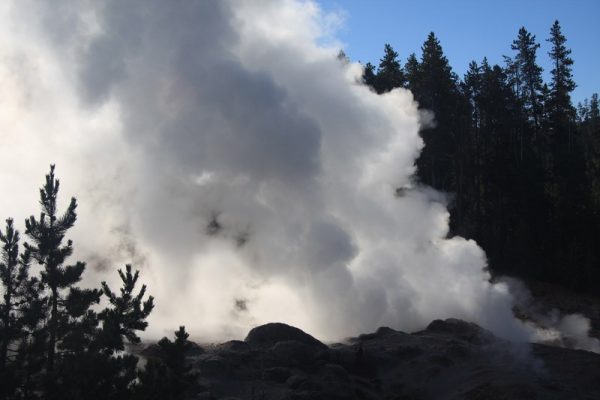 Yellowstone Lake, Absaroka Mountains in the background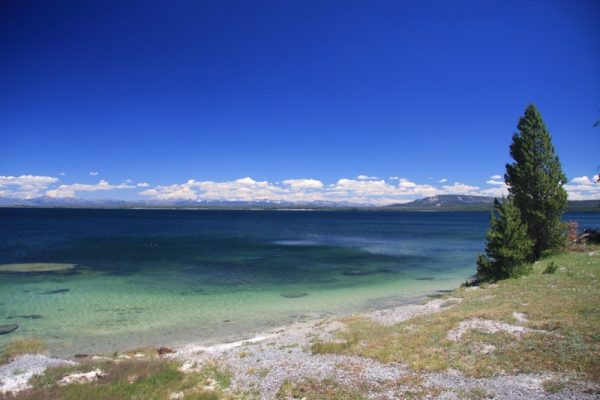 Jackson Lake and Grand Tetons. US 287 comes into Grand Teton National Park, and then you drive north to Yellowstone.