Amusing piece in the Hill about how the infrastructure bill is stuck:
The timing and fate of President Trump's infrastructure plan may depend on whether the GOP enacts major tax reform — a task that could prove challenging amid the struggle to pass a healthcare bill.

Republicans are signaling that a massive rebuilding package, which has long been one of Trump's top priorities, will most likely have to wait on the sidelines until lawmakers overhaul the tax code.

But with that process likely to be just as time-consuming and daunting as healthcare, infrastructure could be pushed to the back burner.

"I'd like to see infrastructure get done," Sen. John Thune (S.D.), the Senate's No. 3 Republican and chairman of the Commerce, Science and Transportation Committee, told reporters Wednesday. "But I've always said, that in terms of how things are sequenced, it's more likely that they would do tax reform first. And that might push infrastructure into sometime next year."
First, let's point out that infrastructure week was June 6th, six weeks ago, replete with all the pomp and circumstance including an official signing ceremony: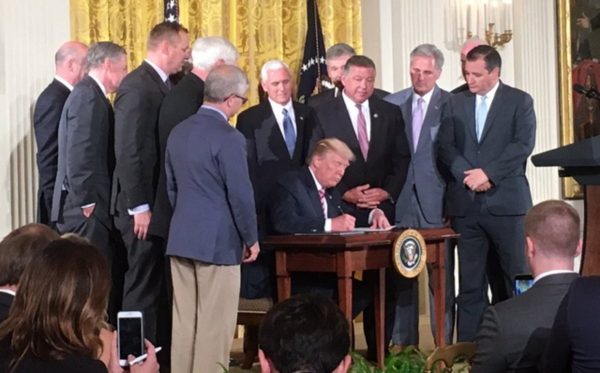 Two problems- he had no plan or bill, congress had passed nothing, and he was actually just signing a potemkin bill. Adding to that minor detail was the fact that Comey was testifying and it sucked all the oxygen out of the week.
Second, let's note that the Republicans don't really care about infrastructure. They just don't. All they care about is cutting taxes for their rich buddies. That and winning elections. That's ALL THEY CARE ABOUT. So the infrastructure bill simply is not a priority and won't be. Ever.
The only reason they are still going on about health care is because Trump wants to replace Obama's signature legislation and health care is where the money is at for tax cuts. That is it. They want to "reform" health care so they can get down to what they really like, which is cutting taxes for rich people. And if they can gut ACA and get a couple trillion for tax cuts, they can pretend to fiscally conservative because they are not "adding" to the deficit and debt.
But even if they don't gut the ACA, they are going to try to cut taxes for their rich buddies. Because that is WHAT THEY DO and the ONLY THING THEY CARE ABOUT. Even if it raises the deficit and debt. They'll just lie that growth will lead more tax revenues mumble babble Reagan laffer blah blah blah. It's a fucking lie, of course, but lies don't matter anymore because their base is a bunch of clueless numpties who just repeat what they are told.
So iffin' they even actually get around to writing an honest to god infrastructure bill, it won't amount to jack and shit because all of a sudden they will become fiscal conservatives and deficit hawks and we can't add to the deficit even if it keeps bridges from crashing down. Because an infrastructure bill benefits everyone, and not just their rich buddies in the form a tax cut.
If Republicans wanted to really do something about infrastructure, there was a really good time to do that. When we were in the middle of an unemployment crisis and interest rates were almost negative. We could have borrowed trillions on the cheap, rebuilt our roads and airports and power grid and maybe even had enough left over to make sure the people of Flint, MI don't have to drink bottled fucking water for the rest of their god damned lives. That actually might have led to a robust recovery, because you would be putting money into the hands of people who would spend it instead of addled old billionaires stashing it in whatever fucking derivatives the Wall Street boys are creating a bubble with right now.
The end.