Now we know why all the rum is gone…
Anyhow, TaMara is unavailable and asked if I'd fill in as the emergency backup food goddess. So I've gotten out the frilly apron, shined up the tiara, put on the oven mitts (which make it very hard to type), and we're underway!
Yesterday I made a bananas foster bread pudding so I had just thing ready to go when called back to active duty.
Here's a slice all set up for enjoyment served with salted caramel ice cream.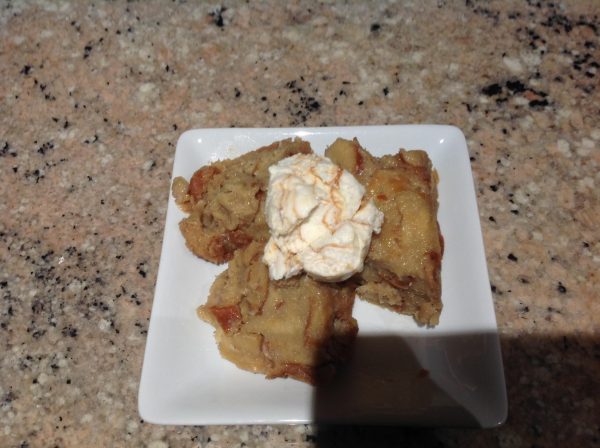 Ingredients
2 loaves of challah sliced regular
6 eggs
32 ounces of heavy whipping cream
1 cup of milk
2 cups of dark brown sugar
8 bananas
3 sticks of unsalted butter
Vanilla extract to taste
Rum to taste (or, if you prefer and don't get hung up on tradition, bourbon) – the alcohol is optional if you want, prefer, and/or need to make a non-alcoholic version. I use a dark rum, but use whichever you prefer.
Directions: Bread Pudding
Let the challah sit a couple of days so it is just beginning to dry out and go stale. Then chop the challah into cubes and place in a very, very large mixing bowl. Combine the eggs, 1/2 the cream (16 ounces), the milk, 1/2 the sugar (1 cup), and vanilla extract to taste in a mixing bowl. Whisk until  everything is combined into a custard. Pour the custard over the cubed challah and mix it around to make sure all the bread is soaking up the custard. Set aside.
Directions: Bananas Foster
Peel and slice the bananas. In a large saute pan melt the three sticks of butter. Add the sliced bananas and allow them to begin to naturally caramelize in the butter. Once this happens add vanilla extract to taste and the remaining brown sugar (1 cup). Cook everything down until everything is well combined and a caramel is beginning to form. If adding alcohol, add the rum (or bourbon) to taste and continue to cook until the alcohol cooks off. Add the remaining cream (16 ounces), combining everything well, and then allow to cook down without breaking the caramel for several minutes. So this has to be watched, you can't just walk away while it simmers.
One note: in a traditional Bananas Foster, as far as I know, you do not add cream to the caramel/rum sauce. I do it here because I want a slightly richer mouthfeel as I add it as a second custard to the bread pudding mix.
Here's the Bananas Foster simmering away: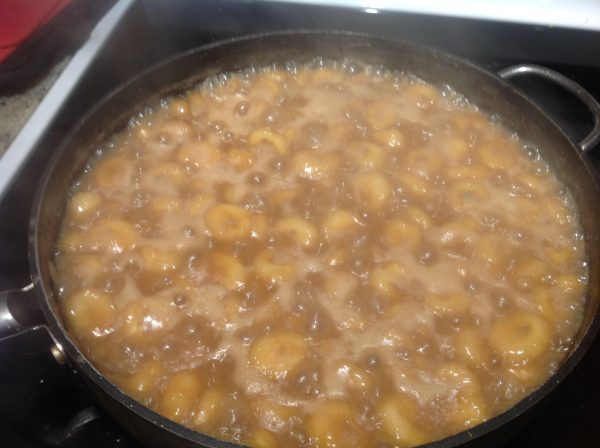 Directions: Banana Foster Bread Pudding
Preheat the oven to 350 degrees Fahrenheit. Take a 1/2 hotel pan or equivalent pyrex or aluminum foil pan and spray it with your preferred cooking spray or butter it to prevent sticking. Pour the bread pudding mix into the pan. Then pour the Bananas Foster over the bread pudding and mix to incorporate well. Cover the top of the baking pan with plastic wrap and then with aluminum foil. Don't worry the plastic wrap won't melt – it's there to keep the bread pudding from drying out when baked.
Here's what it looks like before it is wrapped and put in the oven: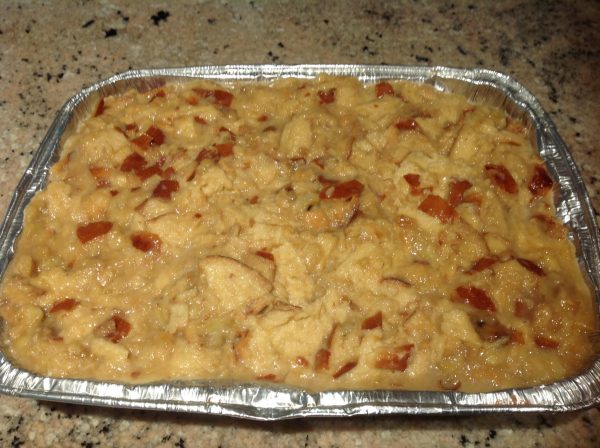 Bake the bread pudding for an hour, then remove from the oven and cool. This is what it looks like after it has baked: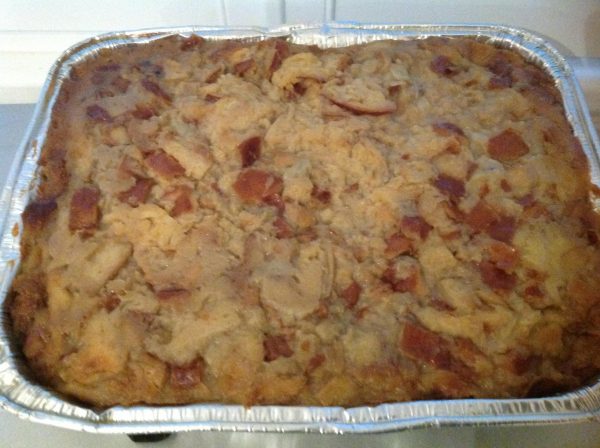 To Serve
The bread pudding can be served hot, warm, or cold. With ice cream, whipped cream, ice cream and whipped cream, or with more Bananas Foster spooned over the top. Or just plain.
As the base bread pudding recipe – the custard and bread mixture – is essentially a French toast/pan perdu, albeit diced up, a great way to serve it is to slice a couple of pieces and reheat them in a skillet in some melted butter as bread pudding French toast.
If you don't like Bananas Foster, or bananas, or anyone named Foster (he knows what he did…), then you can skip that step completely. Or you can substitute a chocolate ganache for the bananas foster and make a chocolate swirl bread pudding. Or a caramel ganache. Or leave out the alcohol and substitute apples for the bananas and a make a caramel apple bread pudding. How you flavor the bread pudding is limited only by your imagination. And, perhaps, notions of decency and good taste…
And, obligatory:
Open thread!