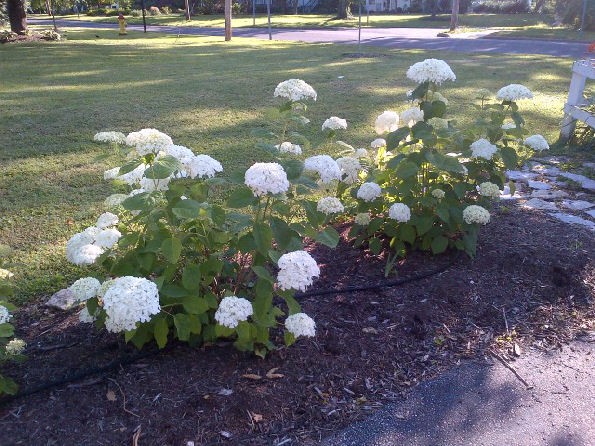 From commentor LaPassionara:
The Sunday morning garden posts have been a welcomed diversion from the horrible news and unrelenting heat here in the St. Louis area, 108 today, per our thermostat. I am sending these in case you don't get others. I always prefer to look at gardens other than my own.

Someone last Sunday remarked that his/her yard was a jungle. Well, this shows my jungly shrubbery beds, which I am in the long slow process of reclaiming. The beds were supposed to be winter creeper euonymus, but there is also honeysuckle (both vine and shrub), wild grape vine, blackberry, some poison ivy, nutsedge, violet, crab grass, Johnson grass, and morning glory vining weed, just to name the ones I know. Each requires a method of control, mainly digging a shovel-full at a time.

If the weeds involved have no woody stems, I have been known to simply lay down opened corrugated cardboard boxes on top, weigh the edges down with bricks or stones, and add mulch. The first photo at the top of the post shows one bed treated this way, which became the happy home of some hydrangeas several months later. I did sprinkle a pre-emergent on top of the mulch, to keep away the expected crab grass, etc. and every few days I have to pull out the beginning of a morning glory weed vine, as there is no barrier I have found that will prevent them from popping up from time to time.

The third and fourth photos show the better parts of my yard, where the reclaimed beds get put to use. The half barrel planter was in the front yard. I was finally able to get it turned on its side and rolled into the backyard, where it is serving as the focal point of what I hope to be a nice little pot cemetery some day. I am hoping my oak leaf hydrangeas and Virginia Sweetspire survive this heat.
***********
It hasn't, praise all the gods, been quite as hot here in New England… but it's been so humid I've done an even worse upkeep job than usual on my poor garden. On the other hand, we've just harvested the first few ripe cherry tomatoes, and most of the plants have lovely green fruit swelling, so that's something to Keep Hope Alive for me!
.
What's going on in your garden(s) this week?