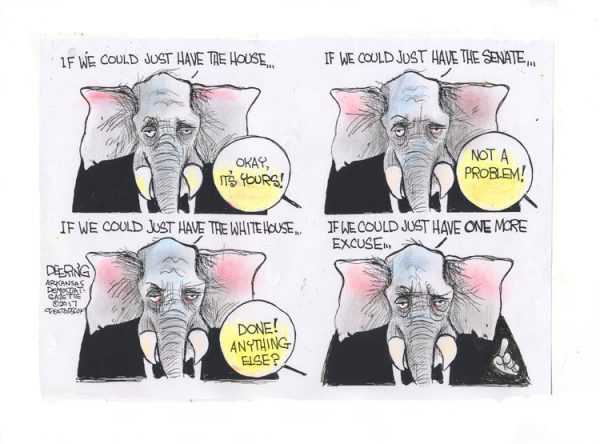 "At this point, if there were a fire in the Senate, I'm not sure they could get the votes to pull the fire alarm." – @BarneyFrank on @CNBC

— Carl Quintanilla (@carlquintanilla) July 21, 2017
As a lifelong Democrat who grew up reading Finley Peter Dunne, I always assumed the Republican Party was doing its best to destroy our shared community. But I was never cynical enough to guess the GOP itself would end in the hands of a failed real estate developer shoving around a gang of nitwits and nihilists in a pathetic gated-community imitation of a cargo cult, where they build intricate non-working models of 'legislation' in the hopes that the kleptocrats will rain money and power down upon their upraised mouths in benevolent response. SAD!
Per the Washington Post:
Six months after seizing complete control of the federal government, the Republican Party stands divided as ever — plunged into a messy war among its factions that has escalated in recent weeks to crisis levels.

Frustrated lawmakers are increasingly sounding off at a White House awash in turmoil and struggling to accomplish its legislative goals. President Trump is scolding Republican senators over health care and even threatening electoral retribution. Congressional leaders are losing the confidence of their rank and file. And some major GOP donors are considering using their wealth to try to force out recalcitrant incumbents…

Winning control of both chambers and the White House has done little to fill in the deep and politically damaging ideological fault lines that plagued the GOP during Barack Obama's presidency and ripped the party apart during the 2016 presidential primary. Now, Republicans have even more to lose.

On Capitol Hill, Republicans are increasingly concerned that Trump has shown no signs of being able to calm the party. What Rep. Charlie Dent (R-Pa.) called the "daily drama" at the White House flared again last week when Trump shook up his communications staff and told the New York Times that he regretted picking Jeff Sessions to be his attorney general.

"This week was supposed to be 'Made in America Week' and we were talking about Attorney General Jeff Sessions," Dent grumbled in a telephone interview Thursday, citing White House messaging campaigns that were overshadowed by the controversies…
It'd be a lot more fun watching them drill holes in the lifeboat, if only the rest of us weren't sharing it with them.
***********
Apart from staying #EverResistant, what's on the agenda for the start of a new week?