On the Road is a weekday feature spotlighting reader photo submissions.
From the exotic to the familiar, whether you're traveling or in your own backyard, we would love to see the world through your eyes.
Good Morning All,
So far, this feature has been about travel, with the occasional "local" picture or two. I think limiting this to just travel is just that – limiting. So I'm changing this up a bit to include neat, colorful, funny, interesting, poignant, etc. pictures that don't require travel.
As always, if you're on a trip or have a story to share, you can just pitch in below.
I'm pleased to announce the release of the new picture submission tool for this feature. Using this tool will ensure I don't mess things up, will make it much less time-consuming for me, and will make for a much easier process all the way around.  This would not be possible without the efforts of valued commenter Major Major Major Major. His help has been invaluable in this feature, not to mention in the pie filter and rotating quote.
The form is here and has a few simple rules:
You have to have made at least one comment that's been approved/published.
It's a picture and not too big (you can include up to 7 pictures in a single submission)
You must include your commenter screenname and email (kept private) to verify you, just like making a comment. Only your nym is published.
No more than 10 form entries per hour.
You can include an overall description, per-picture descriptions, dates, locations, etc.
If you are a lurker and thus not a commenter, or should you wish to submit a video, archive of multiple pictures, links to pictures hosted online, or want to include more text or pictures than the form allows, send an email.
Travel safely everyone, even if it's just down the hall for that second cup of coffee!
This is from – gasp – May. I can't believe it's late July; time flies. I'm trying to clean out the email picture archives and expect my attention to be pulled away from the site, so I'm going to spend a couple of hours early in the week setting up posts to run through the week. Towards the end of the week, I'll look at the submissions from the form and get them setup for publication next week.
From OzarkHillbilly (who deserves my apologies for not running this sooner!):
Elephant Rocks State Park is just an hour down the road from me in the heart of the St Francois "mountains" (in quotes because the highest of these is 1772′ Taum Sauk mountain), an ancient caldera. There is a certain sensuousness to the place and it is easy to get lost for hours with a camera there. From the state parks website:

*A train of circus elephants dance trunk-to-tail* to form an awe-inspiring sight to the young and to the young at heart. This is the appeal of Elephant Rocks State Park, named for a train of gigantic pink granite boulders perched atop a hill, just like circus elephants! This curious geologic formation at the heart of the park is called a tor, or a high, isolated rocky peak which is usually formed of disjointed and weathered granite. This tor was created nearly 1.5 billion years ago by molten magma being pushed to the surface. For millions of years, the magma slowly cooled, forming coarse, crystalline reddish-pink granite.

When the Ozark plateau was formed during a great uplifting of the entire area about 250 million years ago, the vertical cracks (or joints) between the rocks became more pronounced. Time and weather took its toll, clearing the weakest pieces out of the joints and laying the immense, oblong blocks of granite bare to the elements. Slowly, the corners were worn away to give the boulders their smooth rounded shape, and trees and shrubs grew in the cracks to help enlarge the joints and wear away the surface of the rock. Physical and chemical weathering has also created circular depressions called tinajitas which hold temporary pools of water and often house tadpoles.  There is no record of the actual number of "elephants" inhabiting the park. Old ones erode away and new elephants wait beneath the cracks and joints of the granite hillside. The park's pink patriarch, Dumbo, is 27 feet tall, 35 feet long and 17 feet wide, weighing in at a colossal 680 tons!
……..
Throughout the park, there are several alternate paths available. Some are handicap-accessible, and others are only for those not using wheelchairs (or strollers). The first of these spurs is a granite gravel road that leads to the ruins of the engine house which repaired the trains that ran to and from the quarries in the area.  The oldest of these (it opened in 1869) is Missouri's first recorded commercial granite quarry. Known as the Graniteville Quarry, it is just outside the park. These quarries provided architectural granite for buildings in states from California to Massachusetts. Most notably, granite from these quarries can be seen in St. Louis. Facing stone for many of the piers on the Eads Bridge, as well as millions of paving stones for the levee and downtown streets came from these red granite quarries. Additionally, many St. Louis buildings are constructed using Graniteville granite. Even the turned columns on the Governor's Mansion in Jefferson City contain this granite. Now known commercially as "Missouri Red", it is used primarily as building veneer or for monument stones.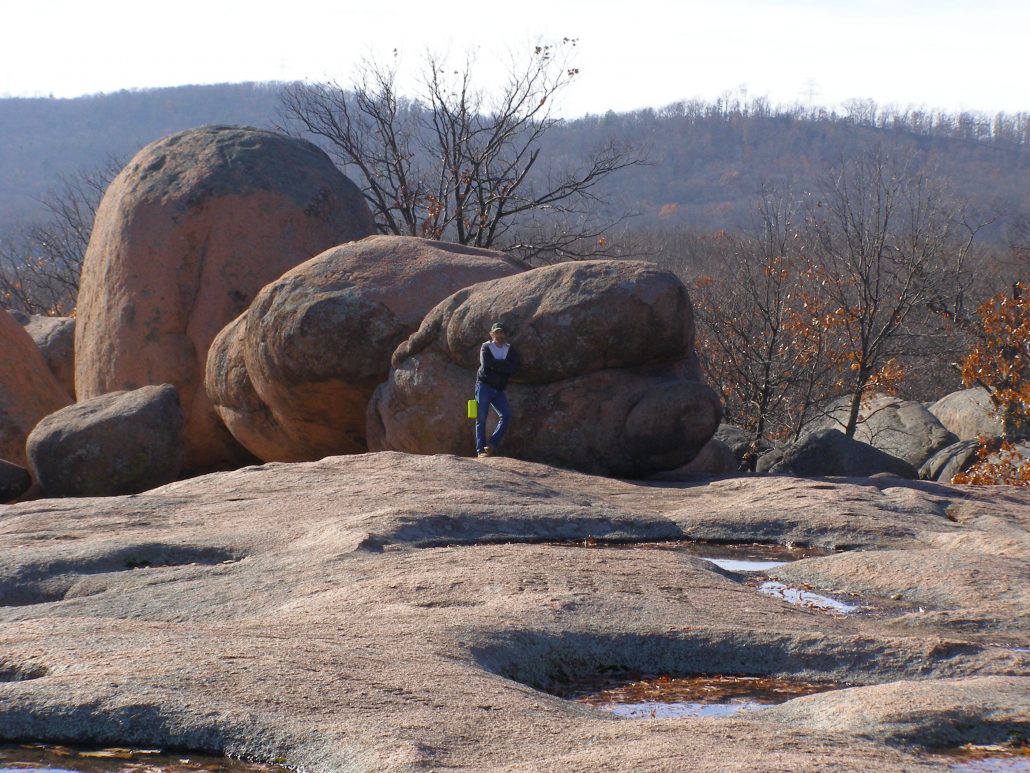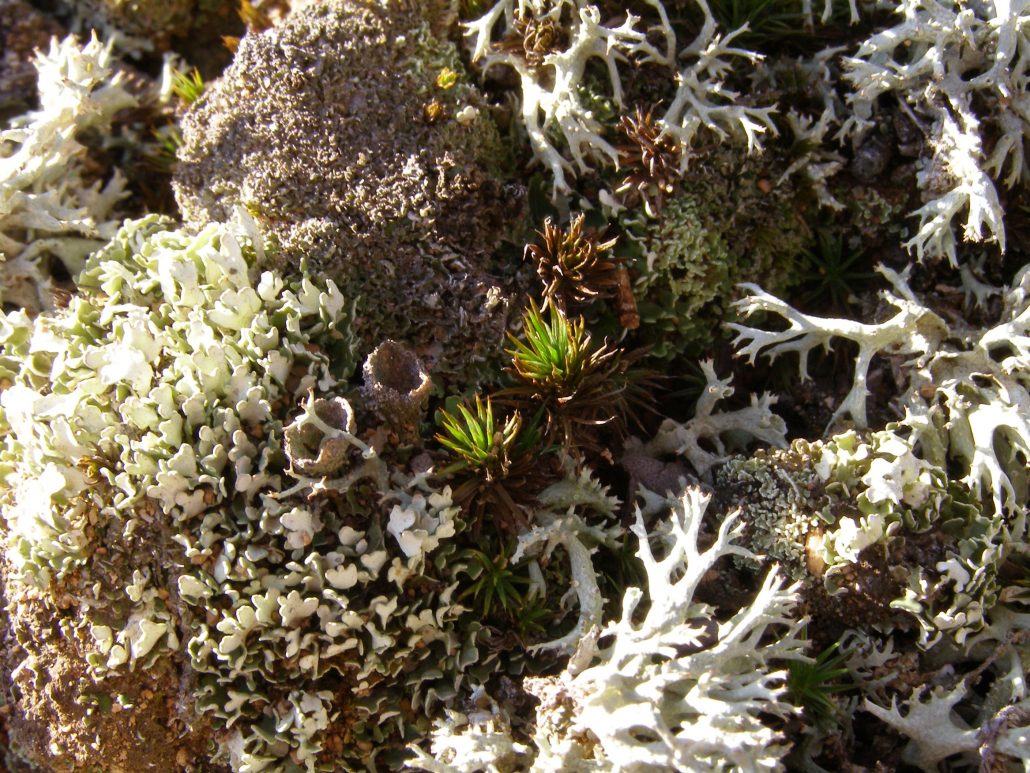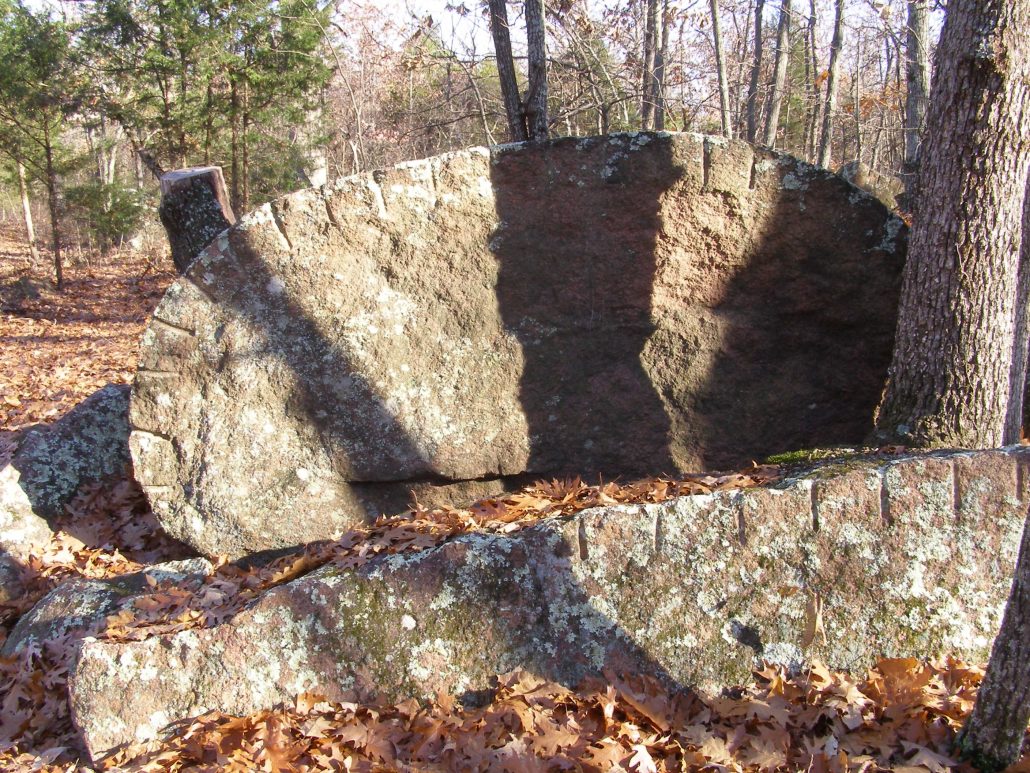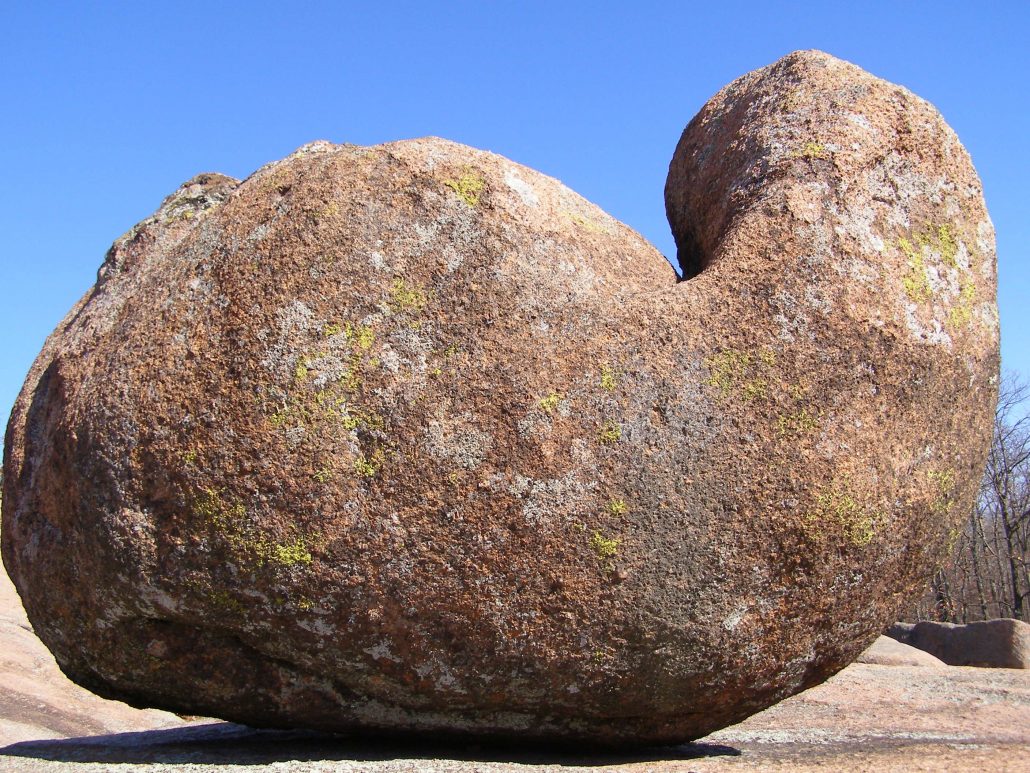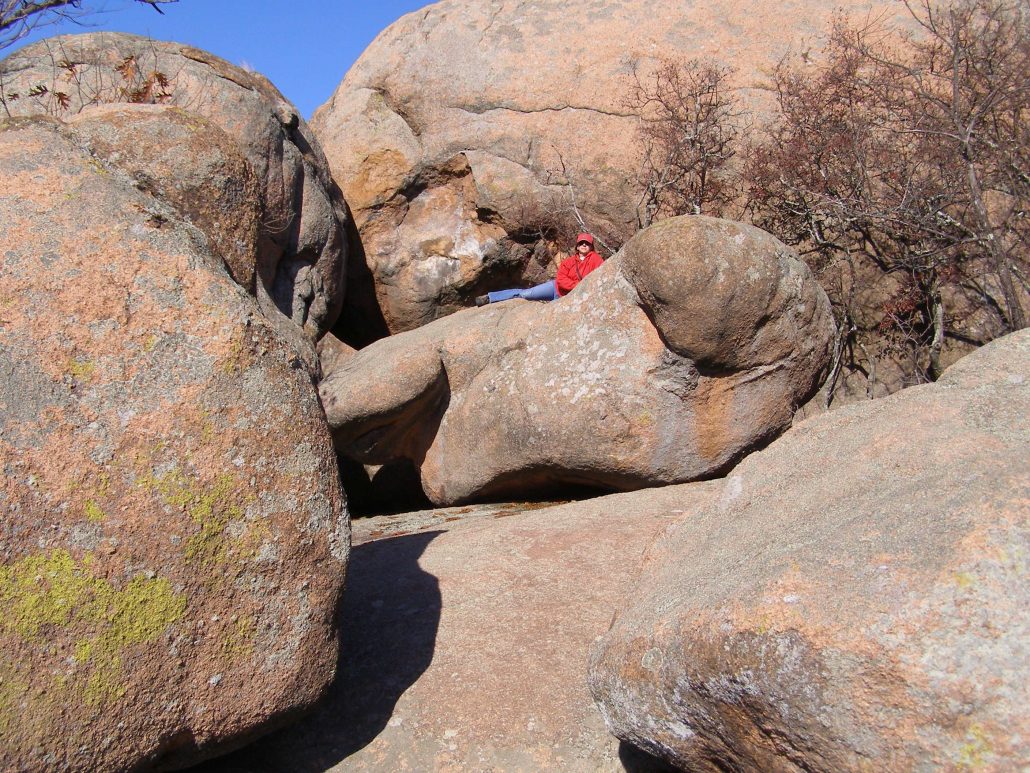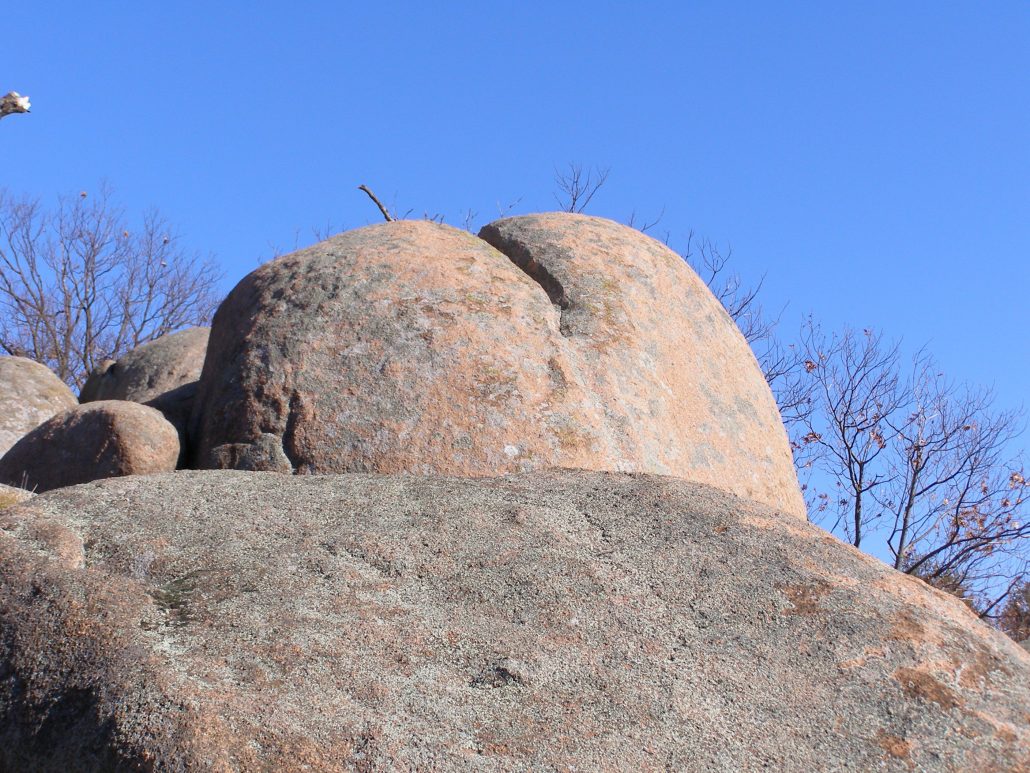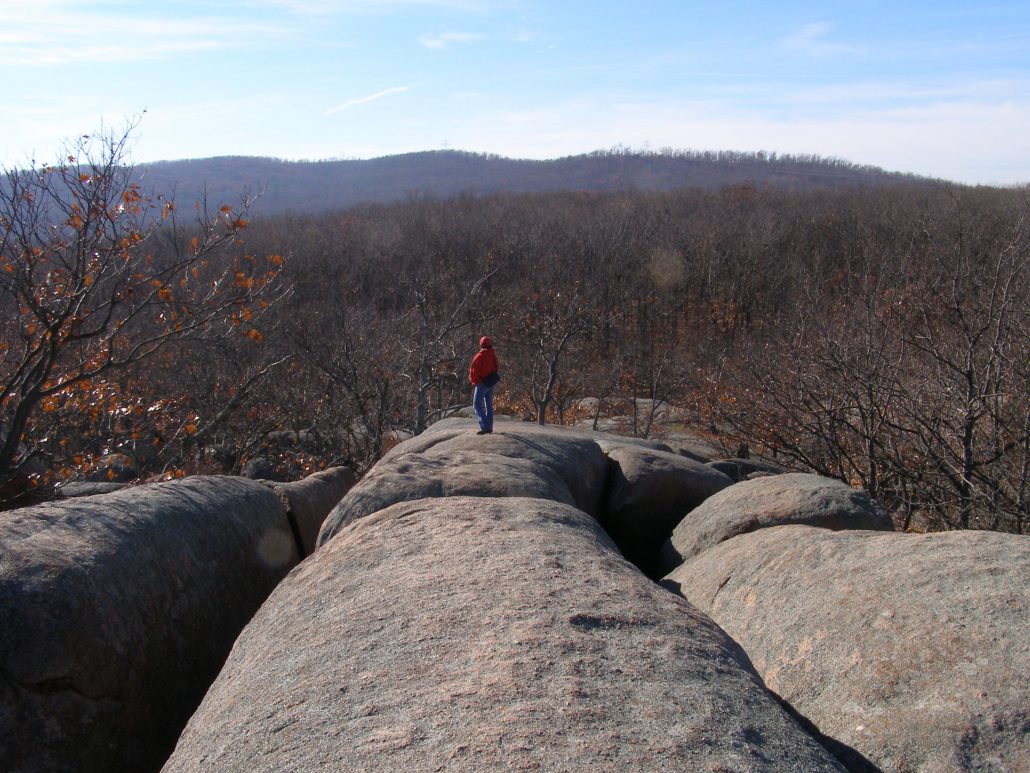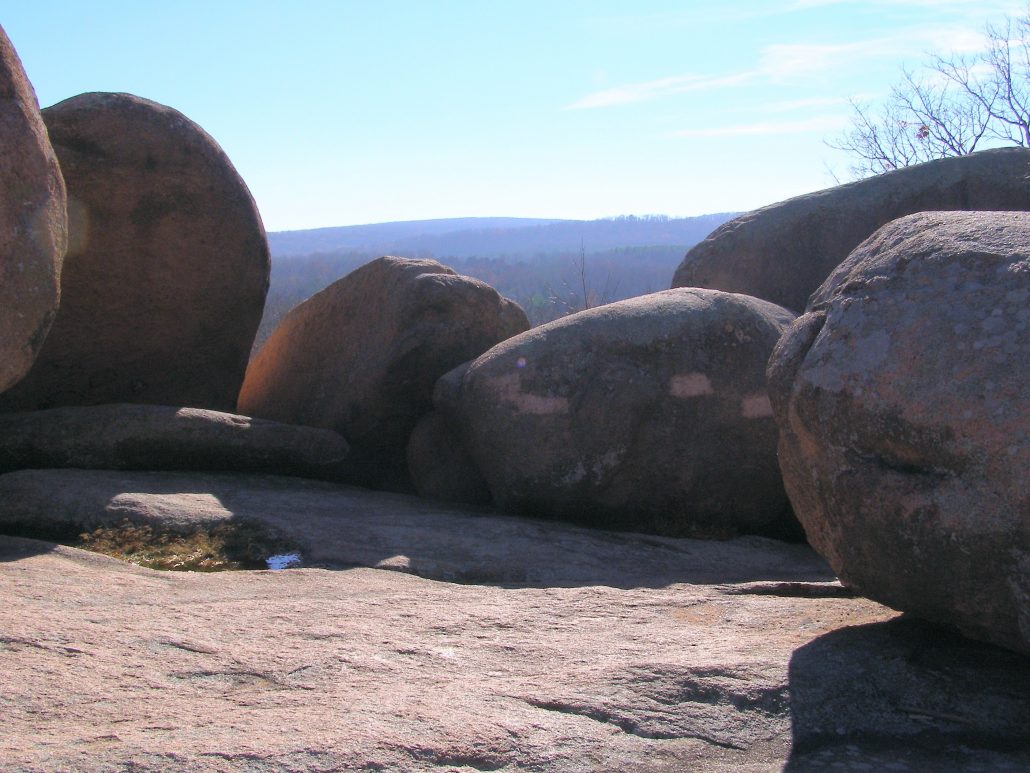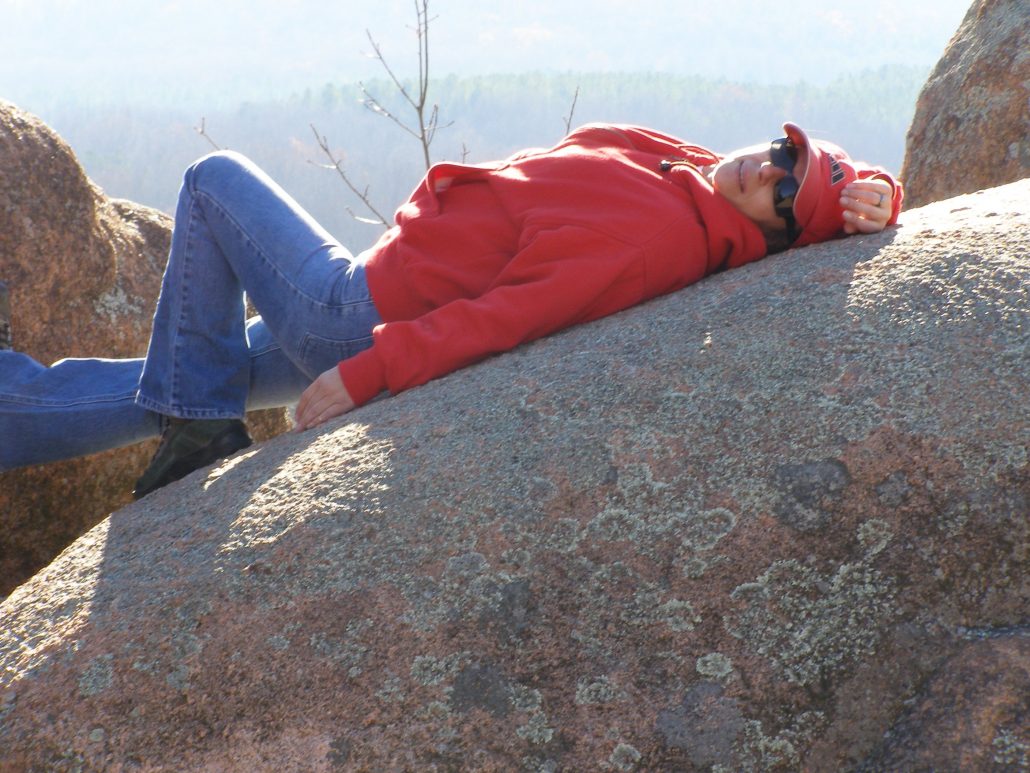 Looks like it was a nice day – I bet most of us would kill for a day where you wanted long sleeves on a hike! Thanks again, OH, and do send more!