I could go all wonky and technical right now. Intellectualizing has always been one of my favored coping systems. But I just want to highlight two short threads on Twitter. The first is between me and my sister.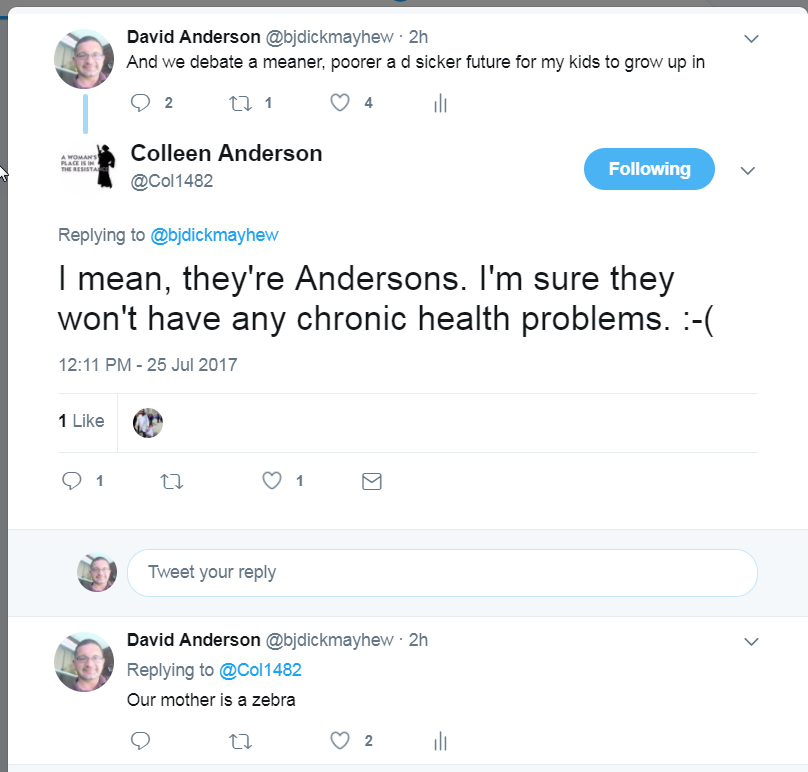 This is a vote to make our country a whole lot nastier and crueler and sicker. As I've mentioned a few times before, my mother is a zebra full of odd medical edge cases. Whenever she goes to Mass General Hospital, the interns are called into her exam room so that they can see some unusual scenario. My family has a history of a variety of genetically linked cancers, asthma, a potpouri of mental illness and other things.
I want to come back to a post that I wrote when Obergfall became the law of the land and my kids:
I don't know much about how my kids will turn out when they get older. I know a few things though.

I know my daughter will be a massive dork (as she cried last night that she missed school as she was not learning enough new things at summer camp, and could we buy her some new math workbooks). I know she will be a goof ball with a massive amount of empathy and a strongly developed sense of fairness. I know that when she is adult, her possibility space will be massive….

Their possibility space just widened a little bit this morning. Being their dad, that makes my day.
Today is a contraction of the possibility space.
Now, the other vignette I want to highlight is an economic success story. Tim Williams covers the Pittsburgh Pirates. He runs a profitable small business website, Pittsburgh Prospects that tracks the Pittsburgh Pirates minor league system. I am a subscriber as the writing that he and his team of paid writers produce every day is great. Pittsburgh Prospects started as a labor of love and turned into a great and geeky resource.
As someone who is self-employed w/pre-existing conditions, baseball isn't a concern to me when people are voting to take away my healthcare. https://t.co/iFjKKeHNMW

— Tim Williams (@timwilliamsP2) July 25, 2017
Underwritten insurance in the individual market shuts down a lot of dreams that can turn into viable businesses such as Pittsburgh Prospects as well as keep people from taking a risk.
I'll have more to say including something about the most recent round of Byrd droppings tomorrow morning. We'll also start talking about what else can be done.