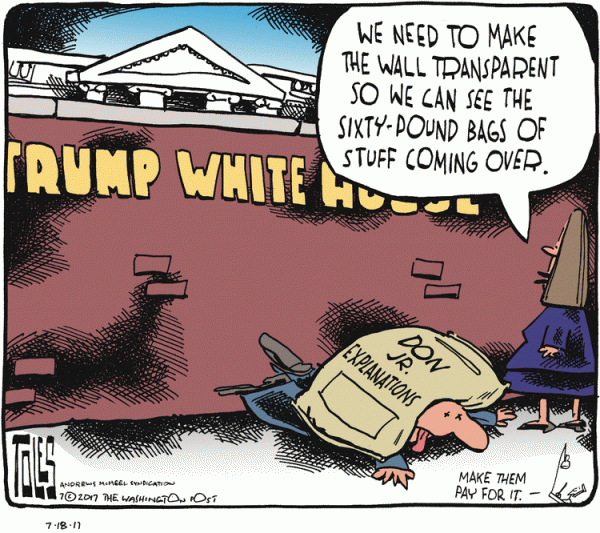 Oh, how I would love to see Catherine Rampell's Washington Post suggestion in action! "Jared Kushner 'forgets' to disclose his assets? Seize them.:
… For the 39th time, top presidential adviser (and son-in-law) Jared Kushner has revised his financial disclosure forms. Kushner disclosed 77 additional assets, collectively worth millions of dollars. These items were "inadvertently omitted" from previous versions of his federal forms, according to a document the White House released Friday…

Maybe Kushner really did forget all those assets, including a stake in a start-up valued at $5 million to $25 million. Just as maybe he really did accidentally submit a security-clearance form that left off more than 100 contacts with foreign nationals…

It's true that willfully omitting an asset on one's federal financial disclosure form comes with the risk of criminal action. But how motivating can a threat of prison possibly be if Kushner knows he can just go back and add anything that the press happens to dig up?

That's exactly why we need the banana republic rule (named for the lawless state, not the store).

Above a certain value — let's say $1 million — any assets that are "forgotten" on federal disclosures can be seized by Uncle Sam. If they weren't memorable enough for these forms, then clearly you're rich enough that you don't really need them.

Treasury gets to take them, without compensating you.

"That's socialism!" you might protest. But really, it's not so different from another policy that the definitely-not-socialist Trump administration already backs enthusiastically: civil asset forfeiture.

This is when law enforcement seizes private property without proving the owner is guilty of a crime, often without even charging the owner with a crime. Just last week, Attorney General Jeff Sessions announced he was restarting a federal forfeiture program the Obama administration had shut down.

"Civil asset forfeiture takes the material support of the criminals and instead makes it the material support of law enforcement," Sessions explained, even though the stuff being seized is not necessarily providing "material support" for any crime or any criminal.

With such tenuous logic, why shouldn't Sessions support appropriating possibly-innocent-but-still-kinda-suspicious financial disclosure omissions, too?…
***********
Apart from (gleefully) imagining a more just world, what's on the agenda for the day?