On the Road is a weekday feature spotlighting reader photo submissions.
From the exotic to the familiar, whether you're traveling or in your own backyard, we would love to see the world through your eyes.
Good Morning All,
So far, this feature has been about travel, with the occasional "local" picture or two. I think limiting this to just travel is just that – limiting. So I'm changing this up a bit to include neat, colorful, funny, interesting, poignant, etc. pictures that don't require travel.
As always, if you're on a trip or have a story to share, you can just pitch in below.
I'm pleased to announce the release of the new picture submission tool for this feature. Using this tool will ensure I don't mess things up, will make it much less time-consuming for me, and will make for a much easier process all the way around.  This would not be possible without the efforts of valued commenter Major Major Major Major. His help has been invaluable in this feature, not to mention in the pie filter and rotating quote.
The form is here and has a few simple rules:
You have to have made at least one comment that's been approved/published.
It's a picture and not too big (you can include up to 7 pictures in a single submission)
You must include your commenter screenname and email (kept private) to verify you, just like making a comment. Only your nym is published.
No more than 10 form entries per hour.
You can include an overall description, per-picture descriptions, dates, locations, etc.
If you are a lurker and thus not a commenter, or should you wish to submit a video, archive of multiple pictures, links to pictures hosted online, or want to include more text or pictures than the form allows, send an email.
Travel safely everyone, even if it's just down the hall for that second cup of coffee!
A simple reminder: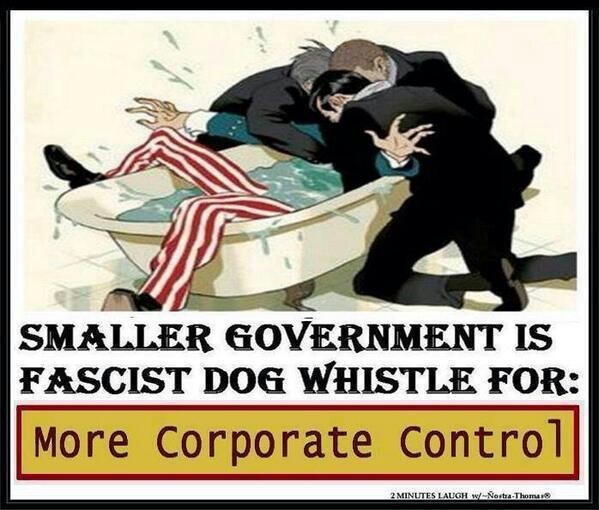 Just a few today, first from Raven:
These are some shots from my LA trip last week. There is no way to measure up to the stuff Bill has but think of these as "lay" photos!

The first picture is Puige crossing the plate after parking one. It was a
mixed night since they were the best seats I've ever had but traffic kept
us out of the stadium until the 5th inning.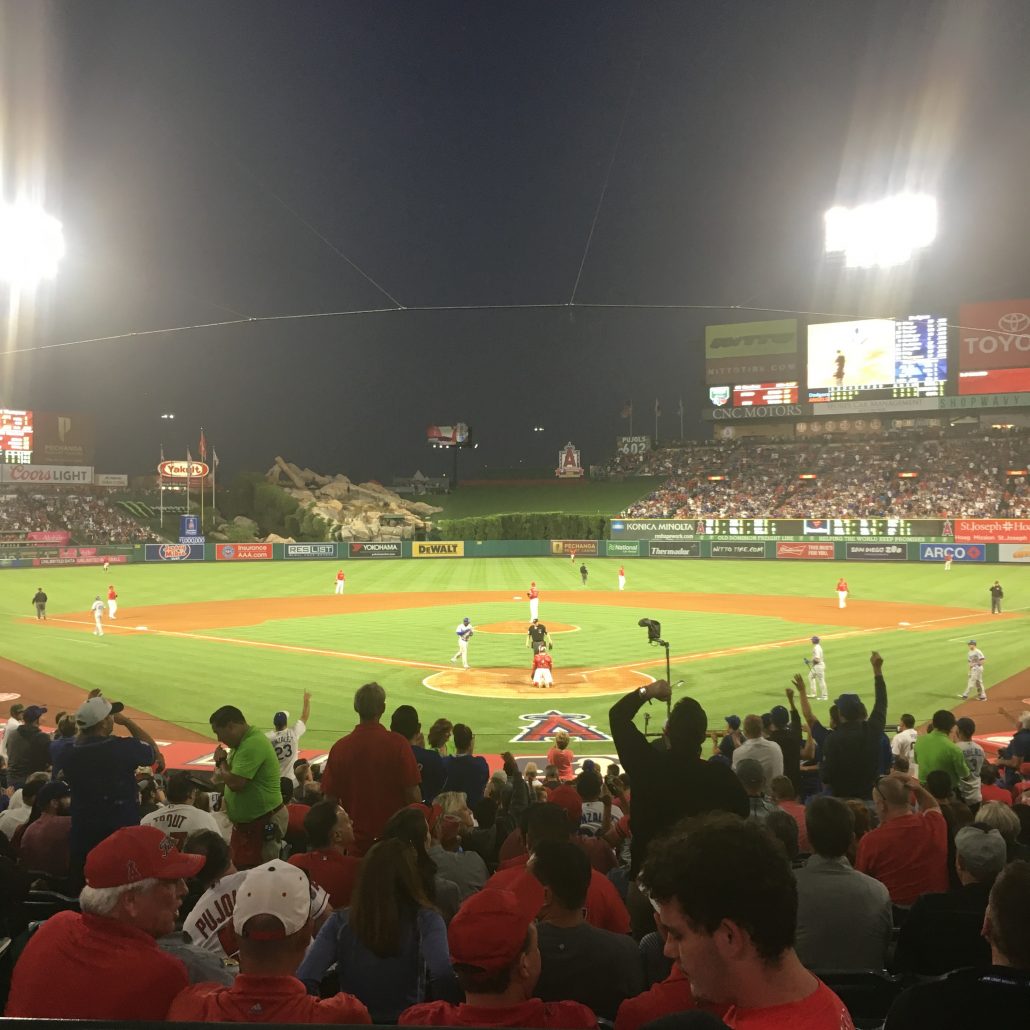 The second is the Manhattan Beach Pier. I've been going there for over 50 years and, cold water or not, I got in for some body surfing every day.

Three is the Korean Friendship Bell on the old Ft Mac Arthur in San Pedro. In 1967 I was home on leave between Korea and Vietnam, ran out of dough and had to go there to get some "casual pay' to get back to Ft Lewis.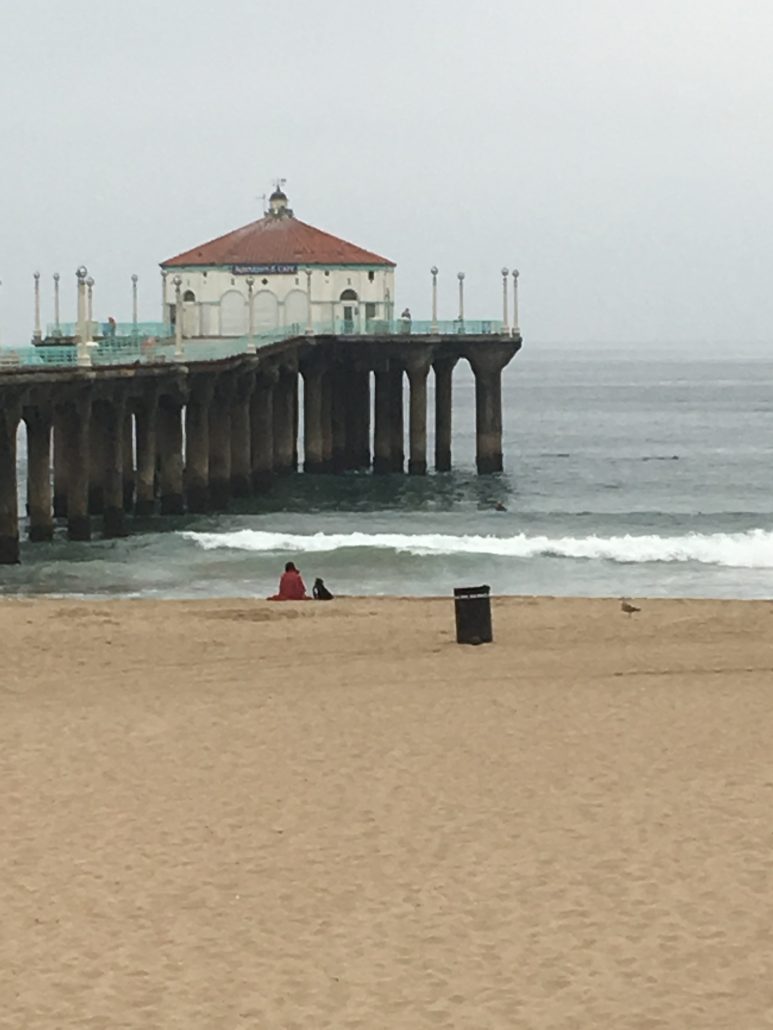 One is the Kris Kristofferson display at the Grammy Museum.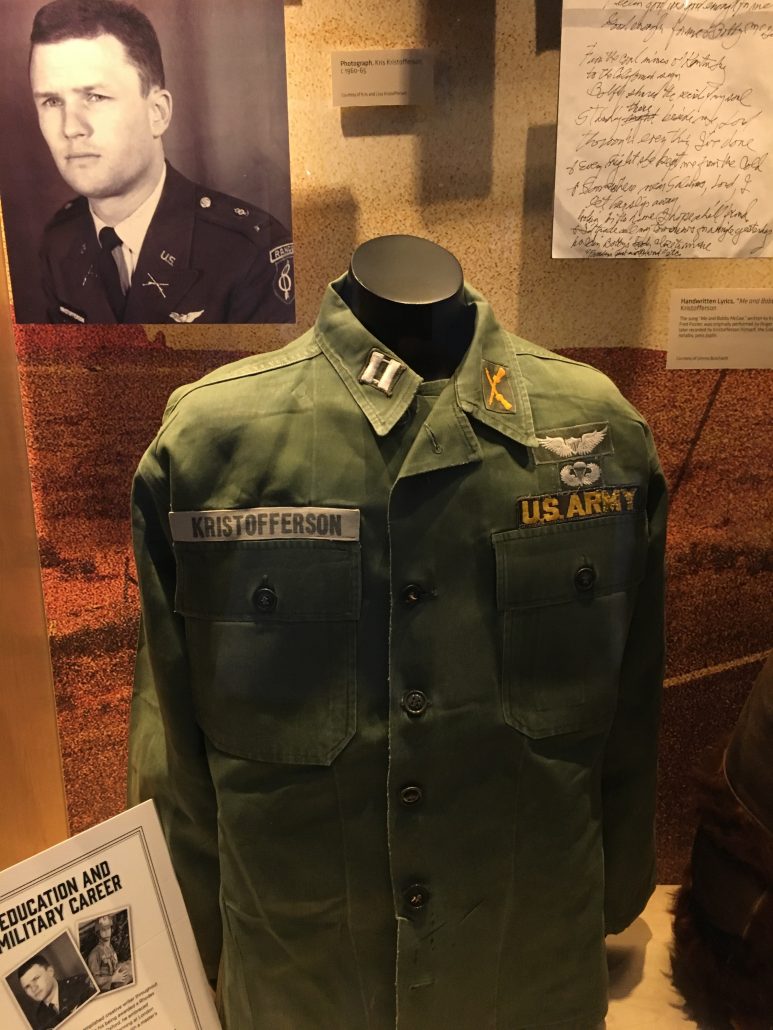 Two is a shot outside of the Anime convention in downtown LA. I don't know from Anime but it seemed to me that there were lots of kids who had found an outlet that suited them. I also wonder if it's not a real fertile ground for creeps.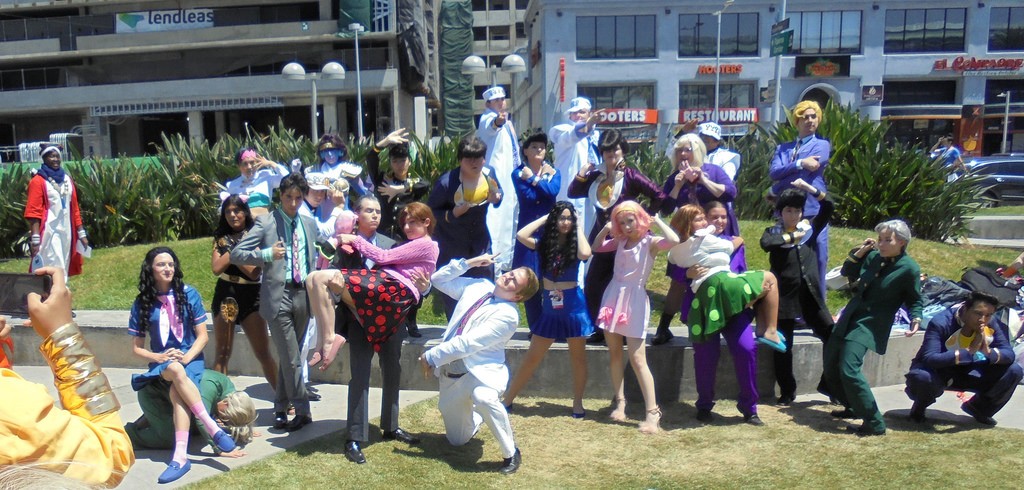 Thanks for an interesting view of LA. Except for one foggy evening when I drove through from San Diego to San Luis Obispo, I've never been further than the smoking bench outside the terminal (years ago, when I still smoked).
Next up – BIRD!
Where it was taken: Manhattan KS
When: June 2017
Commenter nym: Albatrossity
Other notes or info about the picture: Male Painted Bunting.
Not exactly "on the road"; this guy lives about ¼ mile from my house and I see him most days on my early morning walk. But he's a stunner, nonetheless, and since folks at Balloon Juice seem to like bird pictures, I thought they needed to see him.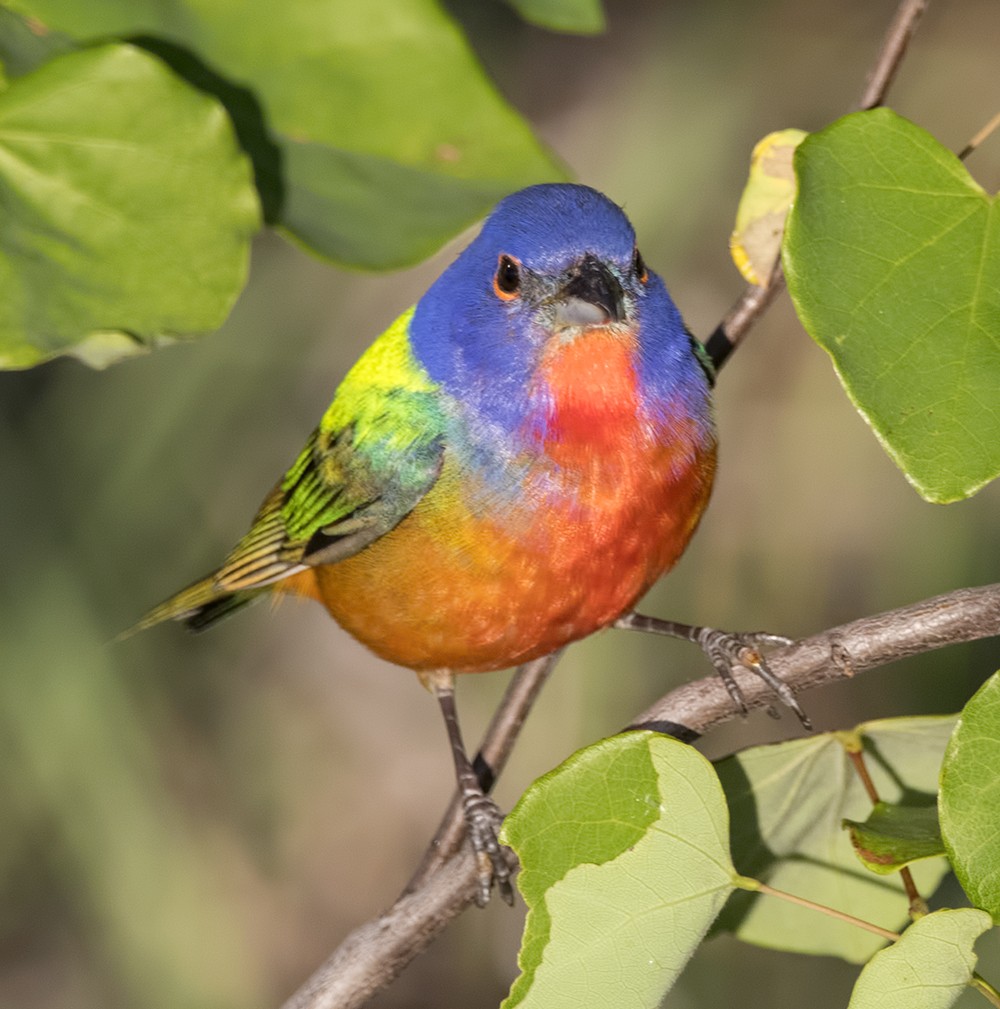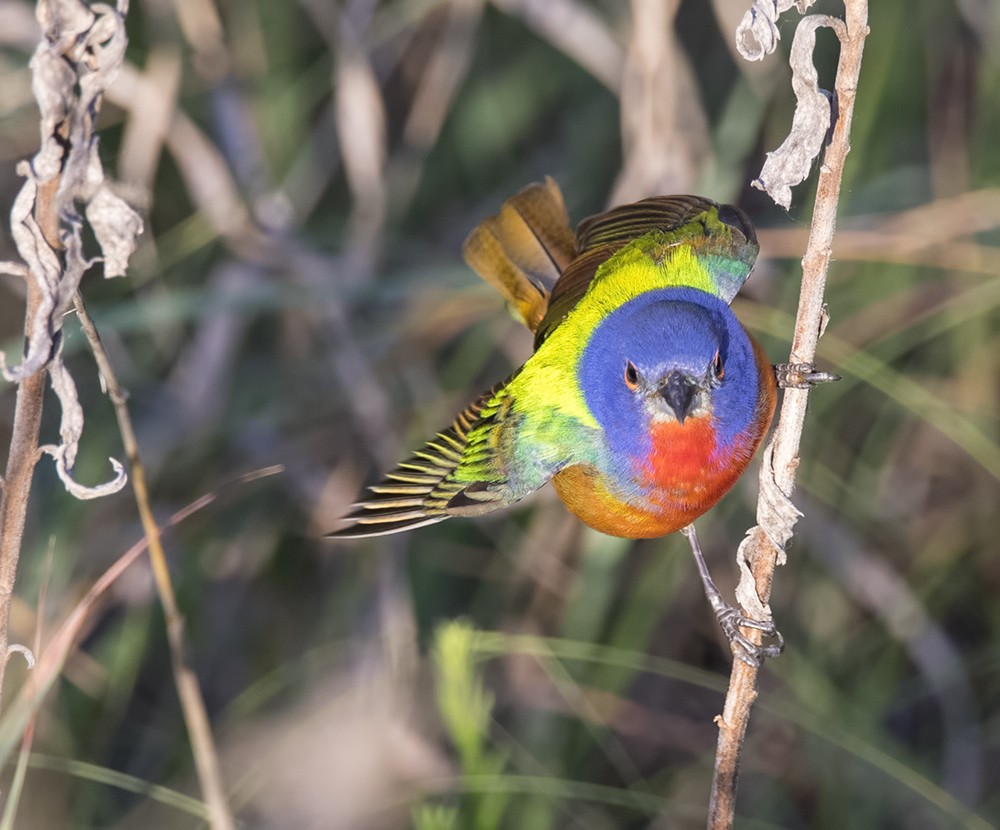 What an amazing pretty bird! I am continuously amazed by the variety of life on our blue sphere.
And finally, something new – Nigeria!
Some pictures from my trip to Nigeria

Where it was taken: Ibadan, Nigeria

 When:  June 2017

Commenter nym: evap

Other notes or info about the picture:  I recently returned from two weeks in Ibadan, Nigeria, where I was involved (as a lecturer) in a summer school in mathematics for African graduate students. The school was held at the University of Ibadan, which is one of the oldest and most prestigious universities in west Africa.  It was an amazing experience!   This picture is a view of the city of Ibadan (population 3 million, the 3rd largest city in Nigeria) from the high point in the city.

The British built a government building here — Mapo Hall — which is

now a municipal building.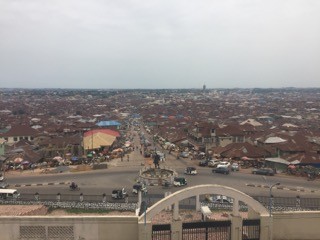 Where it was taken: Ibadan, Nigeria

 When:  June 2017

Commenter nym: evap

Other notes or info about the picture:   During the summer school everyone stayed inside the universitygrounds, we all stayed in a hostel/hotel on the campus and were insulated from "real life" for the most part.  But on the Saturday in between the two weeks of school we were taken for a tour of the city, including visiting this market.   It was completely chaotic outside the university — crazy traffic, many people — but fun to see how the locals live.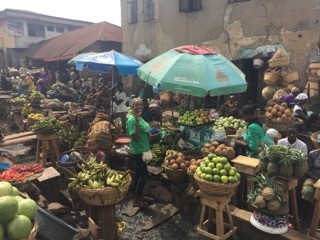 Where it was taken: Ibadan, Nigeria

 When:  June 2017

Commenter nym: evap

Other notes or info about the picture:   One of the locals took me to buy some fabric and I had some clothes custom made.  The fabrics are incredible and it was hard to pick just a few.  This is the shop where I bought fabric.   This is a typical row of shops.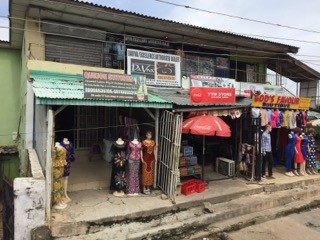 Where it was taken: Ibadan, Nigeria

 When:  June 2017

Commenter nym: evap

Other notes or info about the picture:  Some of the fabrics I purchased.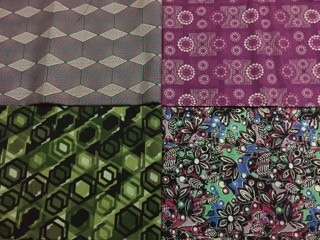 I love fabrics – and paper. Your choices are so lively and exciting.
As I listen more and more to the BBC during the day, I am learning more about Nigeria, both historical and current, politics and art, and it's now on my list. I look forward to watching its rise as Africa begins to shine.
Have a great day everyone!