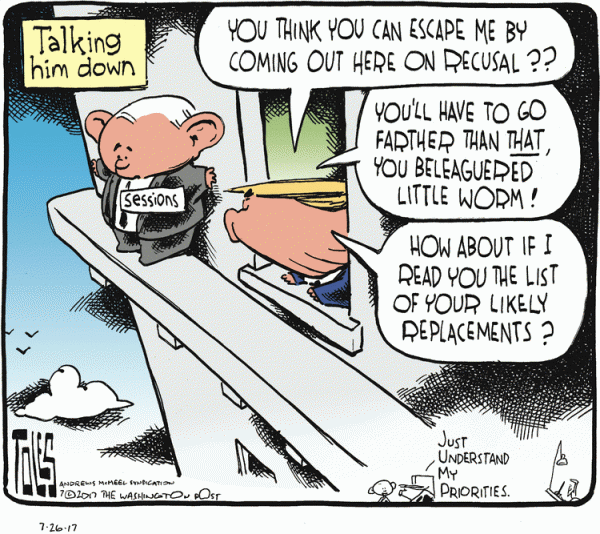 Since I am not by nature a nice person, I'll admit that stories like this make me quietly gleeful. From the Washington Post, "Senate Republicans have tolerated Trump's controversies. His treatment of Sessions is different":
… Cornyn is not alone in rallying to the defense of Sessions, who, despite sometimes having waged lonely battles as one of the chamber's most staunch conservatives, still has many friends among Senate Republicans. Most have issued statements of support, and several are making private calls to reassure Sessions that they are behind him.

But the tension over Trump's treatment of Sessions goes beyond the senators defending a friend.

Unlike any other controversial move that Trump has pondered in his six months as president, Senate Republicans are sending preemptive signals that firing the attorney general or pressuring him to resign would be a terrible move.

Some have warned high-level White House officials that it would look as though Trump were making the move solely to shut down an investigation of his campaign and the White House, now overseen by special counsel Robert S. Mueller III, while also making clear that they agree with Sessions's decision to recuse himself from an investigation of the Trump campaign's connections to Russia.

Replacing Sessions would be difficult, and the idea of Trump making a recess appointment during the planned four-week break in August is foolhardy. Democrats can indefinitely stall a resolution to fully adjourn the Senate, having already forced minute-long periods during even shorter breaks to prevent Trump from having the authority to make temporary appointments while the Senate is away.

Democrats may have vehemently opposed Sessions's nomination, but they have no intention of allowing Trump to fire him and name a new attorney general with a recess appointment, and frankly, Republicans do not seem to want to give Trump that power either…
What's on the agenda, as we start another bound-to-be-beleagured day?
***********
Speaking of public schadenfreude: Having grown up in the sort of family where interactions tended to start with a challenge and escalate explosively, I've spent the past forty years learning that not every dark thought needs to be described exhaustively. Not only does such gleeful venting disturb those who come from less toughened environments, but it's really quite stressful to keep up the paranoia level that's essential when you know at a bone-deep level that talking the talk is liable to lead to walking a very unpleasant walk.
This is John Cole's blog, and it will never be mistaken for an Oberlin drum circle. But rest assured, no matter how inventive your torture scenarios for those public officials who most absolutely deserve them, there is no membership requirement that those scenarios be shared in the comments.
Venting is important, especially in this Trump era, but not everybody here has the same tolerance for violence porn. Wish all the bad cess on Republicans and other miscreants that they deserve, but try to keep in mind that it's not a competition to see which of us can produce the most disturbing rant.