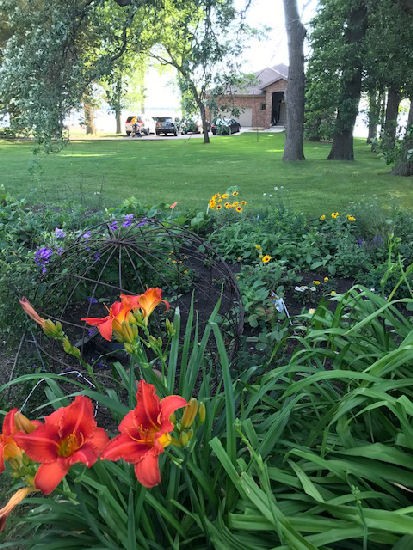 From commentor OldGold:
Diary: May 7
Inexplicably, my garden, West of Eden (f/k/a Rabbit Feeding Zone), continues to grow unmolested by rabbits. I was particularly disappointed by the great strides made by my Killer Kale over the past week. I fear that soon, if the rabbits continue to forsake my Killer Kale, my significant other will be scanning the internet for ways to make use of this foul tasting weed. Kale chips? Whare are the rabbits? Whare are the rabbits?

Diary: May 15
Alas, despite my worst efforts, my vegetable/flower garden, West of Eden, continues to flourish. Before completely giving up on my formerly ravenous rabbits reclaiming their feeding zone, I have decided to make a bold move. Going into full anti-tRump mode, I am taking out what has in the past been laughably referred to as a fence. And, I am going to make the rabbits pay for it.

Some, like my neighbor from Hell, DeeDee Plorable, she of the sulfuric scent, might see West of Eden as a testament to piss poor planning, pathetic procrastination and pedantic posturing.

My response, "It's modern day presidential!"

Diary: May 23
The failure of the rabbits to ravage West of Eden this year and thereby expose me to the horrors of eating Killer Kale Cupcakes and Zany Zucchini Salads may be a wage issue.

I am going to increase the rabbits' starting celery.

Diary: June 14

Svensker asks, "What zone are you in?"

This year, with the mysterious disappearance of my ravenous rabbits, West of Eden is in a dimension as vast as space and as timeless as infinity. It is the middle ground between light and shadow, between science and superstition, and it lies between the pit of man's fears and the summit of his knowledge. It is an area which we call the Twilight Zone (A/K/A Down The Rabbit Hole).

Diary: May 22
Yesterday, I ambled up to my still flourishing green nightmare, West of Eden, to check if the big bowls of Trix I had placed next to my vibrant veggies had attracted any silly rabbits. No luck.

Then, the sun dimmed and the birds went silent. Suddenly there was the scent of sulfur in the air. My neighbor from hell, DeeDee Plorable, was bearing down on me at warp speed.

"Ogee, those are some killer Kale," she cruelly sneered. "I will have to share my recipes with your Mrs." Ouch!

"Ogee, Purr and Fect (her cats) are missing as well as several others in the neighborhood. What's going on?"

Hmmm!?!? Whare are the rabbits and cats?

Diary: June 27
At the crack of noon I trudged up to West of Eden to weed. A task I had effectively eschewed since early in the Eisenhower Administration. I was armed with 2,4-D, a blow torch and a machete. The plan was to clear a path for the rabbits to reach the Killer Kale.

Just before initiating this desperate plan, I saw something that explained the mystery of the missing ravenous rabbits and DeeDee Plorable's missing cats.


Diary: June 30
Whare have all the rabbits gone? The answer is what I have come to call the Fudd Fox Family, in honor of the most infamous rabbit hunter of them all – Elmer.

Diary: July 4
Given the seven Fudds' seemingly permanent encampment, I fear my only hope for a return of the ravenous rabbits and a reprieve from the horrors of Kale cuisine, is Divine intervention. Lettuce pray.

Diary: July 25
Still no rabbits, but Possible salvation from the horrors of eating Killer Kale Cupcakes and Zany Zucchini Cookies – Heat and Drought! It is so hot and dry here the Jehovah's Witnesses are telemarketing.
***********
What's going on in your garden(s), this week?