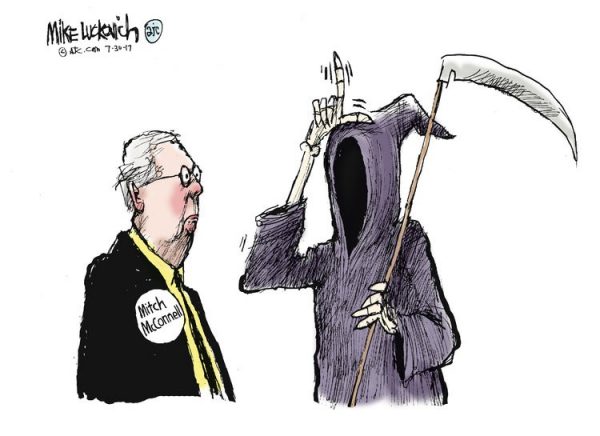 Walk with your chin up and your shoulders back. Be proud of what we've accomplished together. And then let's get back to work.

— Kamala Harris (@KamalaHarris) July 28, 2017

.
Apart from savoring a hard-earned victory, what's on the agenda as we start the new week?
***********
Lisa Murkowski was there to vote no all week because of a write-in campaign. All political involvement is not futile.

— Charles P. Pierce (@CharlesPPierce) July 28, 2017
At a tiny, remote town, Collins was overwhelmed with support. She went from being a soft no to a loud bill killer. https://t.co/fpRqUOuMHk

— Topher Spiro (@TopherSpiro) July 29, 2017
Jay Willis, GQ, three days ago:
At around 1:30 in the morning, after he was sure that he finally had the attention of the Senate clerk and of his nervous, exhausted colleagues who had been watching his every move, John McCain dramatically plunged his outstretched arm downwards, finally sealing the fate of Mitch McConnell's "skinny repeal" bill in a gesture that had all the drama of a WWE heel turn. It was a wild, shocking moment that drew gasps from the gallery, and the only reason it mattered at all is because, from the very beginning of this debacle of an effort to repeal the Affordable Care Act, two women Republican senators—Susan Collins of Maine and Lisa Murkowski of Alaska—never gave a fucking inch…

The Affordable Care Act is safe because of the courage of two women who were not swayed by threats, bribes, and every brand of public and private pressure. They might not be getting as much shine as John McCain today, but they are far more deserving of it.
"Sen. Murkowski thank you for saving our care" over anchorage rn. @MSNBC pic.twitter.com/jOG77JavGI

— Elizabeth Love (@lizlove000) July 29, 2017
.@TopherSpiro Alaskans marched to thank @lisamurkowski today and flew this banner! https://t.co/ufOYTzci0I

— Kathryn Madland (@notpd4patriot) July 30, 2017
.@SenatorCollins on #CNNSOTU says that receiving spontaneous applause at Maine airport was "extraordinary" https://t.co/PhzY8j0fqB

— State of the Union (@CNNSotu) July 30, 2017
#EveryVoiceMatters