Update: I swear that when I started writing this DougJ's post was not in the queue.  Anyway…we're all grownups here (Schpeake Fer Yerself!–ed) so I'm guessing we can read one piece and then another.  Or not. Enjoy!
__________________
Joe Arpaio is now on his way to being an old lag, and if that conclusion is decades late, it still behoves us to get our schadenfreude on:
The longest-serving lawman of the state's most populous county, where he became a national figure known for immigration raids and sweeps aimed at rounding up illegal migrants, was found guilty Monday of contempt of court. He faces up to six months in jail.
Arpaio's crime, you'll probably recall, was to keep on doing what he'd been doing after a federal judge told him to stop:
Arpaio had conducted the sweeps under the federal 287 G Program, which enables some local law-enforcement offices to act as quasi-immigration agents. In 2009, the federal government rescinded this power, but Arpaio refused to stop. In 2012, Arizona U.S. District Court Judge Murray Snow, ordered an injunction against Arpaio's office aimed at ending the sweeps, but still, Arpaio refused.
I fortunately don't have any personal experience here, but I have it on good authority that judges really, really don't like it when you ignore them.
Arpaio tried two lines of defense:
During the criminal trial, which consisted of a five-day trial in June and July, Arpaio's attorney's argued that Snow's order was unclear and that though the sheriff had made mistakes, they weren't willful violations of the order. He also argued that Arpaio delegated much of of the enforcement responsibilities to his subordinates, and that he should not be held responsible for their actions.
Again, I don't think telling a judge that they f**ked up in their legal writing is a terribly persuasive strategy, and as for the "my employees suck, I don't" argument, I'm reminded once again that the Party of Personal Responsibility™ is a f**king crock.  Hence, the man's a convict.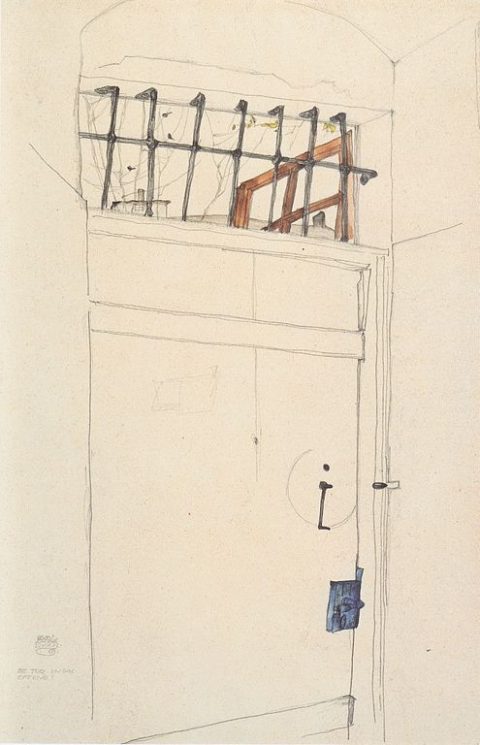 It is, alas, apparently unlikely that white supremacist poster child Arpaio will actually go to jail for his crime.
But whatever his sentence, this outcome makes me smile.
Here's Loki, the Trickster God, in the glass I'll raise when the clock hits 0-whiskey-00 this evening.
Image:  Egon Schiele, The Door is Open, 1912.