On the Road is a weekday feature spotlighting reader photo submissions.
From the exotic to the familiar, whether you're traveling or in your own backyard, we would love to see the world through your eyes.
Good Morning All,
This weekday feature is for Juicers who are are on the road, traveling, or just want to share a little bit of their world via stories and pictures. So many of us rise each morning, eager for something beautiful, inspiring, amazing, subtle, of note, and our community delivers – a view into their world, whether they're far away or close to home – pictures with a story, with context, with meaning, sometimes just beauty. By concentrating travel updates and tips here, it's easier for all of us to keep up or find them later.
So please, speak up and share some of your adventures and travel news here, and submit your pictures using our speedy, secure form. <Link coming soon, when form is moved> You can submit up to 7 pictures at a time, with an overall description and one for each picture.
You can, of course, send an email with pictures if the form gives you trouble, or if you are trying to submit something special, like a zipped archive or a movie. If your pictures are already hosted online, then please email the links with your descriptions.
For each submission, it's best to provide your commenter screenname, description, where it was taken, and date. It's tough to keep everyone's email address and screenname straight, so don't assume that I remember it "from last time". More and more, the first photo before the fold will be from a commenter, so making it easy to locate the screenname when I've found a compelling photo is crucial.
Have a wonderful day, and enjoy the pictures!
Due to some competition for my attention, there won't be more than one Swiss picture for this First of August, Swiss National Day.
One of the many things I've always loved and valued in Switzerland is their respect: for historic things, for artists, for tradition, for thinkers, and for the Enlightenment and its interpreted values of peace, prosperity, and freedom of conscience.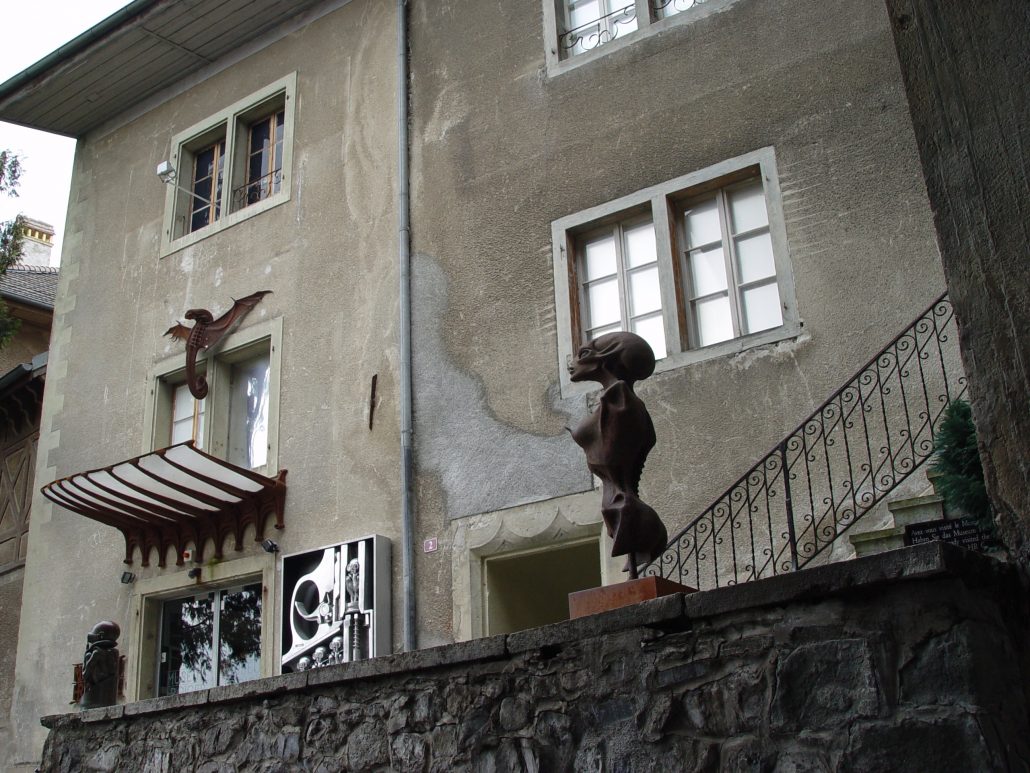 This is the outside of the HR Giger Museum in the Chateau de Gruyeres, Gruyeres, Switzerland. He occupied it his last 15 or so years. Last time I went there, the Giger Bar was almost open, with oversized Harkonen chairs and bio-organic-looking flooring, roof-beams, furniture, and design elements everywhere. Oddly fitting in a medieval castle.
Giger designed creatures and alien stuff for the Alien and Species movies, and much of Dune. His work is disturbing, often political, highly sexualized, and nightmarish. But there's something to his horror, especially when you look at one of his giant paintings and scrutinize the detail and complexity and design.
In this photo: the building is part of the castle and is likely centuries old, there's a a demonic/alien sculpture, a secret society's commissioned symbol above the door, the famous "population gun" sculpture, and a bio-mechanoid torso of Lil. Quite a huge amount in a small space!
Today, pictures from valued commenter Albatrossity.
Earlier this month (July 2017) I took a road trip through Nebraska, South Dakota, North Dakota, Montana, Wyoming, and then back through Nebraska. I saw much country, many birds, and way more pickup trucks than cars on those blue highways. Here are some of the images and recollections

Western Nebraska has many iconic chalk/limestone formations that served as markers along the Oregon Trail. Some are more famous than others; here's one of the lesser known ones, near Bridgeport NE.
This long-legged diurnal owl hangs out in prairie dog towns throughout the West. Found this one near Ogallala NE.
Hay bales, fences, and mountain ranges are ubiquitous elements of any western landscape. This is near the Missouri Breaks National Monument, looking south toward the Judith Mountains.
Prairies resemble oceans in many ways, including the presence of "shorebirds". This Upland Sandpiper will fly from eastern Montana across the equator to the pampas of Uruguay and Argentina in a few weeks. From the Medicine Lake National Wildlife Refuge near Culbertson MT.
One of a pair of pups on the Medicine Lake NWR who took a curious interest in me. Off the refuge, in this part of the country, that curiosity is probably a death sentence. But they sure are cute!
In North Dakota the glaciers left behind a prairie landscape pocked with lakes and ponds. Here's a view of that, in the Lostwood National Wildlife Refuge near Stanley ND.
Prairie pothole lakes attract lots of different birds, including ducks, pelicans, grebes, shorebirds, blackbirds, and even wrens like this one. Noisy and busy denizens of the cattails across North America, this one was at Lostwood NWR in North Dakota.
Thank you so much Albatrossity, do send us more when you can.
Travel safely everybody, and do share some stories in the comments, even if you're joining the conversation late. Many folks confide that they go back and read old threads, one reason these are available on the Quick Links menu.
The form is being tweaked and moved, so a new link will be published when it's ready.