Austin Frakt at the Incidental Economist is highlighting some really cool research on the problem of too much choice in insurance offerings:
Maybe more choices isn't better? What if helping consumers navigate them is merely second best to reducing the number of choices in the first place?

It sounds a bit crazy, because a premise of an ideal market is that there are so many choices, everybody can find a product to perfectly match his or her preferences. No market achieves that ideal, but clearly fewer choices moves in the wrong directly, theoretically.

Theory is useless if it is wrong. It must be tested.

In a study published as an NBER working paper, Jason Abaluck, Jonathan Gruber did so….

On average, employees spent about $1,000 more on coverage per year than they could have. The number of plan choices varied across district and time. Through 2011, the vast majority of employees had four choices. After 2011, some had as many as ten. Choices ranged in plan style — closed panel HMOs (e.g., Kaiser) and broader network PPOs — as did employer contributions to premiums and cost sharing, all of which was controlled for in analysis…

Finally, the authors examined forgone savings as a function of choice sets. Foregone savings are almost twice as large when employees face a choice of eight plans versus only four plans. Now, this result could occur if what's going on is that as additional choices include better ones, but that enrollees don't pick better ones. That is, they could do better with more choices, but they don't know how to make the right ones….
Insurance is confusing. When I worked at UPMC, I was given three choices ( narrow high deductible, narrow low deductible, broad low deductible). Now that I work at Duke, I have four choices: narrow high deductible, narrow low deductible, broad low deductible, national low deductible. I can figure those choices out. The HR department has spent a lot of time curating the choices to something I can managed and I am an expert in insurance.
Healthcare.gov has an incredible array of choices. For the 2017 plan year the number of unique plan IDs varies from two plans in two dozen counties in Missouri to over 100 choices in some counties in Florida and Wisconsin. The plans vary by network, benefit configuration, out of pocket arrangements, additional benefits like adult dental as an add-on and plan type. This is confusing.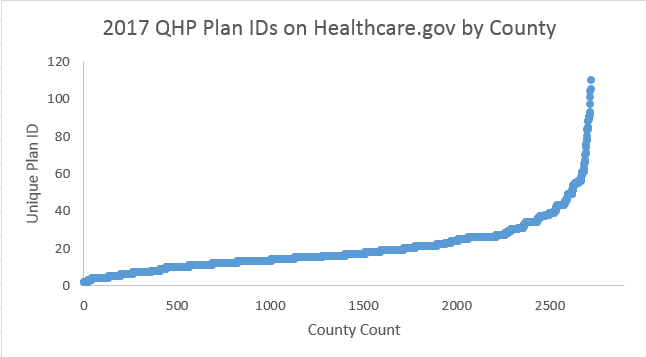 State based marketplaces may have more compressed ranges. Covered California restricts choices to a single, standard benefit design per type per insurer. Even then, a resident in Redding, California sees 10 choices. A resident in Los Angeles sees 38 choices.
We have good evidence that increased insurer competition leads to lower premiums. Do we have good evidence that the increased competition leads to lower spending when compared to the counterfactual of optimal plan choosing? I am curious about that as increased competition, even increased curated competition creates an incredible number of choices that have to be sorted through and made.