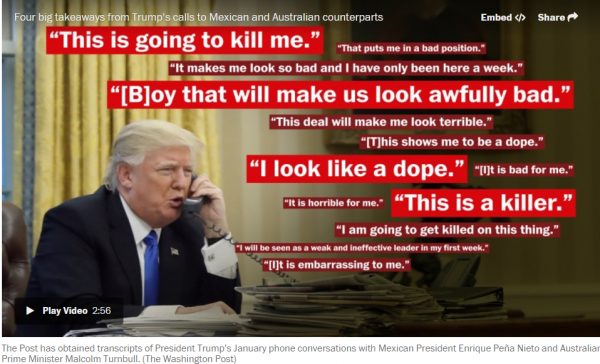 WaPo just posted a scoop using leaked transcripts of calls Trump had with Australian PM Malcolm Turnbull and Mexican President Enrique Peña Nieto shortly after taking office. The conversations reveal Trump to be a peevish, vain weakling who's more concerned with his image than how policy affects Americans. Hoocoodanode, right?
Trump's negotiating strategy appears to consist of whining and begging foreign leaders not to publicly pants him for telling cynical lies during the campaign. An excerpt:
Both calls centered on immigration-related issues with high political stakes for Trump, who built his campaign around vows to erect new barriers — physical and legal — to entry to the United States.

But there was little discussion of the substance of those plans or their implications for U.S. relations with Australia and Mexico. Instead, Trump's overriding concern seemed to center on how any approach would reflect on him.

"This is going to kill me," he said to Turnbull. "I am the world's greatest person that does not want to let people into the country. And now I am agreeing to take 2,000 people."

The agreement reached by the Obama administration actually called for the United States to admit 1,250 refugees, subject to security screening. A White House readout of the Trump call, issued at the time, said only that the two leaders had "emphasized the enduring strength and closeness of the U.S.-Australia relationship."

Trump spent much of his call with Peña Nieto seeking to enlist the Mexican president in a deal to stop talking about how the wall would be paid for. Two days earlier, Trump had signed an executive order mandating construction of the wall, but funding for it remains unclear.

"On the wall, you and I both have a political problem," Trump said. "My people stand up and say, 'Mexico will pay for the wall,' and your people probably say something in a similar but slightly different language."

Trump seemed to acknowledge that his threats to make Mexico pay had left him cornered politically. "I have to have Mexico pay for the wall — I have to," he said. "I have been talking about it for a two-year period."

To solve that problem, Trump pressured Peña Nieto to suppress the issue. When pressed on who would pay for the wall, "We should both say, 'We will work it out.' It will work out in the formula somehow," Trump said. "As opposed to you saying, 'We will not pay,' and me saying, 'We will not pay.' "

Peña Nieto resisted, saying that Trump's repeated threats had placed "a very big mark on our back, Mr. President." He warned that "my position has been and will continue to be very firm, saying that Mexico cannot pay for the wall."

Trump objected: "But you cannot say that to the press. The press is going to go with that, and I cannot live with that."
What a fucking disgrace. There's really nothing else to say except this: I'm ashamed to be an American every day this buffoon is in office.
In other news, there's no further point in commentary on the Stephen Miller "Statue of Liberty poem sux" kerfluffle as a gentleman on Twitter posted the perfect rejoinder last night:
if I want to see a fascist gun nut screaming at the Statue of Liberty I'll watch the end of planet of the apes

— Saladin Ahmed (@saladinahmed) August 3, 2017
The end.