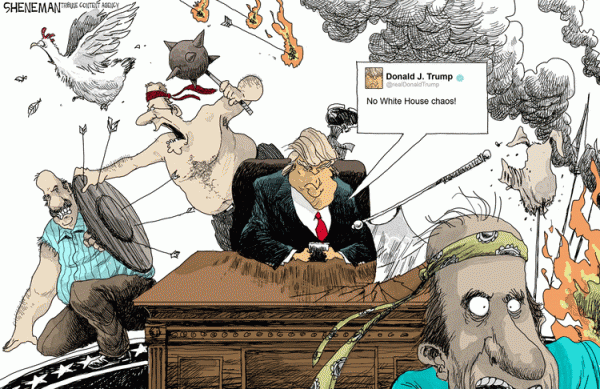 Himself being on vacation, and the other Repubs busy hiding out from their voters, maybe we'll get some peace this week. Rod Rosenstein's busily trying to clean up some of the nastiest recent messes left behind.
According to the NYTimes, "Reporters Not Being Pursued in Leak Investigations, Justice Dept. Says":
Rod J. Rosenstein, the deputy attorney general, said on Sunday that the Justice Department was not pursuing reporters as part of its growing number of leak investigations, just two days after he and other department officials had appeared to signal a harsher line toward journalists.

"We don't prosecute journalists for doing their jobs," Mr. Rosenstein said on "Fox News Sunday." "That's not our goal here."…

On Sunday, Mr. Rosenstein left open the possibility that reporters could carry some legal responsibility for information published, but said the department had not revised any policy on reporters.

"Generally speaking, reporters who publish information are not committing a crime. But there might be a circumstance where they do," Mr. Rosenstein said on Fox. "I haven't seen any of those today, but I wouldn't rule it out in the event that there were a case where a reporter was purposely violating the law."…
From the Washington Post, "Rosenstein: Special counsel Mueller can investigate any crimes he uncovers in Russia probe":
… "The special counsel is subject to the rules and regulations of the Department of Justice, and we don't engage in fishing expeditions," Rosenstein said when asked about the probe in an interview on "Fox News Sunday."

Rosenstein declined to comment on reports that Mueller is using a grand jury in a court in Washington to aid in his investigation but he said that such a step is a routine part of "many investigations."

"It's an appropriate way to gather documents, sometimes to bring witnesses in, to make sure that you get their full testimony," Rosenstein said. "It's just a tool that we use like any other tool in the course of our investigations. "…

Rep. Adam B. Schiff (Calif.), the ranking Democrat on the House Intelligence Committee, called Mueller's impaneling of a D.C. grand jury "a significant development," noting that it has been more than a year since former FBI director James B. Comey launched a counterintelligence investigation into Russia's meddling in the 2016 election.

"That means one year later, rather than turning that investigation off, rather than concluding 'We've looked at this for a year; there's really nothing to see here,' as the president would claim, instead . . . it's moving into a new phase," Schiff said during an appearance on CNN's "State of the Union." "That wouldn't be taking place if there was really no evidence, no evidentiary basis to move forward."…
***********
Apart from wishing for a summer respite, what's on the agenda as we start the week?