Here's Lefty, who is a dwarf gourami, pictured with some neon tetra friends lurking in the background as well as a panda cory acquaintance: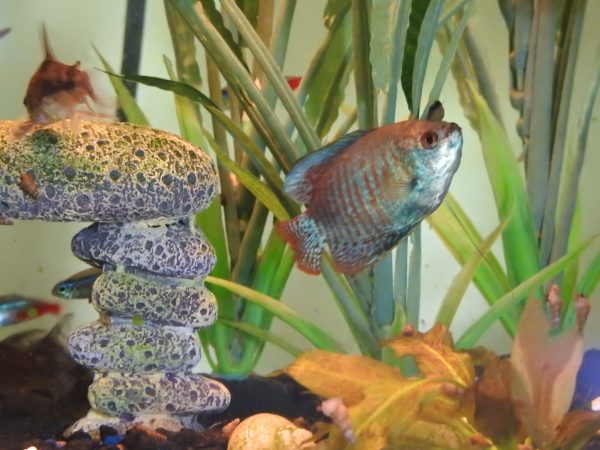 He's called "Lefty" because his political identity is based on opposition to whatever nominated or elected Democrats and their supporters do. If you took his policy wishlist and made it the party platform, he'd just keep moving the goddamned goalposts. Don't even try to bring him into the fold — this fucking fish will never be satisfied because he doesn't derive satisfaction from political victories but rather from feeling morally superior to the likes of grubby, compromised you.
Nah, I'm just kidding — the fish is named Lefty because I have two male dwarf gouramis (not recommended), and they dislike each another. In a manner that is remarkably mature for fish, they divide up the tank between them. One fish, Right Side Fred, lives on the starboard side of the tank, and Lefty lives on the port side.
The photo doesn't fully capture the beauty of his colors, but trust me, he's gorgeous. And yes, I am aware I have a snail issue. Open thread!