As I have mentioned in the past, my son has asthma. Right now, it is under control. We have the orange daily maintenance inhaler, the blue emergency inhaler and a penguin shaped nebulizer with albuterol liquid for the times when his breathing is getting rough but we have time and space to respond cheaply and effectively. He has not had a serious breathing crisis in almost two years.
We have his asthma under control. But there was a time when we were still learning what his triggers were and an asthma attack would come sneaking up on us. And that led us to the emergency room.
The first time I took him to the ER, he had been having an asthma attack for hours and we did not know. He was in pain, he was nearly manic and he could not calm down. We knew something was wrong and given that I had a nap that afternoon, I took him to the ER so my wife could get some sleep.
When we got to the ER, his blood oxygen saturation was in the upper 80s. The triage nurse recognized the problem and had us in a treatment room within three minutes of our arrival. The ER staff got a dose of steroids and then pure oxygen mixed with albuterol went through a dinosaur shaped mask for the next forty five minutes. Four hours later, he was asleep on my lap curled up in the way that an exhausted two year old can contort themselves, and breathing normally.
This was a crisis. It took three ER visits and two urgent care encounters until we were able to find the right combination of medications and behavioral changes that has allowed us to effectively control his asthma. Now his asthma is something we talk to his pediatrician about for five minutes at the annual EPSDT wellness visit to make sure that we have a new prescription for the three drugs for the next year. But when he was two and three years old, asthma was a crisis and an emergency.
I bring all of this up as Maine's Medicaid Section 1115 Medicaid waiver application wants to apply cost sharing to emergency room utilization based on the primary diagnosis on the claim. Diagnoses based co-pays are post-facto justifications for denial using information that the patient did not have at the time of the decision to seek care in a particular location. If they knew the diagnosis they would not need to be diagnosed.
Maine wants to categorize emergency room visits for asthma as non-emergency.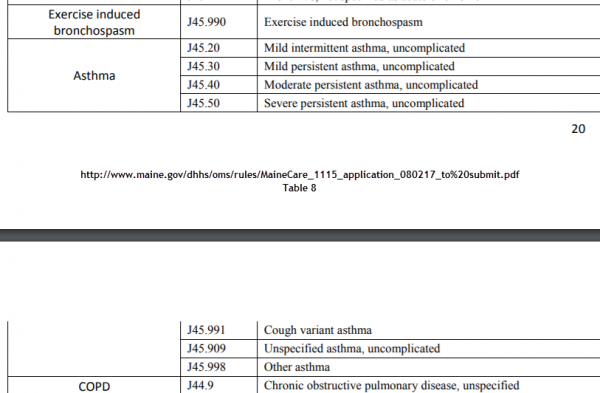 This would mean that co-pays would apply as either a shifting mechanism to get people to address care needs at their PCP or an urgent care center or as a punitive measure. I know that when my son was having severe attacks, his PCP shipped us straight to the ER.
Breathing is somewhat important. Not being able to breathe well is an emergency. The ideal situation of course is to have well controlled asthma via the combination of appropriate medical/pharmaceutical interventions and behavioral changes (including moving away from a working steel mill). But sometimes that fails and breathing becomes an emergency.