Just wanted to let you know there will be a Writing Group post this Sunday. Get your pens ready.
Last week a couple of people asked me for an update on the ducks. They are still here. I'm in foster mode, so not too attached. But they did acquire names. It's difficult when you have a ten year old for the week to NOT name them.
Mabel (the Rouen – brown with iridescent green markings) is recovering nicely. She was quite weak and wasn't eating well for the first few days. Now she eats all the time and keeps trying to steal Bailey's dinner. I've addressed that, so poor Bailey can eat in peace. The Blue Swedish is Maddie and she's hell on wheels. And keeps an eye on me.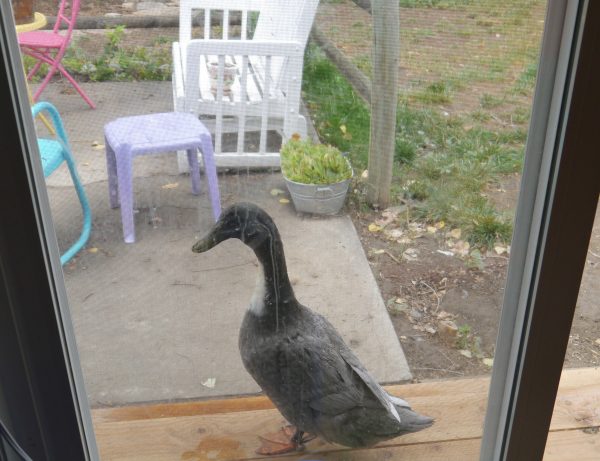 That's not creepy at all, right? They are clearly hand raised – they eat out  of my hand, they come running when I go outside and are unfazed by cats, dogs or 10 year olds.  Funny thing, yesterday I was sitting on the steps, feeding them when Mabel mistook my nicely painted toenail for a snack. We both got a surprise.
I suppose none of us will be surprised if this turns out to be a foster fail. But I'm not there yet.
How about a happy news, politics free open thread? Have any good news to share?
ETA: Thanks to dmsilev for this