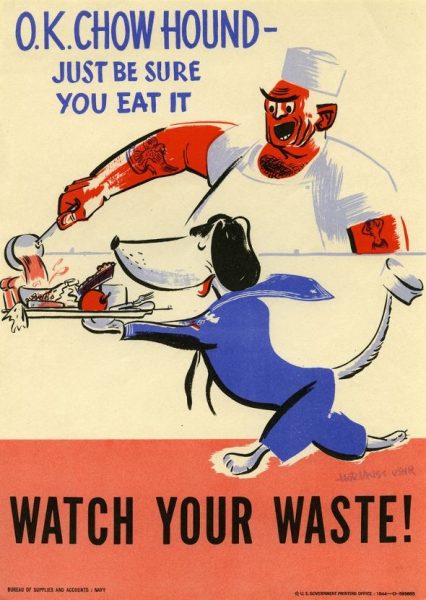 The good folks at Task & Purpose bring us this great moment in US Navy gastronomic history:
On July 1, 1914, the U.S. Navy implemented the cruelest and most unusual punishment in its venerable history: a ban on alcohol.

Under General Order 99, drinking "alcoholic liquors on board any naval vessel, or within any navy yard or station," became prohibited, with commanding officers "held directly responsible for the enforcement of this order," according to a U.S. Naval Institute reflection on the 100th anniversary of the ban in 2014. Secretary of the Navy Josephus Daniels delivered the order; described as a "teetotaler," Daniels was ridiculed in the press for the decision for years, only for the U.S. to constitutionally establish national Prohibition just six years later.

The Navy's Prohibition pregame is memorable not just for its ridiculousness but also for giving American sailors (and eventually everyone else) an insatiable appetite for ice cream. Sure, ice cream's been an American tradition since George Washington spent $200 on the treat in a single summer, but Prohibition created national cravings that persisted across military and civilian worlds even after alcohol was legalized again in 1933. If there's nothing as American as apple pie, that apple pie tastes a billion times more patriotic with a scoop of ice cream.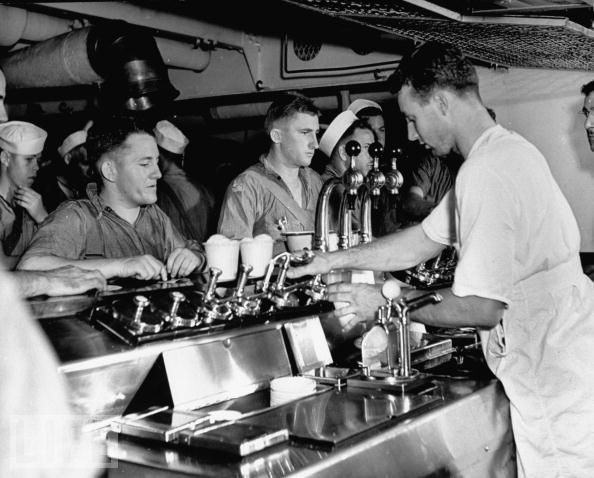 With the ban on alcohol aboard ships in 1914, the US Navy sought to offset the loss of alcohol at sea and found that ice cream was popular among the sailors. It was so popular that the Navy borrowed a refrigerated concrete barge from the Army Transportation Corps in 1945 to serve as a floating ice cream parlor. At a cost of $1 million, the barge was towed around the Pacific to provide ice cream to ships smaller than a destroyer that lacked ice cream making facilities. The Navy proudly announced that the vessel could manufacture 10 gallons of ice cream every seven minutes and had storage capacity of 2000 gallons.
Back to Task & Purpose for a second scoop:
To that end, the Navy in 1945 borrowed a concrete barge from the Army Transportation Corps that, retrofitted with heavy-duty refrigeration units, functioned as a floating ice cream parlor for smaller vessels in the Pacific Ocean. Officially called a "BRL" (Barge, Refrigerated, Large, which sounds like a bureaucracy's take on a Bond martini), the Navy's beloved "ice cream ship" was basically a 265-foot-long ice cream factory, capable of churning out 500 gallons of the sweet stuff a day (USNI pegs output at 10 gallons every 7 minutes) and  stashing another 500 in its cavernous freezers — on top of some 1,500 tons of meat and 500 tons of vegetables.

The BRL wasn't even the wackiest ice cream scheme that service members devised during those years at war. "By 1943, American heavy-bomber crews figured out they could make ice cream over enemy territory by strapping buckets of mix to the rear gunner's compartment before missions," writes Siegel. "By the time they landed, the custard would have frozen at altitude and been churned smooth by engine vibrations and turbulence—if not machine-gun fire and midair explosions. Soldiers on the ground reportedmixing snow and melted chocolate bars in helmets to improvise a chocolate sorbet."
I'll take a chocolate dipped soft serve swirl in a waffle cone with sprinkles please!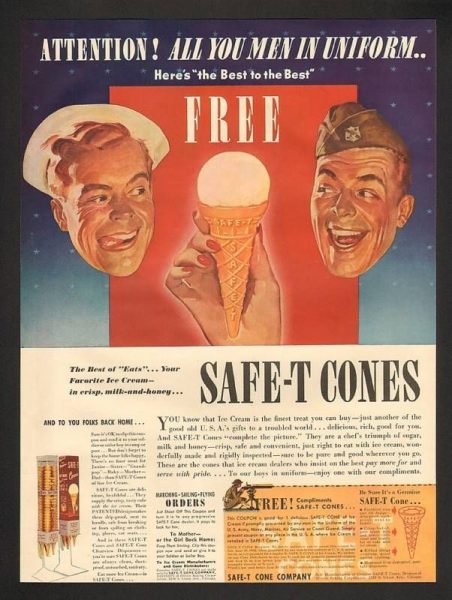 Stay frosty!
(what?)