On the Road is a weekday feature spotlighting reader photo submissions.
From the exotic to the familiar, whether you're traveling or in your own backyard, we would love to see the world through your eyes.
Good Morning All,
This weekday feature is for Juicers who are are on the road, traveling, or just want to share a little bit of their world via stories and pictures. So many of us rise each morning, eager for something beautiful, inspiring, amazing, subtle, of note, and our community delivers – a view into their world, whether they're far away or close to home – pictures with a story, with context, with meaning, sometimes just beauty. By concentrating travel updates and tips here, it's easier for all of us to keep up or find them later.
So please, speak up and share some of your adventures and travel news here, and submit your pictures using our speedy, secure form. You can submit up to 7 pictures at a time, with an overall description and one for each picture.
You can, of course, send an email with pictures if the form gives you trouble, or if you are trying to submit something special, like a zipped archive or a movie. If your pictures are already hosted online, then please email the links with your descriptions.
For each picture, it's best to provide your commenter screenname, description, where it was taken, and date. It's tough to keep everyone's email address and screenname straight, so don't assume that I remember it "from last time". More and more, the first photo before the fold will be from a commenter, so making it easy to locate the screenname when I've found a compelling photo is crucial.
Have a wonderful day, and enjoy the pictures!
A bumper crop today as I try to clean up lots of smaller submissions, then a longer one from Mnemosyne!
First up – MOOSE! From Sandia Blanca:
Staying at a lodge in the forest in Haines, Alaska. Last night our daughter had to wait for Mama Moose and her baby to move away from her car before she could drive home. Here they are this morning, right outside the window.
Baby moose, taken on 2017-08-10 in Haines
Could not get a good shot of Mama, but here's the baby.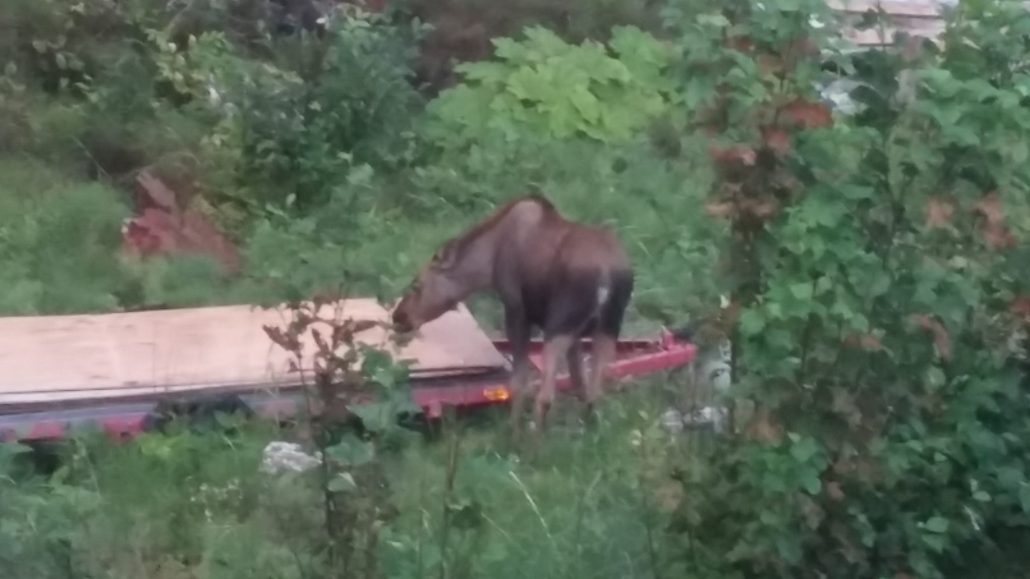 I missed this last week when I ran p.a.'s pics of the hawk:
Can't remember if I included this one in my 'yahd shots' submission, so here it is.
8 Spot Forrester Moth
S5 phonecam. The caterpillar feeds on grape leaves.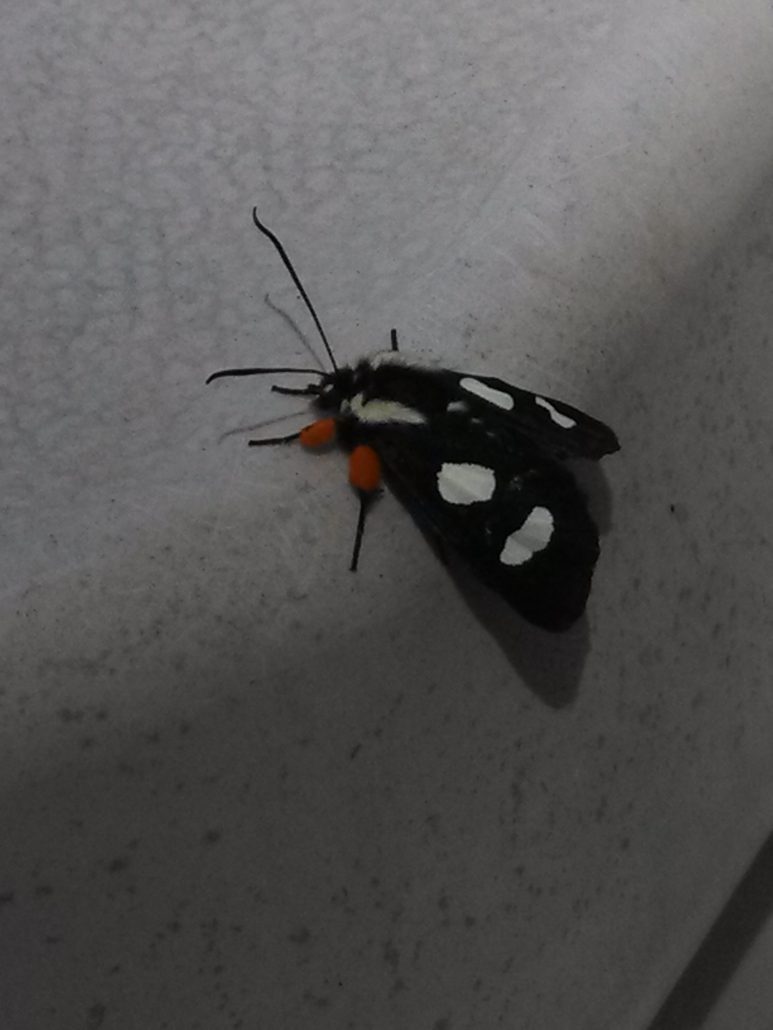 So pretty! I love moths; when living in Colorado, we were inundated twice a year (worse in the spring!) with Miller moths. Imagine a week where every morning, there are moths hiding in every crevice in your car, home, porch, etc. They're harmless, and only passing through as they migrate from the fields in the plains to the mountains. They spend all summer feasting on wildflowers, etc., then the survivors go back to the plains to lay their eggs in the newly-harvested fields. I found that aggressively jingling keys made them skedaddle – by accident the first time, and my then-truck cab was suddenly filled with a dozen flying, panicked moths. They aren't nearly as pretty as the one above, but in learning more about them, I saw them less as a pest and more of a wonder.
Next, pictures from valued commenter PlaneCrazy.
Trying out the form getting ready for a big trip next week. I have been reading BJ since John first started realizing that perhaps he wasn't a modern Republican. I don't comment much, but I love reading everyone else's when I get a chance.
Lake Annecy in the French Alps
The beautiful tourist town of Annecy in the French Alps from a trip we took five years ago. Absolutely beautiful.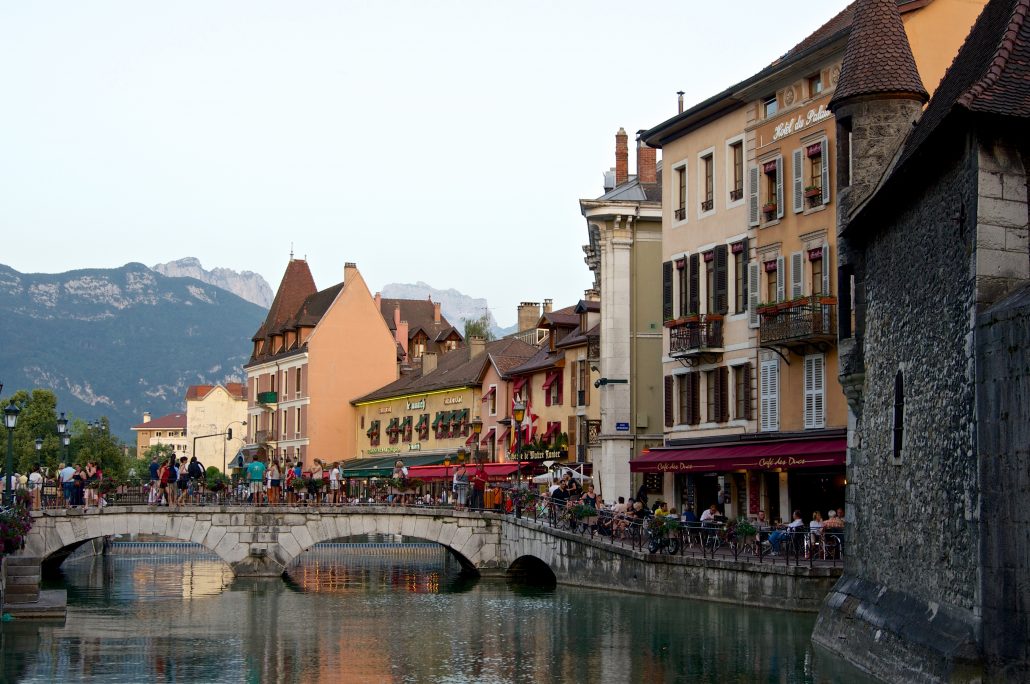 Sidney Opera House

We got the chance to see Cosi Fan Tutte while visiting Sidney. This is the entrance at night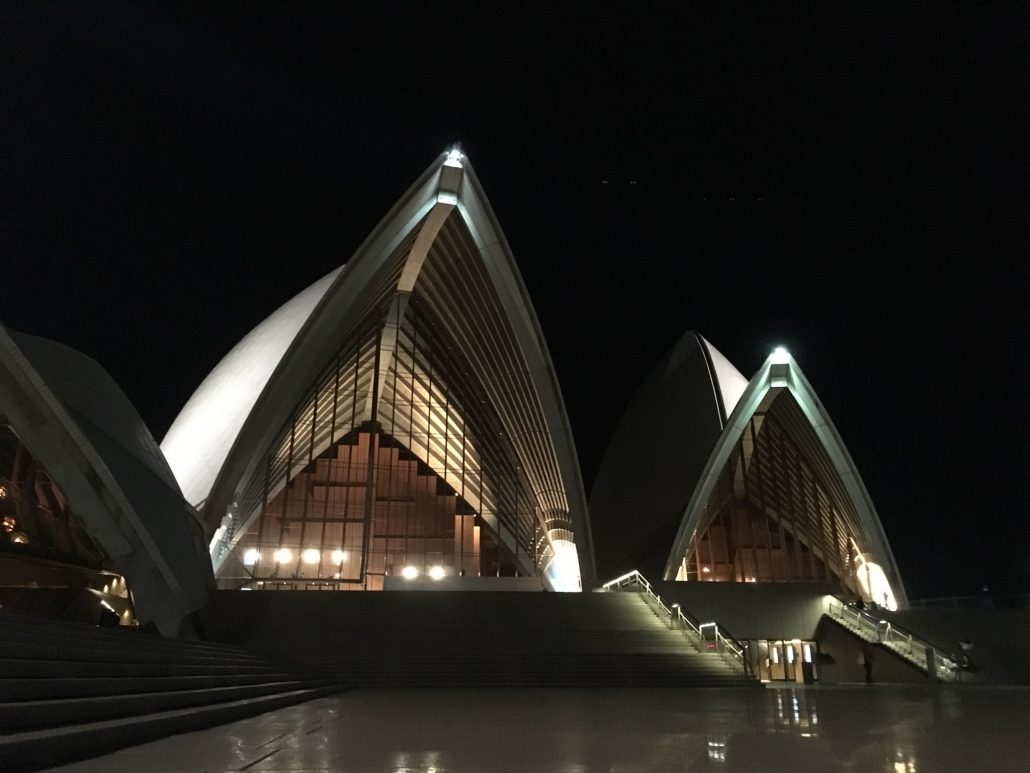 I've not managed to see opera while traveling overseas, but I did see kabuki twice while visiting Japan (at the great Kabuki house in Tokyo). Should you ever have the chance to see grand opera or kabuki, GO!
Today, pictures from valued commenter Mnemosyne.
A few photos from our recent trip to Chicago. The first one is of the John Hancock Center from out of the window of our plane. The others are photos in and around the Field Museum. We didn't have much time for sightseeing on the trip, but ended up having a better time at the Field than we expected.

Chicago Skyline from the Air

Virgin America

A shot of the John Hancock Center and surrounding areas (including Navy Pier).
Tooth and Claw IPA

Field Museum

The Field Museum has a big brewing program with a local brewery, so I made G get one with lunch. He said it was good. We missed the unveiling of their new ancient Chinese beer by one day.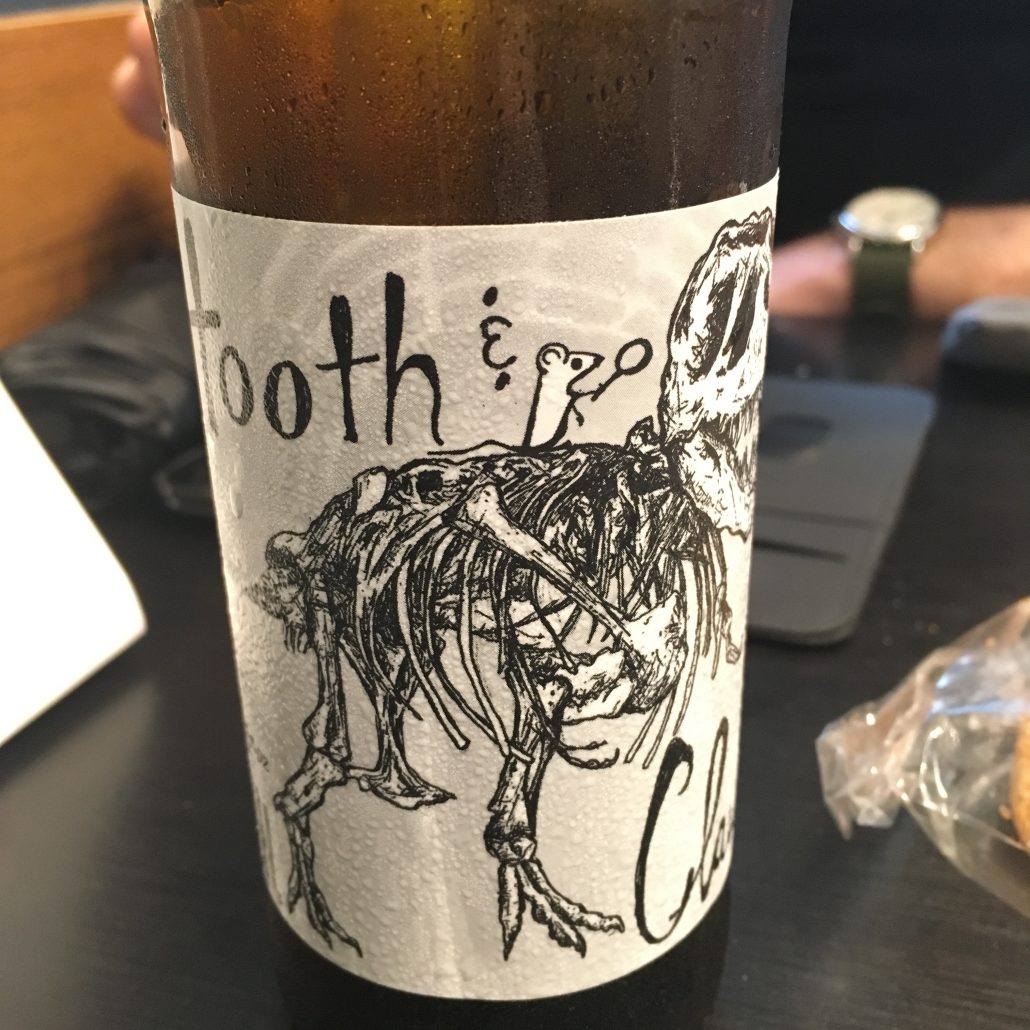 Field Museum Mascots

The new and old-school mascots of the Field Museum: Sue the T-Rex and the Elephants.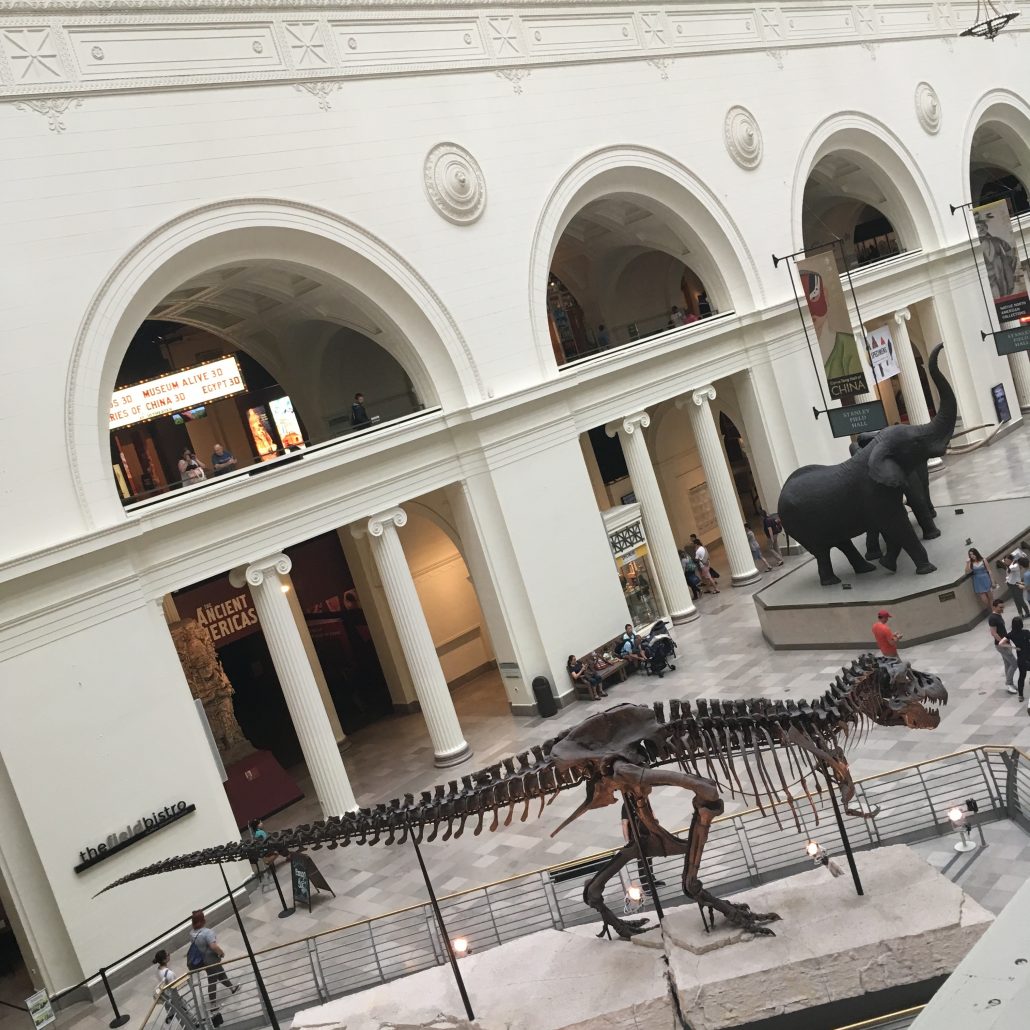 View from Museum Steps

Gorgeous view even on a stormy day.
Inside Frank Lloyd Wright's Studio

I've been visiting Oak Park for 15 years and only just got around to touring the Frank Lloyd Wright Home and Studio, which he built early in his career, shortly after his first marriage.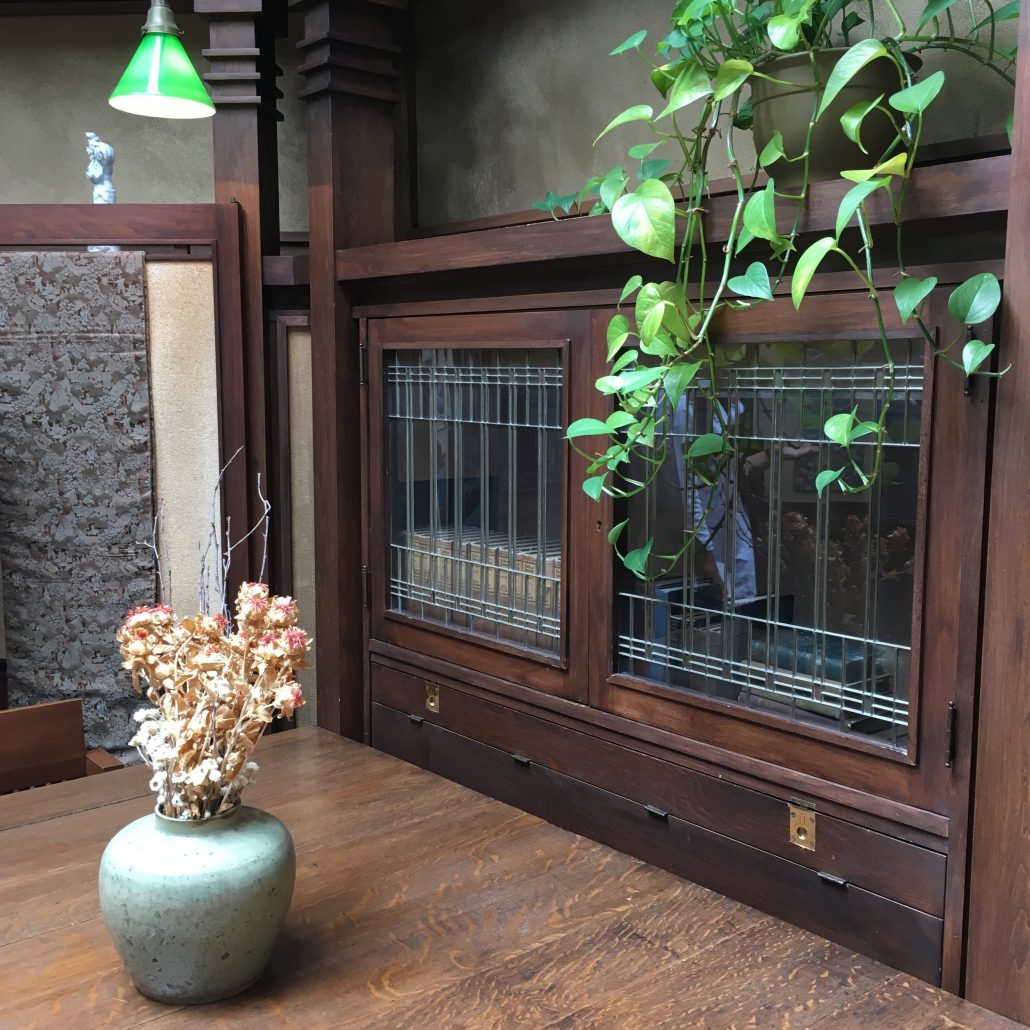 Oak Park House

Oak Park, IL

There are a bunch of Frank Lloyd Wright houses that he built near his home and studio. I'm not sure which one this is, but it's in the classic Prairie Style.
Thank you so much Mnemosyne, do send us more when you can.
Travel safely everybody, and do share some stories in the comments, even if you're joining the conversation late. Many folks confide that they go back and read old threads, one reason these are available on the Quick Links menu.
One again, to submit pictures: Use the Form or Send an Email