Earlier today at the rally and counter-rally in Charlottesville it appears that someone deliberately drove what appears to be a grey Dodge Charger into a silver convertible, which then rear ended a burgundy minivan or crossover SUV. From the video it appears that the driver of the Charger accelerated into the convertible. A number of people were injured.
Hard to watch. Raw footage of a car plowing into protesters in #Charlottesville. pic.twitter.com/aASpT2dfsT

— jordan ?? (@JordanUhl) August 12, 2017
In this second video you can see the Charger reversing at high speed and fleeing the scene:
Video of car hitting anti-racist protestors. Let there be no confusion: this was deliberate terrorism. My prayers with victims. Stay home. pic.twitter.com/MUOZs71Pf4

— Brennan Gilmore (@brennanmgilmore) August 12, 2017
Several state legislators, all of whom, so far, happen to be Republicans, have drafted and/or submitted legislation to indemnify drivers who run over protestors.
Drivers who run into protesters would be protected from lawsuits under new proposed legislation in Tennessee.

The bill offered by a pair of Republicans would apply only to instances in which drivers are "exercising due care" when they strike someone "participating in a protest or demonstration" that is "blocking traffic in a public right-of-way."

A second clause in the half-page bill clarifies, "A person shall not be immune from civil liability if the actions leading to the injury were willful or wanton."

The new bill is similar to one offered in January by a North Dakota legislator who said his mother-in-law's path was blocked by protesters opposed to an oil pipeline.

"There's a line between protesting and terrorism, and what we're dealing with was terrorism out there," North Dakota state Rep. Keith Kempenich, a Republican, told The Washington Post about his bill.
Similar legislation has also been put forward in North Carolina.
Drivers who hit a protester who's blocking the road couldn't be sued for injuries if they "exercise due care," under a bill that passed the N.C. House on Thursday.

House Bill 330, approved in a 67-48 vote, comes in response to protests last fall in Charlotte. Protesters upset about the police shooting of Keith Lamont Scott blocked interstate highways and other roads in the city.

The bill's sponsor, Republican Rep. Justin Burr of Albemarle, said drivers wouldn't be allowed to deliberately run over protesters.

"This bill does not allow for the driver of a vehicle to target protesters intentionally," he said. "It does protect individuals who are rightfully trying to drive down the road."
The other legislators who have drafted similar legislation in other places have all made or issued statements similar to NC State Representative Burr that these laws will not allow a driver to deliberately target protestors. However, that is not necessarily the thinking among everyone. For instance everyone's favorite "conservative intellectual*" got suspended from Twitter for suggesting: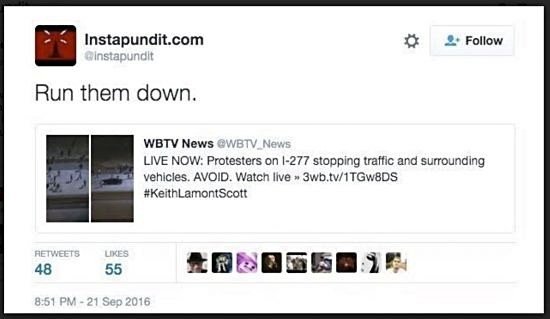 Reynolds then issued a clarification on his website.
UPDATE: Ah, it was about this tweet.

Sorry, blocking the interstate is dangerous, and trapping people in their cars and surrounding them is a threat. Driving on is self-preservation, especially when we've had mobs destroying property and injuring and killing people. But if Twitter doesn't like me, I'm happy to stop providing them with free content.

ANOTHER UPDATE: Was just on Hugh Hewitt talking about this. Since Twitter won't let me respond to — or even see — my critics, let me expand here.

I've always been a supporter of free speech and peaceful protest. I fully support people protesting police actions, and I've been writing in support of greater accountability for police for years.

But riots aren't peaceful protest. And blocking interstates and trapping people in their cars is not peaceful protest — it's threatening and dangerous, especially against the background of people rioting, cops being injured, civilian-on-civilian shootings, and so on. I wouldn't actually aim for people blocking the road, but I wouldn't stop because I'd fear for my safety, as I think any reasonable person would.

"Run them down" perhaps didn't capture this fully, but it's Twitter, where character limits stand in the way of nuance.
The larger issue is that Reynold's off the cuff formulation, as well as the clarification from his tweet got picked up far and wide. Here is an article on the subject be a member of the President's 2nd Amendment advisory committee.  While the article is fairly nuanced, the comments are, of course, completely off the map.
The problem with today's incident is whether the nuance that is the signal has gotten lost in the noise that is the anger and hatred within the alt-right and this has now been socially learned as a definition neutralizing to prohibited behavior. It is important to note the learning component here may also include borrowing this as a technique from similar incidents perpetrated in Europe by those subjectively and/or objectively affiliated with ISIL.
If we're very, very lucky this is a one off. If we're not we'll see a new form of socially learned political violence emerge here in the US.
Update at 4:oo PM EDT
MSNBC has just reported that one person has died as a result of the vehicular attack and a total of 19 others have been injured of the course of today's events in Charlottesville.
*