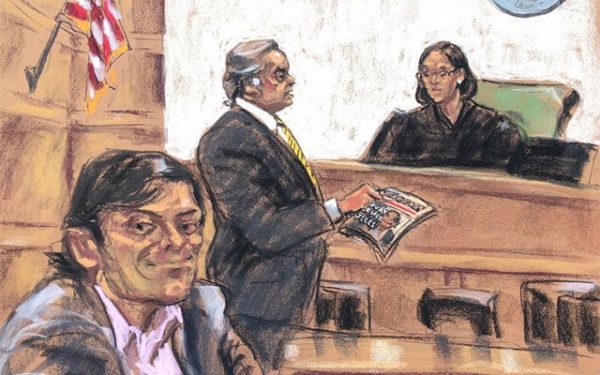 It turns out the sketch artists weren't the only people in the courtroom who hated Martin Shkreli, as these notes from the jury selection are just all kinds of amazing (Brafman is Shkreli's lawyer):
the court: The purpose of jury selection is to ensure fairness and impartiality in this case. If you think that you could not be fair and impartial, it is your duty to tell me. All right. Juror Number 1.

juror no. 1: I'm aware of the defendant and I hate him.

benjamin brafman: I'm sorry.

juror no. 1: I think he's a greedy little man.

***

juror no. 52: When I walked in here today I looked at him, and in my head, that's a snake — not knowing who he was. I just walked in and looked right at him and that's a snake.

brafman: So much for the presumption of innocence.

the court: We will excuse Juror Number 52. Juror Number 67?

***

juror no. 77: From everything I've seen on the news, everything I've read, I believe the defendant is the face of corporate greed in America.

brafman: We would object.

juror no. 77: You'd have to convince me he was innocent rather than guilty.

the court: I will excuse this juror. Hello, Juror Number 125.

juror no. 125: I've read extensively about Martin's shameful past and his ripping off sick people and it hits close to me. I have a mother with epilepsy, a grandmother with Alzheimer's, and a brother with multiple sclerosis. I think somebody that's dealt in those things deserves to go to jail.

the court: Just to be clear, he's not being charged with anything relating to the pricing of pharmaceuticals.

juror no. 125: I understand that, but I already sense the man is guilty.
And my personal favorite:
the court: Then I will excuse you from this case. Juror Number 10, please come forward.

juror no. 10: The only thing I'd be impartial about is what prison this guy goes to.

the court: Okay. We will excuse you.
Amazing.