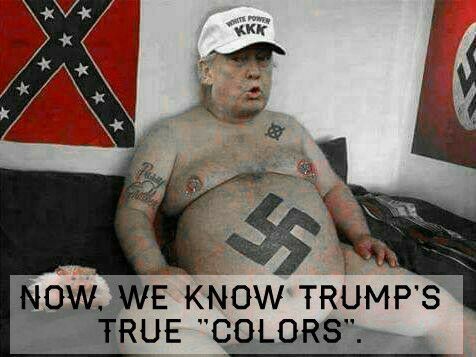 I know it's great hearing so many people trash Trump, but we need to be realistic here. They'll condemn, condemn, condemn, they'll issue statements, they'll make serious faces and muster their "gravitas" voice and mouth platitudes about no place for racism in society, but none of them will do a fucking thing about Trump. Not one Republican in the House or Senate will do a GOD DAMNED thing about it. They won't refuse to do business until he fires Bannon, Miller, Gorka, and his wife. They won't refuse to legislate until the funding to study white supremacist groups that Gorka's wife had removed is reinstated.
They'll hoocoodanode like crazy: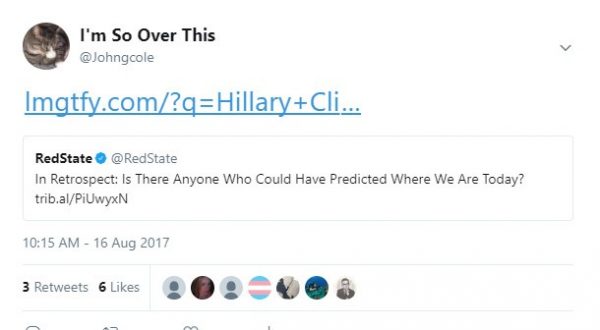 And they'll make serious statements:
We must be clear. White supremacy is repulsive. This bigotry is counter to all this country stands for. There can be no moral ambiguity.

— Paul Ryan (@SpeakerRyan) August 15, 2017
But they won't even mention Herr Gropenfuhrer by name.
And they never will, because this is who they are. They knew his true colors last year- EVERYONE KNEW- and they rallied round him because winning is the only thing that matters to them.
Gary Cohn is so disgusted by Trump's behavior that he will get up today, go to work at the White House and hope to be appointed to the Fed

— Dan Pfeiffer (@danpfeiffer) August 16, 2017
The only thing that motivates them is their hatred of you. We've been over this before. That's why they love this "both sides" shit. They know that white supremacist and Nazi associations make them look bad, but they will court their votes because they hate you more. They'll keep running guys like this:
Virginia gubernatorial candidate Corey Stewart, a Republican, embraced the Confederate flag and Virginia's history of defending slavery on Saturday, using multiple phrases that indicate his appeal to white supremacist voters.

Stewart championed Confederate leaders Robert E. Lee and Stonewall Jackson and repeatedly emphasized Virginia's "heritage."

"It's the state of Robert E. Lee and Stonewall Jackson. That is our heritage. It is what makes us Virginia," Stewart said, speaking at the "Old South Ball" in Danville, Virginia, in a video posted by Blue Virginia. "If you take that away, we lose our identity."

Maintaining white identity has been a theme of white supremacist movements.
He barely lost the primary a couple months ago, and just the other day the Virginia Chairman of the GOP had this to say:
"You can't emphatically enough denounce these groups," Whitbeck remarked. "I mean, you have to be as unequivocal as you can be. Our party has always stood for equal justice. And our Republican elected officials and our party leaders have been saying this message all along as Americans, as Virginians."

Blitzer reminded the state GOP chair that the hate groups have been drawn to Charlottesville due to the pending removal of the Robert E. Lee statue.

"That has become a big issue. Where do you stand?" Blitzer asked. "Where does the Republican Party of Virginia stand on that Robert E. Lee statue?"

"I think our nominee for governor, Ed Gillespie, has spoken about this," Whitbeck stuttered. "And we stand will our nominee 100 percent."

"What is he saying?" Blitzer wondered.

"He has said he supports the history of Virginia in all its forms," Whitbeck admitted. "You can't just eradicate the bad parts of our history by just taking down statues. I think he's right."
Apparently he has never met Corey Stewart.
Hell, they just spent the last nine years riding the racist rump of the tea party to victory as they barely were able to control themselves from yelling N*GGER at President Obama at every step. So if you think this means anything, or that the Republican party will change after seven decades of the southern strategy and giving reach-arounds to the klan, fuhgeddaboudit. This was obvious to me when I left the Republicans a decade or more ago, it's obvious now. It's who they fucking are.
Hell, anyone want to bet that Trump's approval rating with Republicans won't increase in the next few days? It's who they are, for fuck's sake. There will be no mass resignations. There will be no mass defections from the party. There will be no direct action or consequences for Trump. They know that a racist tide lifts all GOP boats, so they'll talk a good game while publicly distancing themselves so they can keep going to the fancy parties in polite society.
The only questions are whether the media will let them get away with this and the Democrats can stop squabbling internally and stop them in 2018. I'm not hopeful on either account.