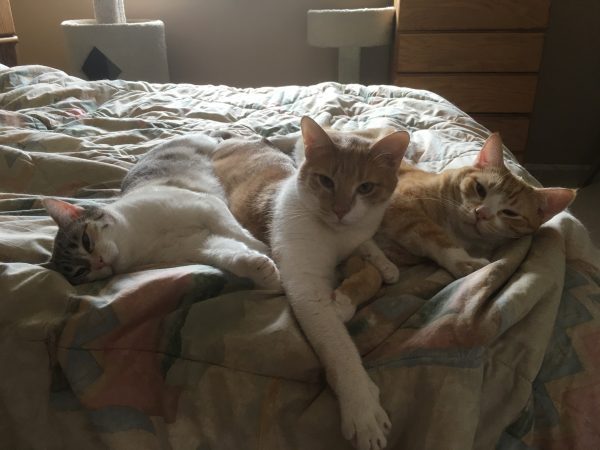 Some much-needed happy news — a rescue update from catspaw commentor Marc:
A little over two years ago, DemTaters had a sweet kitty show up at her home, and sent out a bleg, as she could not take in another pet. I responded, having lost my little kitty Sabrina two months prior, and my condo was feeling a bit empty. Dropped off along with Miri was a generous donation by juicers for her spay. I setup an appointment with Banfield for her checkup and wellness care. During her vet visit, she was pronounced to be 'in the family way' — with three little ones. On 14 August 2015, five little ones came into the world.

When the time came, I was able to find forever homes for two – several people stated they were interested in getting one of the others, but all backed out for various reasons. November rolled around and I was starting to worry about the three left – if they stayed too much longer, I'd get attached. Shortly after Thanksgiving was when I threw in the towel, and so Miri wound up filling my home more than I expected.

Here are a few pictures of my Tribe of Tigers at Two:

Miri is the most 'people' cat I've known. While her kids scatter if another person comes into the condo, she walks up to them 'meows' and asks to be petted. While not a lap kitty, she loves lounging on the computer desk while I'm using it.

Tigger is the biggest of the Tribe – and a real bird toy killer. He played so hard with a chirping toy, that the soundbox came out of it – but only after it had run out of power.

Sylk is a sweet Princess – still adventurous, but also very much a lap kitty. I've found her on top of doors, and on top of the plate cabinet in the next photo.

Flynn is the clever one – he opens cabinets, dresser drawers, and the door to the computer room (if left unlocked).

You can't spell homeowner without a 'meow'.
If Miri doesn't have some 'oriental' Siamese-style genes — and her nosiness about people coming into her home argues she does — her kittens sure do. Even apart from Sylk's blue eyes, those aerialist climbs and drawer-opening skills are well-known Meezer stunts. Meezer-type cats can be hella aggravating, but they're never boring!
***************
Apart from blessing all the rescuers, what's on the agenda for the new day?