Heather Heyer's mom isn't interested in talking to Trump:
WATCH: "You can't wash this one away by shaking my hand and saying I'm sorry." Mother of Charlottesville victim speaks out. pic.twitter.com/vNiGNgFERi

— Good Morning America (@GMA) August 18, 2017
Ms. Bro says she received "frantic messages" from Trump's press secretaries during her daughter's funeral (these fucking people!) and later that day; she was willing to speak to Trump at that point but simply missed his calls since she was occupied with burying her child, who was murdered by a Trump-supporting Nazi. But after seeing a clip of Trump drawing equivalence between her daughter and other counterprotesters and the white supremacist mob, Bro is no longer willing to speak to Trump. Good for her.
On the lighter side, Tina Fey has a suggestion for how sane people might respond to heavily armed white supremacist goons descending on their towns — eat cake:
And speaking of heavily armed white supremacist goons:
Armed Group Appears at San Antonio City Council to Oppose Statue's Removalhttps://t.co/0EkeH2u5Ig

Fear rules pic.twitter.com/hg2QEfHwoX

— Peter W. Singer (@peterwsinger) August 18, 2017
"to influence the policy of a government by intimidation or coercion" — 18 USC 2331 – domestic terrorism https://t.co/s7g80djPG2

— Pierre Omidyar (@pierre) August 18, 2017
I am not a lawyer, and I realize the NRA has its bloody fingers wrapped around the throat of legislatures at the state and federal level. But doesn't Omidyar have a point here? Wasn't it a public safety issue when these militia goons swarmed through the center of Charlottesville?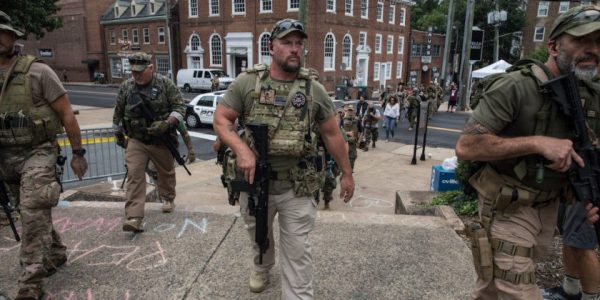 Governor McAuliffe said the local cops were outgunned by the militia goons. Sounds like a public safety issue to me.
We may not be able to roll back these bugfuck-crazy open carry laws any time soon, but can't cities and towns require unarmed participants as a condition of issuing permits for marches and demonstrations? I know when the RNC held its 2012 convention in Tampa, people were not allowed to bring concealed weapons into the convention zone, even though an NRA representative personally writes every piece of legislation that affects firearms, which our governor then rubber-stamps.
If gun-free zones are good enough for Republican Party delegates, by God, they should be good enough for city centers when homegrown Nazis assemble to spew hate speech. It won't solve our Nazi problem, obviously — Vanilla ISIS can run people down in the street, as one of their number did in Charlottesville. But it's a start.