On the Road is a weekday feature spotlighting reader photo submissions.
From the exotic to the familiar, whether you're traveling or in your own backyard, we would love to see the world through your eyes.
Good Morning All,
This weekday feature is for Juicers who are are on the road, traveling, or just want to share a little bit of their world via stories and pictures. So many of us rise each morning, eager for something beautiful, inspiring, amazing, subtle, of note, and our community delivers – a view into their world, whether they're far away or close to home – pictures with a story, with context, with meaning, sometimes just beauty. By concentrating travel updates and tips here, it's easier for all of us to keep up or find them later.
So please, speak up and share some of your adventures and travel news here, and submit your pictures using our speedy, secure form. You can submit up to 7 pictures at a time, with an overall description and one for each picture.
You can, of course, send an email with pictures if the form gives you trouble, or if you are trying to submit something special, like a zipped archive or a movie. If your pictures are already hosted online, then please email the links with your descriptions.
For each picture, it's best to provide your commenter screenname, description, where it was taken, and date. It's tough to keep everyone's email address and screenname straight, so don't assume that I remember it "from last time". More and more, the first photo before the fold will be from a commenter, so making it easy to locate the screenname when I've found a compelling photo is crucial.
Have a wonderful day, and enjoy the pictures!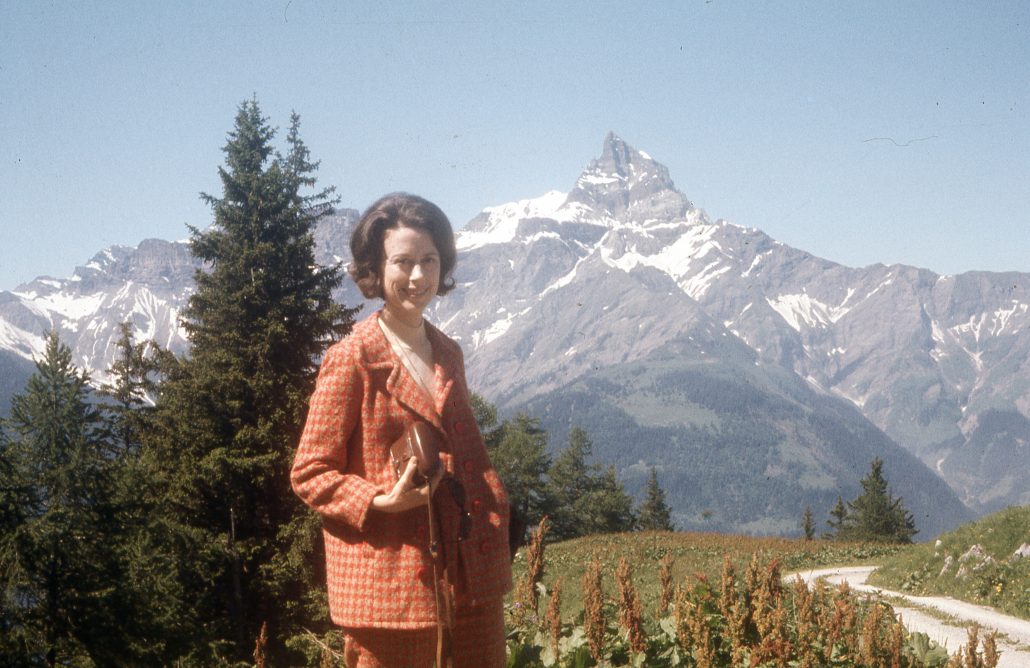 My mom, with me hiding inside, 1970, Les Dents de Midi, Canton de Valais, Switzerland, though the view could be in Vaud, as that's where my dad was from.
I recently discovered a stash of slides of my mom from that summer, when she was pregnant with me, her only child. They were taken by my dad where they lived in Kinshasa, when they visited his family in Switzerland, and then hers in the US. He collected and sequestered just these few slides into a cool cigar box, and it/they survived the house fire. It was almost like my dad's ghost pushed me to select and look at this specific set, right as her health took a turn.
ps – all image enhancing suggestions welcome via email. I have PaintShopPro and am not really graphically skilled. I am scanning in old slides from the 40's-70's, many with fire/water/chemical/atmospheric/mold residue. Most were processed in top-class, professional-service labs in Switzerland, NYC, Houston, Bogota, Lima, Tulsa, etc. – oil towns, if you will (though I doubt my dad trusted the local outfit in Cochobamba, TBH). The oldest have very washed out colors, but many from the 50's are surprisingly good. It's so neat to see pics of Manhattan that my dad took to then take back to his family in Switzerland to show – he was very academic, in a totally Swiss way.
Pro tip: when 1 hour into a 4.5-6 hour surgery of a loved one, the phone rings, and it's the surgeon, don't lose focus – it's not necessarily dire, and good question and listening skills are critical. But it wasn't good news either – the cancer has spread onto my mom's liver and surgery is thus off. Chemo will be scheduled tomorrow, likely beginning in two weeks. Not good, but I'm not preparing a funeral for next week, thankfully. I've been there, since my father didn't tell us he was (non-cancer) terminal and his death was a shock (well, just the timing was for me, but that's another painful confession for another day).
So I needed some joyful pics, and luckily we have a wonderful bird expert who also has a way with words. No – not Betty!
Today, pictures from valued commenter Albatrossity.
I have been privileged to help teach university classes abroad, specifically in Brazil and Ecuador. It is a privilege because I get to go to beautiful places, but mostly because I get to be with young smart people who often are out of the USA for the first time in their life. As one said to me when we landed at midnight in Manaus and were directed to a line for Foreigners, "I've never been a foreigner before." Whatever they learn from the academic part of the class is vastly overshadowed by being out of their clan, their country, and their comfort zone for a while. Hopefully this sort of education will lead them into a lifetime of not voting for xenophobes.

But one of the beautiful places is the Galapagos Archipelago, so here are some pictures from a couple of class trips there.

Kicker Rock, aka Leon Dormido

Taken on 2016-05-27

San Cristobal, Galapagos

Viewed through a sea arch on the island of San Cristobal, this rock is a stunning snorkeling destination. Three Brown Noddies, a species of tern, are flying through the arch.
Blue-footed Booby courtship dance

Taken on 2016-05-24

San Cristobal, Galapagos

No trip to the Galapagos is complete without seeing these iconic birds, and seeing them court was a special treat
The beach at Cerro Brujo

Taken on 2016-05-24

Near the volcanic cone known as Cerro Brujo, San Cristobal, Galapagos

Locals told me that this is their favorite beach in all Galapagos. I've never seen one that is more gorgeous; I'd have to agree.
Lava Heron

Taken on 2017-05-25

In the harbor of Puerto Baquirezo Moreno, the provincial capital of the Galapagos, San Cristobal

An endemic species, found only in the Galapagos, this bird's black plumage can make it difficult to spot as it forages in the black lava rocks near the shoreline
Marine Iguana

Taken on 2017-05-27

Espanola, an uninhabited island and the oldest in the archipelago

Another endemic species; these aquatic lizards eat algae underwater, and bask on black lava rocks most of the rest of the time.
Magnifcent Frigatebirds

Taken on 2017-05-26

Rock near Punta Pitt at the easternmost end of San Cristobal, and the easternmost edge of the archipelago as well.

Frigatebirds are always on the lookout for a snack, even if that might be the chick of another frigatebird. Some White-rumped (Galapagos) Petrels are also flying around this rock.
Swallow-tailed Gulls

Taken on 2017-05-27

Espanola Island, Galapagos

A pair of gulls celebrating dinner, perhaps. This is an oddball gull, as it is primarily nocturnal. But very handsome.
Thank you so much Albatrossity, do send us more when you can.
Travel safely everybody, and do share some stories in the comments, even if you're joining the conversation late. Many folks confide that they go back and read old threads, one reason these are available on the Quick Links menu.
And make sure to hug your loved ones and tell them that you love them as much as you can. The timer ticks for all of them, and for all of us. One day, you thrill as your mom is transformed by Wonder Woman, the next. trying to comfort her after the doctor calls her in the evening, out of the blue, telling her that she might have cancer. Life does indeed come at you fast.
One again, to submit pictures: Use the Form or Send an Email